On the Road with SM
A glimpse of Rosales through the eyes of a National Artist, multicultural Tarlac through a dedicated public servant, and how dynamic entrepreneurs from Cabanatuan and Naga are transforming their homegrown businesses into national brands.
ANNA MARGARITA GONZALES
CEO, EDNA'S CAKELAND
CABANATUAN, NUEVA ECIJA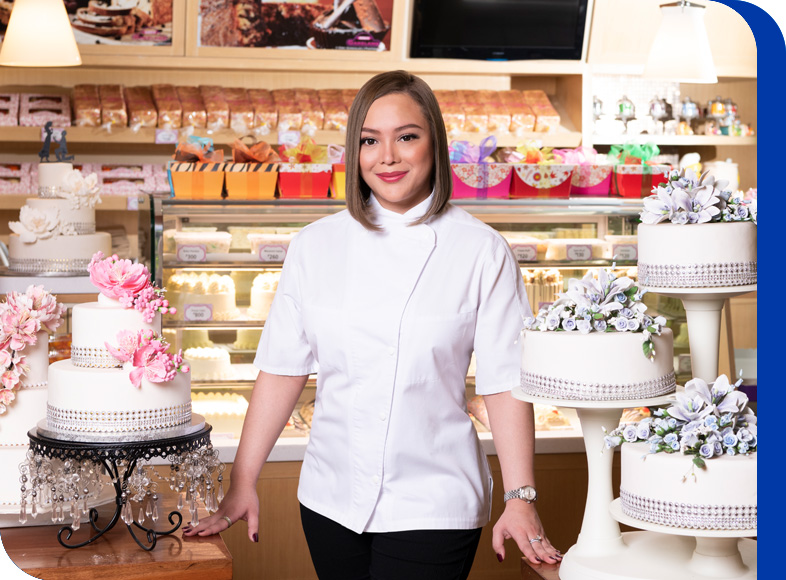 The province of Nueva Ecija is endowed with a rich cultural heritage. As the largest province in Central Luzon and the Rice Bowl of the Philippines, its terrain begins with the southwestern marshes near the Pampanga border. It levels off, and rises to rolling hills as it approaches the mountains of Sierra Madre in the East, as well as the Carballo and Cordillera ranges in the north.
With that, the influx of migrants from the Ilocos region and Pampanga have made the province a melting pot of cultures and traditions that make Novo Ecijanos unique.
Likewise, the urbanization of the province has given Novo Ecijanos more opportunities to be productive. These opportunities prompted Herminio and Edna Gonzales to start Edna's Cakeland, which is today considered the premier homegrown bakeshop in Nueva Ecija.
Anna Margarita Gonzales, Edna's Cakeland CEO, says that Edna's Cakeland was named after her mother "who has the heart for baking. She imparted her passion to me since I was in grade school, and from there I dreamed of becoming a successful business woman in the industry."
When SM opened at SM Megacenter in Cabanatuan in 2015, the family decided to open a pastry shop in the mall. Although Edna's Cakeland has been known for its quality home-baked products like ensaymada, cheese roll, taisan and yema roll for many years, the move was very challenging because "we learned that we can do better in terms of sales growth, product development, service and marketing."
"We learned to be resilient in the market challenges and competition," she adds. "I also learned to be confident and proud of our products because we are part of SM, and SM believes in our business. And like SM we strive to grow each year." They are planning to open another shop at SM City Cabanatuan this year.
Anna Margarita is happy that today, Edna's Cakeland serves Novo Ecijanos "by providing them the best place to eat and relax; as well as giving them special choices of sweet pasalubong for their family and friends."

ANNA MARGARITA ON HOW SM HAS CHANGED LIVES IN CABANATUAN
"When SM opened in Cabanatuan, people became more open to new lifestyle trends.  On the business side, we became more competitive, as SM is a destination for a lot of good food, and we also like to shine in the market competition.
As a homegrown business partner, we are very overwhelmed with the market response. It's like customers gave us a special place in their hearts. SM gives us the confidence to strive harder and dream of expanding to other SM malls."