Style, Success, and SM
Four amazing women share their inspiring stories, and why great partnerships will never go out of style.
MITZI BORROMEO
NEWS ANCHOR AND CORRESPONDENT, CNN PHILIPPINES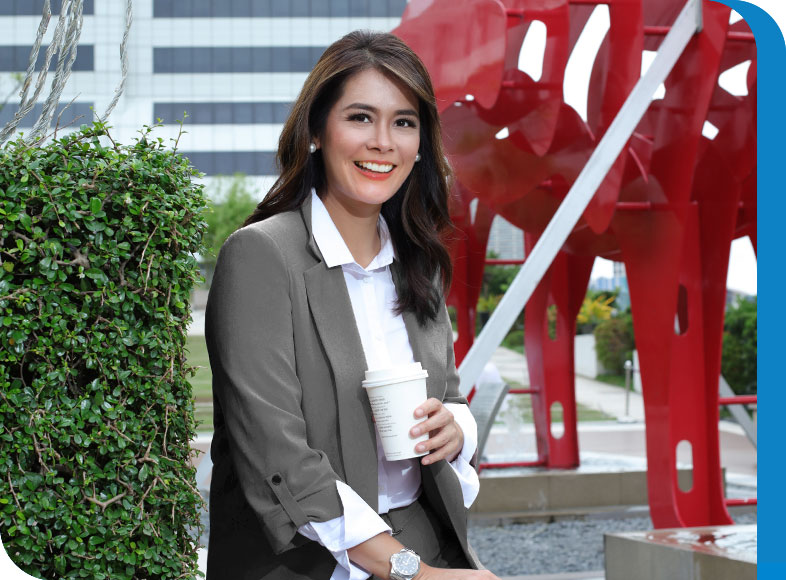 While Mitzi Borromeo's two decades in media and communications have allowed her to explore five continents and settle down in three of them, her roots remain close to home and to her family.
Mitzi's own stories of growing up include cherished memories of her Mom taking her and her siblings to SM Cubao to buy school shoes and eat merienda. "There was a park in the second floor with a green carpet to resemble grass and old red phone booths," she says, also remembering trips to SM Makati to buy Halloween costumes.
Today, with Mitzi wearing the store's clothes on television, SM is just as much part of her life as it was during her childhood.
Mitzi started her amazing career out as a news anchor in the Sarimanok News Network, which has since evolved into the ABS-CBN News Channel.
She eventually left the broadcast media to focus on her work with the conservation organization WWF-Philippines, first as a volunteer, as Communications Officer at WWF-Philippines and eventually Press Officer at WWF International in Switzerland.
Mitzi recalls visits to the Amazon rainforests of Brazil, meeting with communities when she was working on stories on freshwater issues, and trips to South Africa and KwaZulu-Natal, where the wetlands were under threat during her work with WWF.
Starting in 2005, Mitzi worked with the United Nations University Institute for the Advanced Study of Sustainability in Japan. Back in Manila, she co-founded Creative Cross Border Productions, an integrated communications agency focused on social development communications in health, the environment, and education.
Mitzi says that her advocacies – science, nature, and exploration are three things closest to her heart – have not only provided content for her shows, but also "opened my eyes, mind, and heart to new horizons."
In 2007, she worked as a writer, host, and segment producer with the travel channel, Living Asia; and in 2010 joined the National Geographic Channel Philippines as executive producer, writer, researcher, and host for Street Smart, a locally produced documentary series on science and culture themes.
She joined Solar News Network in 2013, which was relaunched as CNN Philippines in 2015. Mitzi says that her work in CNN Philippines has given her "great opportunities to learn from colleagues around the world like Kristie Lu Stout, Anna Coren and Andrew Stevens. I also learned to think outside the box, push journalism standards to higher levels, to get to the heart of the story."
Mitzi, now also host, writer, and co-producer of the first CNN Philippines digital show, DigiPinoy, has learned her lessons well, with Gawad Tanglaw and Golden Dove Best Newscast awards as her inspirations.

MITZI'S DREAM DOCU FOR SM'S 60th ANNIVERSARY
"If I were to make a documentary about SM, I would weave together different experiences linked to SM."
This would be about how people's lives are entwined with it – family, friends, romance, birthdays, weddings, baby showers, graduation, national pride. You name the emotion, surely, we can relate that to an SM experience.
I was also thinking about linking it to shoes, because you're thinking about all walks of life.  There are so many stories attached to SM experiences; and each family has its own SM story to tell."