Beyond Business at SM
The movers behind some of the country's best loved brands, their Entrepreneurship 101 stories, and growing their business with SM
BEN CHAN
EXECUTIVE CREATIVE DIRECTOR, BENCH
FOUNDER, SUYEN CORPORATION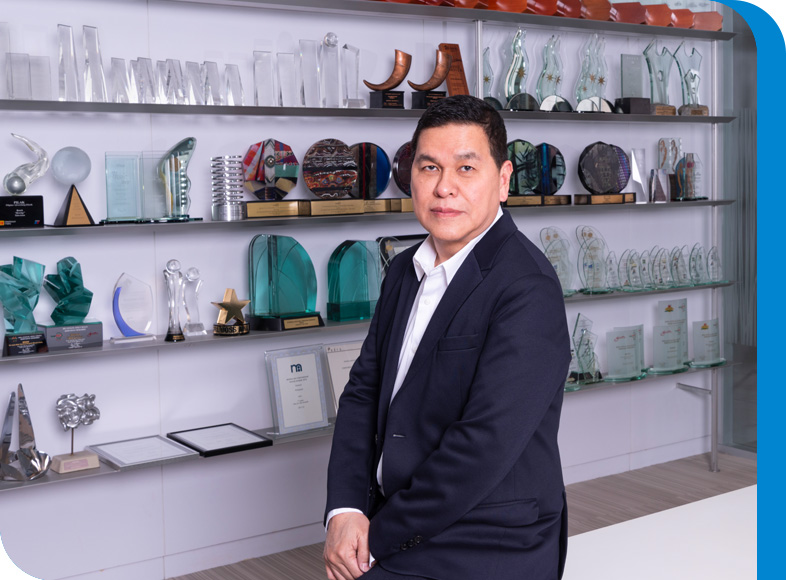 In 1987, Ben Chan started a small t-shirt shop at the SM Department Store in Makati.
At that time, "the retail landscape was completely different from what it is today. It was more local, more intimate, less competitive, and everybody pretty much shopped in the same place. Filipinos in general were conservative and formal in their fashion sense."
His casual and sporty approach to clothing, which was ahead of its time, was almost immediately a hit. It would eventually become the beginnings of Bench, the fashion clothing line, under the family-owned Suyen Corporation.
Ben comes from a family of serial entrepreneurs.  He is the son of Chan Lib and See Ying, who established Liwayway Marketing Company, which soon became the country's leading starch supplier due to its famous flagship product Liwayway Gawgaw (laundry starch).
With his world-class fashion style and hardworking ethic, Bench has become a leading lifestyle and fashion chain in the Philippines. The t-shirt offerings expanded into a whole lifestyle store, and into other brands – Human for streetwear, Kashieca for ladies, Dimensione for furniture, PCX — a cosmetics and beauty shop; as well as Bench Skin Expert, Bench Fix Salon, and Bench Barbers.
Suyen Corporation is also the local distributor of global fashion brands like Cotton On from Australia, Vero Moda from Denmark, Under Armour, Aldo, and Cath Kidston; as well as fragrance and cosmetics lines like Jo Malone, Bobbi Brown, Kiehl's, and Estee Lauder.
Bench, which now has a Bench Café in partnership with FooDee Global Concepts, has also brought exciting global food concepts to the Philippines like Paul Boulangerie, Maisen, St. Marc Café, Patchi Chocolates, Pablo Desserts.
By 2007, Bench was on its way to global retailing, with established stores in Los Angeles, Riyadh, Bahrain, Guangzhou, Xian, and Dubai. China remains its primary focus with more than 27 company stores and 19 franchises.
Looking back, Ben says that, "the Bench story began with SM.  Without our first big break from SM, there would be no Bench."
"The best thing about having a 30-year business relationship with SM is that we have grown together in parallel," he adds. "Together we not only witnessed, but spearheaded vast changes in the Philippine retail landscape."
SM and Bench also have a shared vision "of giving Filipino customers a world-class shopping experience, of constantly elevating the retail game. SM has always been an innovator in the field, constantly introducing the local market to the latest trends from around the world."
Ben's favorite thing about SM "is their decades-old tagline, 'We've got it all for you.' Simple, brilliant, timeless, and they have stayed true to these words to this day. That's why SM has become something Filipinos cannot live without."

BEN CHAN AND THE SM STORY
"My most memorable experience with SM was when Mr. Henry Sy personally toured me around SM North EDSA, the biggest mall at that time. That moment inspired me about the possibilities for Bench — the SM story reminds you that no matter how small or humble your start is, you can achieve greatness, and there are no limits to how big you can be."