Beyond Business at SM
The movers behind some of the country's best loved brands, their Entrepreneurship 101 stories, and growing their business with SM
THE NATIONAL BOOK STORE GROUP
SOCORRO RAMOS, FOUNDER
PRESENTACION S. RAMOS, VICE PRESIDENT
ALEXANDRA RAMOS-PADILLA, MANAGING DIRECTOR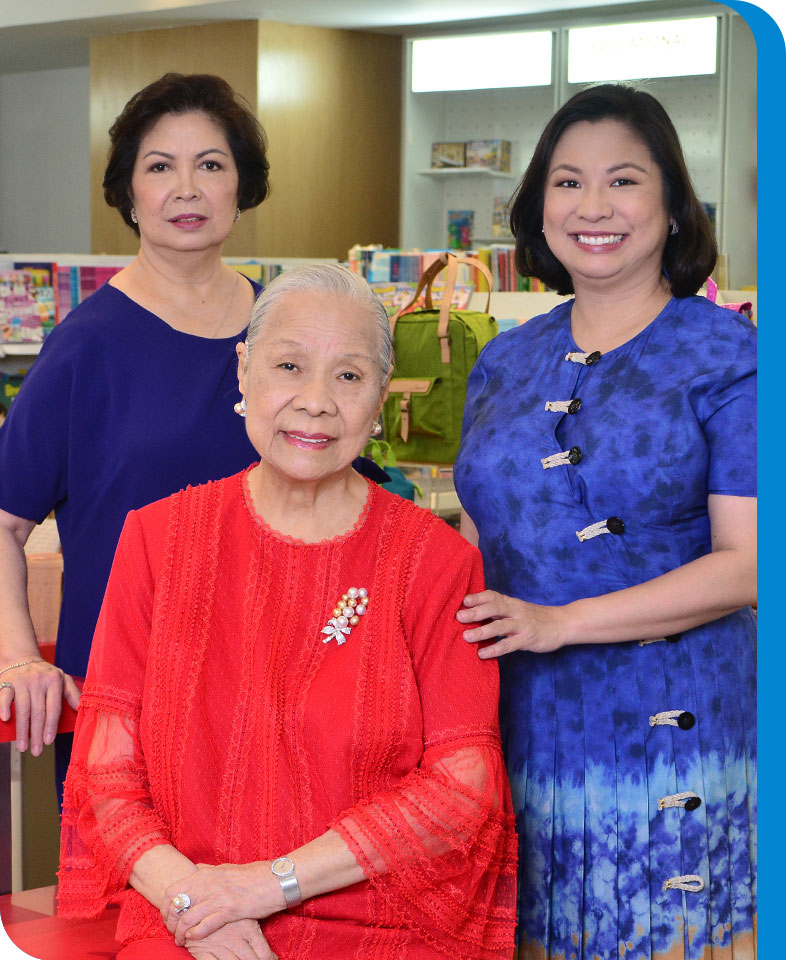 When Socorro Ramos was still a teenager, she started working at a bookstore. Nanay Coring, as she is fondly called, worked hard and learned a lot. And it was not long before she and her husband Jose Ramos decided to open a small bookshop more than 75 years ago atop a panciteria in Escolta.
Despite not having finished college, she recognized the value and power of education and lifelong learning. She also liked "to sell and consider everyone my suki." National Artist Nick Joaquin, in fact, called her a Super Salesgirl in an article he wrote about her in the 1970s.
Nanay Coring also wanted to make books, school supplies, and other tools accessible for everyone. National Book Store made books affordable, especially when Presidential Decree 285 allowed the local reprinting of textbooks used by students in college.
With that, "we were able to sell college algebra books that would sell P300 when imported for only P75 when we reprinted these. P300 was a big amount during that time, and I am happy that we were able to make these books affordable for students and their parents."
With hard work, patience and perseverance, she – along with generations of Laking National customers and employees, National Book Store has grown to become one of the country's best-loved brands with over 230 branches and over 2,500 employees. It continues to open more and more branches every year, have launched exciting concept stores, as well as its own school.
It was also one of the pioneer tenants in SM City North EDSA, the first SM Supermall. "Mr. Henry Sy and I both had stores downtown – I was at Avenida Rizal and he was at Carriedo," she recalls making that crucial move. "Whenever he would open a new mall, he would tell me, 'Mrs. Ramos, we have a space for you here.' And I would say, 'Yes, Mr. Sy.' That's why wherever there is an SM mall, there is a National Book Store branch."
Nanay Coring describes Mr. Sy as a "very nice person, very humble. There was a time when we were opening a branch in one of the SM malls and we saw Mr. Sy pass by. I asked him if he could cut the ribbon. Although we had no prior arrangement, he obliged. We were laughing like children during that time. Afterwards, I brought him inside the store to check the back office so he could see how we took care of our area in his mall."
"He's a very nice gentleman," she adds. "Whenever a mall would be inaugurated, he would ask me how business was. I would say, 'It's okay, sir. What book would you like to read?'"
Today, National Book Store has branches in more than 50 SM malls nationwide, with many coming more soon. A number of book signings with international best-selling authors have also taken place in SM malls, as well as events for local and global brands; including the National Children's Book Reading Day in partnership with SM Cares.
And Nanay Coring continues to work closely with the National Book Store team, including Presentacion Ramos and Xandra Ramos-Padilla, to serve a new generation of book-loving Filipinos.
Vice President Presentacion S. Ramos, whose leadership has contributed to National Book Store's growth and expansion, continues to actively explore new opportunities for business development. Managing Director Xandra Ramos-Padilla, on the other hand, oversees the entire bookstore's operations. Xandra likewise spearheaded the company's shift to new technology, and continues to lead the National Book Store's transformation and retail innovation with initiatives like book signing events by international authors, bringing in global brands, and creating specialty stores to meet every Filipino's passions.

NANAY CORING IN HER OWN WORDS
Excerpts from The Story of National Book Store's Socorro Ramos
Written by Yvette Fernandez and Illustrated by Liza Flores
On the early years:
"My family has always been in the business of selling. When I graduated from high school, we didn't have enough money for me to continue studying and going to college. Instead I went to work as a salesgirl in a bookstore, helping customers buy books and school supplies. I worked very hard and sold a lot of books and paper and pencils. Every day, I woke up very early, excited to go to work. I really enjoyed selling things."
On National Book Store's beginnings:
"Ling (her husband Jose Ramos) bought a small bookstore, and I worked as a manager, buyer, salesgirl, cashier, janitor – ordering books, helping customers, manning the cash register, wrapping packages, and mopping floors. We called it National Book Store for no special reason except it was the brand of our cash register, and it sounded like a good name."
On overcoming adversities like war, fire and floods:
"We had been through all these before and we knew what we had to do. We knew we would get through the hardship. We just needed to work hard and trust in God and rebuild again."
On the importance of family:
"We made sure we spent time with our boys, too. Whenever I looked at them I knew that no matter how many times we hit the bottom, we would still be on top because we had our little happy family. I knew our family was our biggest blessing."
On National Book Store today:
"My children and many of my grandchildren work with National Book Store, bringing in many books not just to read at school, but to enjoy at home, too. Books about everything you can think of: stories about people and interesting ideas from all over the world, novels about creatures and places everywhere, even out of this world, books about living things and non-living things and everything else in between."