Beyond Business at SM
The movers behind some of the country's best loved brands, their Entrepreneurship 101 stories, and growing their business with SM
THE GOLDEN ABC, INC. GROUP
BERNIE H. LIU, CHAIRMAN AND CEO
BRYAN T. LIU, E-COMMERCE AND BUSINESS TRANSFORMATION OFFICE HEAD
BRANDON T. LIU, MEN'S DIVISION HEAD, PENSHOPPE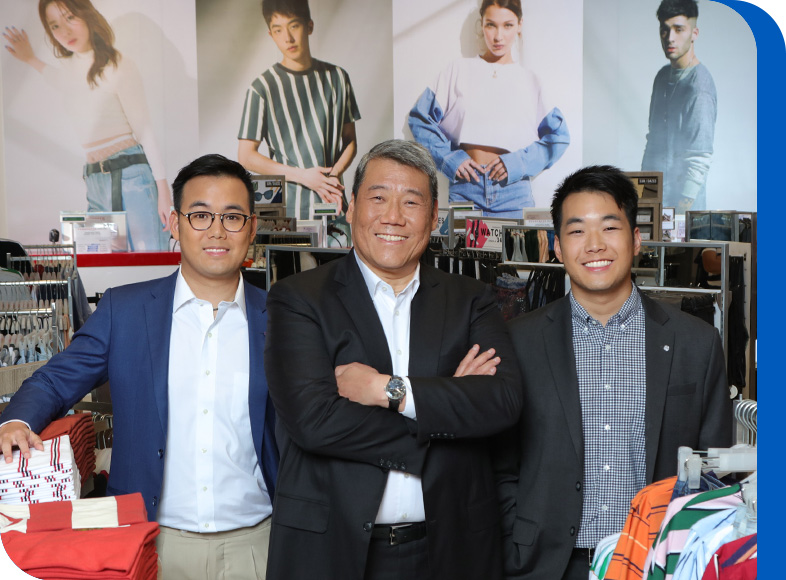 In 1986, Bernie Liu proposed to his parents that they shift their garment manufacturing company into a fashion retail enterprise. This idea brought to life the fashion brand PENSHOPPE, starting with only 40 employees, and as the new kid on the block, found an opportunity to be inventive and adventurous.
In a one-size-fits-all-t-shirt environment, it created a lot of excitement when it released t-shirt designs with embroidery stitching using digital technology. Starting out in Cebu through the department store channel, the brand then expanded aggressively its presence in Luzon, Visayas and Mindanao, the first to roll out electronic data processing and barcoding.
SM was one of Penshoppe's integral partners during those early years. With good performance at the SM Department Store, this encouraged Bernie to seriously expand the business and explore the boutique channel and was offered a space at SM City North EDSA.
Bernie remembers the time in 1991, on their 5th year of operations that "we opened our very first stand-alone boutique in SM City North EDSA with a firework display – on the very day Mt. Pinatubo erupted. The Penshoppe boutique allowed us to offer a different and fuller shopping experience to our customers."
With the success of Penshoppe, the brand became the company's springboard to diversify its portfolio of brands. The flagship brand, Penshoppe, is the go-to fashion brand of the youth. Oxygen has made streetwear accessible for everyone, and Regatta continues to redefine what modern leisurewear is to the younger generation. Then there is ForMe for the ladies and Memo for the stylish professionals.
These brands make up Golden ABC, which today is a multi-awarded fashion enterprise that has brought Philippine fashion to the global stage, tapping some of the biggest celebrities and fashion icons and opening sites around Asia.
By year-end they will have over 1,000 strategically located sites and online presence in the Philippines, Cambodia, Vietnam, Myanmar, Thailand, Indonesia, Hong Kong, Malaysia, Taiwan, Brunei, Macau, Singapore, Bahrain, and the Kingdom of Saudi Arabia.
As Chairman and CEO of Golden ABC, Bernie is grateful to his late dad Lim Liu and mom Norma Liu "whose lives continue to guide us today. Their enterprising ways, their adherence to professionalism and hard work, their service to the community at large, and their resolve to live a life of integrity, have become pillars of our corporate identity. More importantly, it is their belief that everything we have and enjoy are blessings from God, and it is our responsibility to grow these gifts and give back."
He continues, "our people understand the importance of this principle, and as one team, we work together towards fulfilling this obligation. This is why through constant collaboration and hard work, our customers are provided with great design and quality products. As a company, we are inspired to make things happen, and make giant leaps together."
"As business owner, I believe it is important that we are also able to pass on these values and work ethics to the next generation so that they can also aspire to become their own brand of leader in the company." Bernie's sons, Bryan and Brandon, are now on board the company and "play key roles in our quest to achieve our vision of being the most admired Asian fashion brands company. Bryan is spearheading the e-commerce and business transformation office of Golden ABC, while Brandon is in-charge of growing the men's division of Penshoppe. We are also preparing to welcome my daughter Amanda who will also soon join the family business having finished Merchandising with honors at Fashion Institute of Technology New York."
SM is the first mall partner that paved way for Penshoppe to build their first flagship store. "In 2015, we opened Penshoppe at SM Seaside City Cebu with more than 800 square meters to showcase our products."
"Our relationship with SM has grown by leaps and bounds since 1986. A Penshoppe store can be found in almost every SM mall in the Philippines."

BERNIE ON WHAT MAKES A GOOD BUSINESS, A GREAT PARTNERSHIP
"Our partnership with SM reinforces our mindset that business has to be constantly dynamic, ever-changing, and can easily adapt to the market. It has to be flexible and fast enough to react to the changes.
Even if you are already a big company, you still have to be quick. There is no excuse to be slow. SM is a great example of that – where decision-making is centralized and good opportunities are spotted and grown."