Sharing, Sustainability, and SM
How SM and its partners are working with new and green technologies, bringing back the spark for seniors, making malling fun for the disabled, and rebuilding lives in villages for typhoon Yolanda victims.
NERALYN MONTEJO AND FAMILY
SM CARES VILLAGE
BOGO CITY, CEBU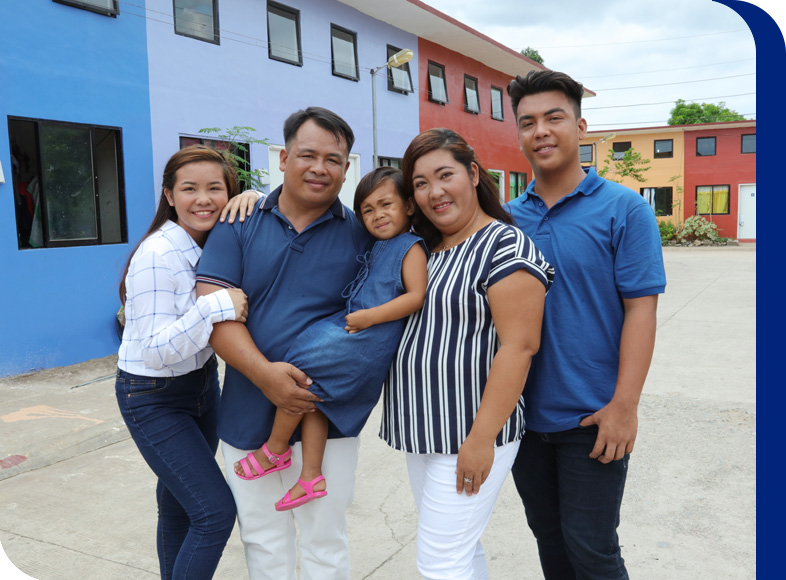 When super typhoon Yolanda savaged the Visayas on November 8, 2013, the northern part of Cebu took a battering. While the island of Cebu was not as badly hit as Leyte, and its capital Tacloban in the east, villagers describe hearing winds resembling a ship's engine or a helicopter for about two and a half hours.
Bogo City in northern part of Cebu was severely damaged, resulting in power loss, damaged schools and hospitals, and the loss of homes for about 90% of its residents.  Neralyn Montejo and her family were among the typhoon victims.
Strong winds greatly damaged their home and they sought shelter in their neighbor's concrete house. "At first, the kids felt happy to see fallen mangoes and coconuts around," recalls Neralyn, who was pregnant at that time, "but when the trees were uprooted, they started to panic and shout. Our first concern was the safety of our children."
After the typhoon, the Montejos started picking up the pieces of their lives. They learned about the housing program of SM Cares in Polambato, Bogo City.  At that time, SM was building SM Cares Villages for Yolanda victims, and 200 homes were planned in a one-hectare lot donated by theheirs of Wenceslao and Margarita Fernan. These were to be the first 200 of 1,000 disaster resilient homes that SM and its business partners had committed for the typhoon survivors.
The family applied for the SM Cares housing program through the Ramon Aboitiz Foundation, Inc. The SM Group and Ramon Aboitiz Foundation Inc.had earlier forged a partnership allowing RAFI to implement community organizing, values and social services programs in the resettlement site.
Determined to have a home – and new life – for her family, Neralyn went there almost every day.  And the Montejos were one of the recipients when the SM Cares Village was turned over to 200 families on November 9, 2014.
"A lot has changed since we transferred to the SM Cares Village," says Neralyn.  "Instead of paying rent, we can now pay for the schooling of our children." Her husband Jayson works as a taxi driver, and their three children Jepter, 18, Angel, 14, and Christ Mary Jane, 4 are happy with their new home.
Neralyn, an Education graduate, currently serves as the President of the SM Cares Village Homeowners Association. Under her leadership, the association built a convenience store whose proceeds will help fund the association's projects, while a portion will be distributed as dividends to its members. "It's my way of giving back," she says.
"I am very grateful to live here because it is a gift," she adds, "the facilities here have made us appreciate living in a vibrant well-rounded community. We are truly blessed to have received this gift of a new life from SM.

LIVING AT THE SM CARES VILLAGES
The SM Cares Villages built to help survivors of super typhoon Yolanda re-build their lives, is a joint undertaking of SM and its service providers, tenants, employees and communities.  
The one-hectare lot in the SM Cares Village in Bogo, for example, was donated by the heirs of Wenceslao and Margarita Fernan, while the Ramon Aboitiz Foundation Inc. implemented community organizing, values and social services programs in the resettlement site.
The disaster resilient houses were given to the beneficiaries for free, with SM working with several NGO partners for its community development, including livelihood and values formation activities.
In addition to its disaster resiliency features, the houses have heat resistant painted roofing to help lower interior temperature and increase energy efficiency.
There are four SM Cares Housing Villages in the Visayas, located in Bogo, Cebu (200 houses), Concepcion, Iloilo (200 houses), Tacloban (400 houses), and Ormoc, Leyte (200 houses).
Each village has utilities, basic amenities like street lights, as well as a community center and a basketball court. There are also chapels and convenience stores for its residents.