On the Road with SM
A glimpse of Rosales through the eyes of a National Artist, multicultural Tarlac through a dedicated public servant, and how dynamic entrepreneurs from Cabanatuan and Naga are transforming their homegrown businesses into national brands.
CARLO BUENAFLOR
CEO, BIGG'S, INC.
HONORARY CONSUL OF SPAIN FOR BICOL
NAGA CITY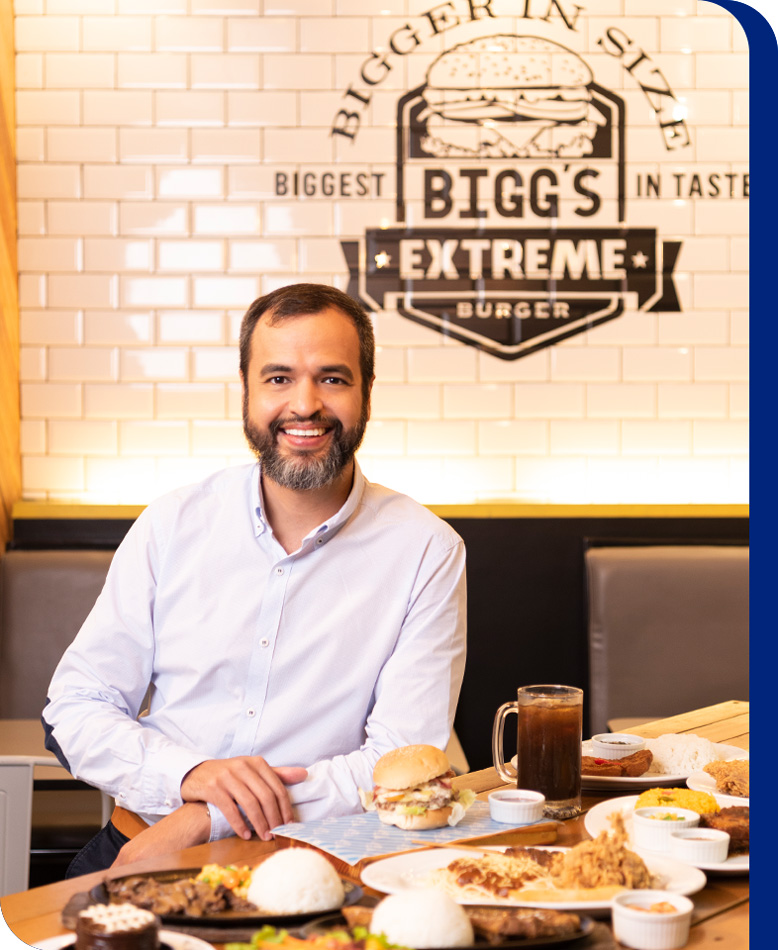 As one of the first Spanish settlements in the 15th century, Naga City has a rich historical and religious tradition, as seen in its churches and the Peñafrancia Festival. Today, Naga City is known as the "Heart of Bicol", and is the commercial, financial, educational, religious and cultural center of the Bicol region.
Bigg's, Inc. CEO Carlo Buenaflor recalls that it was in this forward-looking milieu that his mother Nienie Buenaflor and her partners started their food business 35 years ago as a small take-out counter. Over the years it grew, changed its name several times, and then became Bigg's Diner in 1995.
Carlo's own experience in the restaurant started out when he was ten years old. "My Mom exposed me to the business when I was growing up," he recalls. "I worked as a server, someone who cleaned and mopped the floor of their restaurants."
It was not surprising that his exposure to the food industry influenced his choice of a college program. He graduated from the Hotel Institute Montreux, a hospitality school in Switzerland, and later an HRM degree and Hospitality Management from the University of South Carolina in the US.  He later worked in hotels and restaurants overseas.
When Carlo came back to the Philippines, he made it his mission to help in the family business and to grow Bigg's to a national brand.  This involved hiring very good people and preparing themselves for international standards in store design, service, product quality and marketing campaigns.
Bigg's Diner was one of the first restaurants at SM City Naga when the mall opened in 2009. "It was important for us not only to be in SM, but in a good location," he recalls.  "I remember convincing the Leasing Department to give us the best location they could offer, not only for Bigg's but for our Havaianas outlet. Since that time, the Naga team has been supportive of all our needs and requests, and look forward to a longer relationship with SM."
Being at SM with national and international brands gave Carlo and the Bigg's team the opportunity to see good examples of best practices. "We have learned a lot working with SM City Naga," he says. "And that prepared us and paved the way for expansion in the future."
Bigg's Diner's success at SM City Naga has encouraged Carlo to explore different areas around Bicol, and he is excited about opening at SM City Fairview next year. With Bigg's as well as 9 stores through Havaianas and 9 All Flip-Flops stores in SM, Carlo feels he is truly a part of SM.

CARLO ON HOW SM HAS CHANGED LIFESTYLES IN NAGA
"When SM City Naga opened in 2009, it really created a culture of community and family. It changed the lifestyles of Nagueños as well as those in the Bicol region, and became a favorite hang-out place for shopping, eating and watching movies for families and friends.
And of course, Bigg's benefitted from the community that SM was able to create at SM City Naga. The mall has become a symbol and landmark of Naga becoming a more progressive, dynamic and forward-thinking city.
SM City Naga has really changed the personality of our city. We became more modern, more sophisticated, because new brands were introduced to us. It was really a big game changer for Bicol."