On the Road with SM
A glimpse of Rosales through the eyes of a National Artist, multicultural Tarlac through a dedicated public servant, and how dynamic entrepreneurs from Cabanatuan and Naga are transforming their homegrown businesses into national brands.
GOVERNOR SUSAN A. YAP
PROVINCE OF TARLAC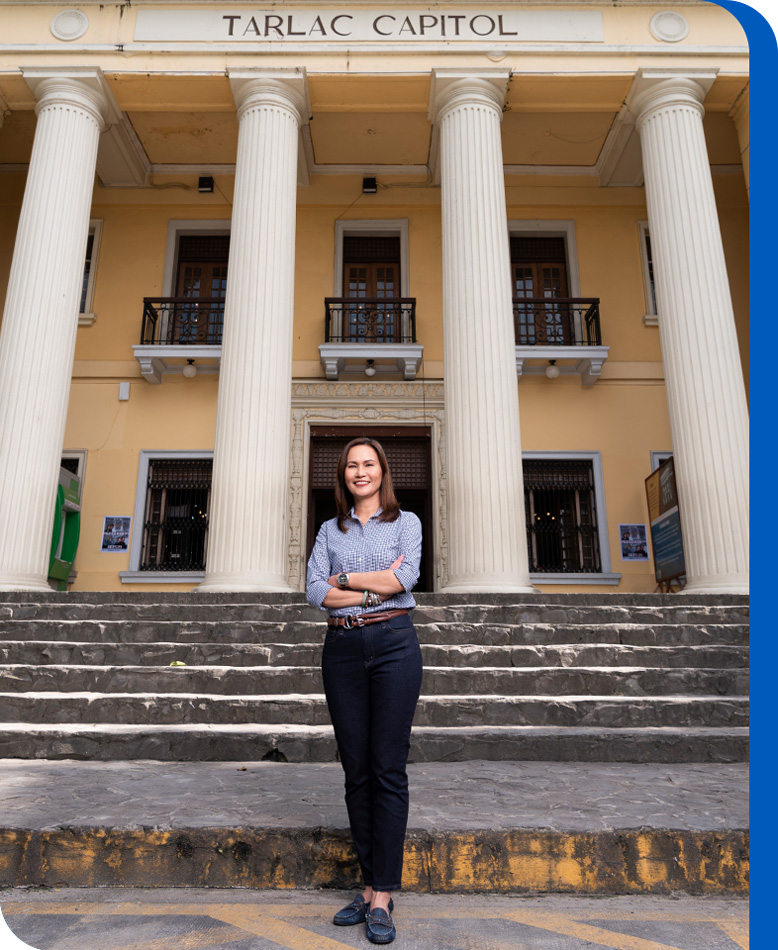 Tarlac is the most multicultural of Central Luzon provinces with four distinct groups – the Kapampangans, Ilocanos, Pangasinenses and Tagalogs – who share life in the province.
This mix of cultures has brought together the Kapampangan's taste for the finer things in life, the Ilocano's skilled craftsmanship, the Pangasinense's festival spirit, and the Tagalog's Spanish colonial tradition, giving Tarlaqueños a uniquely rich heritage.
Every March, the province of Tarlac celebrates the Kanlungan ng Lahi Festival, which showcases its diverse cultures and traditions through beauty contests, food festivals, sports fests, a national painting contest and a Grand Parade. This festival was initiated by the province's very own Governor, Susan A. Yap.
Tarlac Governor Susan A. Yap comes from a family long dedicated to public service – her father, Jose A. Yap was a beloved governor and legislator. And when he passed away in 2010, the party where he was a member chose her to succeed him in Congress.
During her two consecutive terms as Representative of the Second District of Tarlac from 2010 to 2016, she authored and co-authored a total of 63 laws.  Among these were children's rights laws as well as groundbreaking laws on Information and Communications Technology.
Today as Governor of Tarlac, it is Susan's wish to make Tarlac an economically sound and peaceful province. She is committed to continue and improve the "Sulong Tarlac" program of her brother, former Governor Vic Yap, which includes Edukasyon Muna, Kalusugan Muna, Pagkain Muna, Trabaho Muna and Environment Muna.
This means ensuring that food security is achieved, basic health service is delivered, livelihood and skills training are provided, education is made accessible, while making sure that the environment is well taken care of.
She says that since SM opened its mall in Tarlac City in 2008, SM has become a vital partner of the Provincial Government in providing economic opportunities and crafting cultural programs for the people of Tarlac.
"SM has been a major partner of Tarlac in achieving our development goals," she adds. "SM has donated thousands of books for public elementary school students; provided seedlings for the reforestation program of the province, and has been a major employer, continuously hiring Tarlaqueños in various Central Luzon malls."
More than that, she finds shopping and dining in SM malls "an exhilarating experience. My family certainly enjoys shopping, dining and watching movies in SM together. It is one way of bonding with them during my free time."

THE YAP FAMILY AND THE MONASTERIO DE TARLAC
(As told by Governor Susan A. Yap)
"In 2006, my late father, then Governor Aping Yap had a short chat with Father Archie Cortes, the parish priest of Ramos, Tarlac. Father Archie mentioned the possibility of the province acquiring and hosting the Relic of the True Cross of Jesus Christ that will come from Germany.
My father offered the Eco-Tourism Park located at Lubigan, San Jose, Tarlac, as a destination for the Relic.  Father Archie and his group, the Servants of the Risen Christ, agreed and decided to build a monastery to house the Relic. The Relic arrived in 2007, and the rest is history."
On January 30, 2007, the Sacred Relic of the Holy Cross was enshrined in a beautiful chapel on the Mountain of Resurrection in rites officiated by Archbishop Fernando Filoni, who was then the Papal Nuncio in the Philippines.
The Relic authenticated by a Papal Seal is believed to be part of the Sacred Cross discovered by Saint Helena in Jerusalem.
Here, surrounded by lush greenery, pilgrims flock to venerate the "one true cross" and celebrate the Resurrection of Jesus Christ.  The baroque chapel, which serves as the cross' reliquary is built in the middle of the secluded compound, surrounded by a piazza reminiscent of European churches.