Sharing, Sustainability, and SM
How SM and its partners are working with new and green technologies, bringing back the spark for seniors, making malling fun for the disabled, and rebuilding lives in villages for typhoon Yolanda victims.
LEANDRO LEVISTE
FOUNDER, PRESIDENT AND CEO, SOLAR PHILIPPINES
FORBES MAGAZINE 30 UNDER 30 ASIA, 2016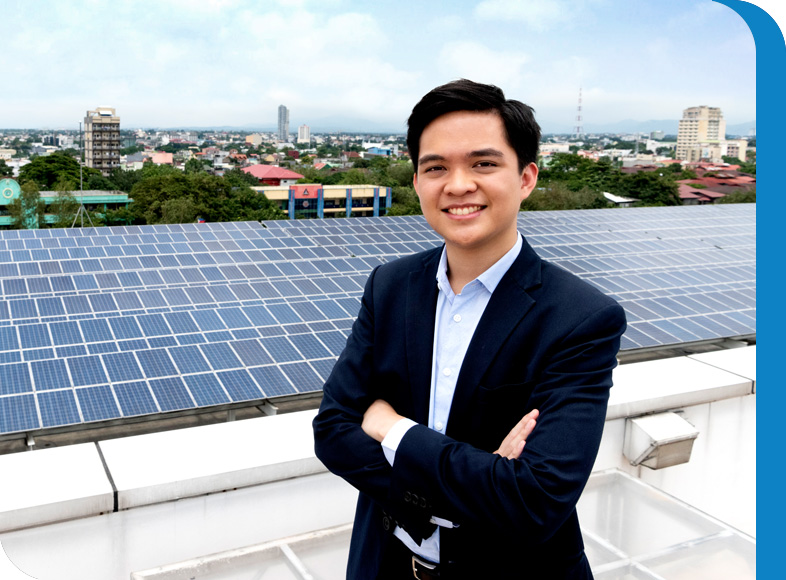 Solar energy is a sustainable energy, as it comes from a renewable resource.  By converting the sun's energy into electrical energy, solar panels make use of the most sustainable resource on the planet – the light of the sun.
Solar Philippines Founder, President and CEO Leandro Leviste was only 20 years old when he was investing into Tesla and Solar City, both U.S. companies that specialize in manufacturing solar panels. It was in between his second and third years studying politics in Yale, that he spotted an opportunity back home, as electricity rates in the Philippines are among the highest in Asia.  And he was convinced that solar power could bring it down.
With the mission of lowering the electricity costs to improve the lives of Filipinos, Solar Philippines started by helping out large businesses to lower their costs, so they can pass on those savings to their tenants and customers. With that, Leandro started on a sustainable path towards a better and greener Philippines.
Leandro brought the idea to SM Prime Holdings though Mr. Hans T. Sy, "who had taken quite an interest in SM being the first to adopt solar for the consumption of commercial buildings in the Philippines."
Mr. Sy believed in the idea, and soon "SM worked very hard with its engineering team customizing the parking lot installation and making sure that the construction of both the parking lot expansion and the solar panel installation were on schedule," Lean says.
In 2014, Solar Philippines completed the solar panel rooftop installation in SM City North EDSA which has 5,760 solar panels installed, that was at that time the largest solar powered rooftop installation on a mall, not just in the Philippines, but in the world.
To date, Solar Philippines already completed the installation of solar panels in 8 SM Malls including SM City North EDSA, SM Mall of Asia, SM City Iloilo, SM City Cauayan, SM City Cabanatuan, SM City Trece Martires, SM Center Tuguegarao Downtown, and SM Seaside City Cebu.
Leandro is thankful that with these "pioneering projects, solar has now become part of the mainstream consciousness of the Philippines and is well on its way to becoming a common feature of every Filipino household."
He adds that, "our partnership has not only benefited our business, but also the rest of the country as SM's adoption of new green technologies will create a more sustainable development for Filipinos."
As his company continues to grow, Leandro looks forward to "the time that every Filipino will enjoy the benefits of solar energy, whether from their own rooftops or from the electric power grid because of the decreasing cost of solar energy." He adds that these decreasing costs will not only lead to lower prices, but also to a better and greener Philippines.

LEANDRO ON HIS VISION FOR SOLAR ENERGY AND HIS PARTNERSHIP WITH SM
"We believe that one day, the residential solar installations will outnumber the commercial solar installations. But until then, it is these commercial rooftop installations which are not only the first call for the solar industry, but also the catalyst for the mainstream adoption for solar energy."
"I believe the time is near that every Filipino will enjoy the benefits of solar energy, whether from their own rooftops or from the electric power grid because of the decreasing cost of solar energy. With those decreasing costs, we will also see the cost of other commodities decreasing."
ON HIS PARTNERSHIP WITH SM
"It is when all the shoppers of SM realize they're shopping in a solar powered mall when Solar really gains its mass."
"Any business in the Philippines would love to have the opportunity to work with SM. It is, I believe, the most prestigious account one can have as it gives one the credibility to go into the market, especially with a new product like solar energy."
"We hope that SM will continue to help pioneer new technologies and products, not only as a retailer, but as a manager of very large commercial buildings."
"SM should be recognized as among the leaders in the Philippines adopting new and green technologies like solar energy and many other innovations now present in its malls."