Going Home to SM
All about finding a dream home – and a dream job – with SMDC.
ANNE AND AARON MACARAEG
SHELL RESIDENCES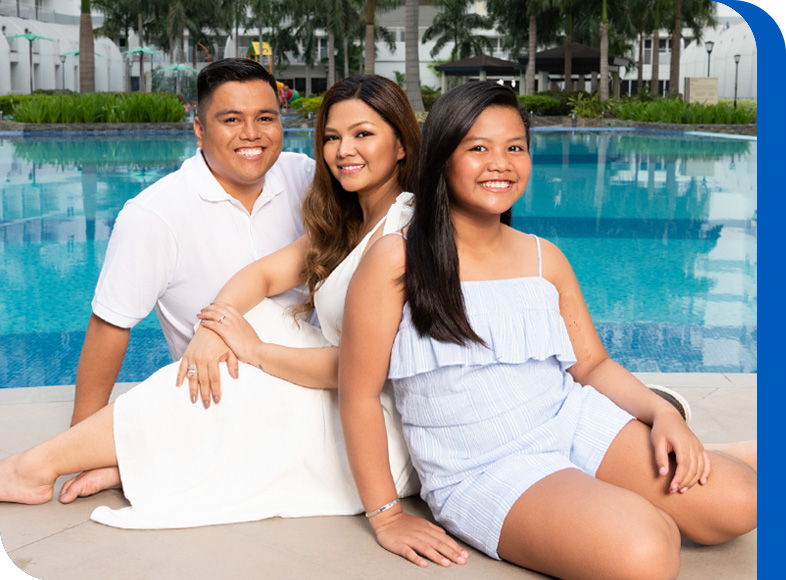 Having started their family at a young age, Anne and Aaron Macaraeg used to live separately – Anne in her family home in Caloocan, and Aaron in Cavite where he also manages their furniture business. Aaron would go home to Anne and daughter Rien during weekends.
The young couple eventually got tired of the set-up, and in 2013 decided to live and settle together in SMDC's Sea Residences as a family. This not only brought them closer together, but made them more entrepreneurial.
"I've always loved the Mall of Asia area," Anne recalls. "When I was in high school – it was only the church that was built at that time – I would drive all the way from Caloocan to jog there. My Mom and I always dreamed of owning a property by the Bay."
When they were offered to get a unit at Sea Residences, Anne and Aaron were initially hesitant and scared, feeling they were not prepared. But they were offered an easy payment scheme and bought their first units at Sea Residences, which they now lease out.
A modern resort-inspired condominium development, the Sea Residences allows its residents to experience a year-round "staycation", right in their home in the city. The young family has had many happy memories during the time they stayed there.
"We had our pre-nup at Sea," says Anne. "We would also have Halloween and Christmas parties, which the kids would love. We met our neighbors through those parties, and they became our friends."
They eventually acquired more units at SMDC's nearby Shell Residences, where they now live, as well as in Shore, which is still for turnover. "Our friends at Sea also transferred to Shell," she adds.
Shell Residences is a resort residential complex where one can marvel at majestic sunsets, hold memorable events at the exclusive clubhouse, and enjoy 365 days of shopping, dining, and world-class entertainment. The Shore Residences complex, on the other hand, combines the luxury of a 5-star vacation resort and the comfortable cozy home, one dreams of.
"We acquired several SMDC properties because it's really a nice investment," says Anne. "I still hope to get more units at these properties."
Moving to SMDC has also helped the Macaraegs' furniture business. And Anne's interior design business is thriving through the customized condo fit furniture which she designs.
"We are happy here," say Anne and Aaron. "Living at Sea and Shell has definitely changed our lifestyle. We became more independent and our family has become closer."

WHAT ANNE AND AARON LOVE ABOUT SMDC'S SEA AND SHELL RESIDENCES
"Security is 24 hours. At 12 midnight, we still feel safe because the area is lit up and security is around the vicinity."
"Convenience and accessibility. It's near Cavite where Aaron has his furniture business, Caloocan where Anne's family comes from, and Manila where Rien goes to school. It's halfway to all the places we would often go to."
"The pool area at Shell. It's like a resort."
"The private KTV, which has really nice equipment."
"The convenience of The Strip at Shell Residences. We don't have to go far if we need anything as Alfamart is there. We also often eat at The Strip."