Faith, Food, Family and SM
Food and art from the Culinary Capital of the Philippines, heritage cuisine from Bulacan, eco awareness from Olongapo, and how they have found their place in SM
CLAUDE TAYAG
ARTIST, FURNITURE DESIGNER AND CULINARY EXPERT
ANGELES CITY, PAMPANGA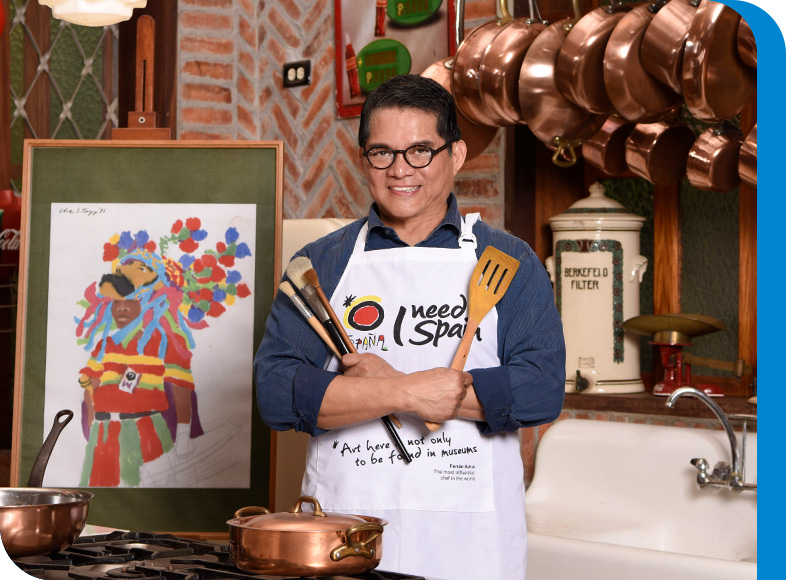 Pampanga has much to celebrate – exciting festivals, a rich history and culture, its food, and its people's entrepreneurial spirit.
As the Culinary Capital of the Philippines, Pampanga has a treasure trove of culinary delights – from colonial to folk to exotic. This gift can be traced to the Kapampangans' access to the friar's kitchen, and their land's plentiful harvest. Today, many contemporary world-class chefs are Kapampangans.
With good food comes the Kapampangan's love for the good life and his fine tastes. This, says Robby Tantingco of the Holy Angel University Center for Kapampangan Studies, is "an offshoot from their colonial masters' lavish lifestyles."  The rise of feudal lords and wealthy families in the province also nurtured bucolic towns like Bacolor and Guagua into thriving cultural and political centers.
Claude Tayag is a true renaissance man: painter, sculptor, architect, author, photographer and culinary expert.  A self-taught artist, he took Architecture and Economics at the University of the Philippines, and is also a furniture designer.
"As I child, I was constantly drawing and drawing," Claude looks back on his love for the arts.  "I remember I was given a watercolor set which really kept me busy. As early as I can remember, I knew what I wanted to be when I grow up."
In 1978, he first ventured in the art scene in Manila, easily got a name in watercolors with landscapes, religious images and festivities as his favorite subjects.  In 1990, he started exhibiting his artworks in a different medium – wood, as furniture in the Ayala Museum.
His many one-man exhibits have found their way overseas to Asia, America, even to Europe.  His private and public collections are elsewhere kept safe in many national and local museums.
Being an artist, Claude says, encompasses a lot of things – painting, sculpture, furniture design. At the same time, he writes about food, creates dishes, creates recipes and plates them himself as no other cook can do. "I guess what they call cooking is actually the culinary arts," says Claude.
His happy that SM has cultural programs that showcase the culinary and artistic talents of Kapampangans like himself.  "These special projects not only bring awareness about how talented Filipinos are," he says, "but are living proof of the diversity of our national culture and cuisine in every region."
Just as he is an expert in multi-tasking with his many talents, Claude expertly plans his shopping trips to SM, which has four malls in Pampanga – in San Fernando, Clark, San Fernando Downtown, and Telebastagan.
"When I go to SM I have to plan my day," he says. "I do the shopping and the grocery in the Hypermarket. I also need a lot of hardware in ACE and frequently go to the kitchen section in The SM Store.  Being a Kapampangan, my favorite restaurant is Cabalen, which has the best menudo I ever tasted. Then, I go to Bruno for a 30-minute facial massage or foot massage and then fall asleep ala siesta and then resume my shopping after that.  It's a whole day thing for me, like an excursion which I have to plan well."

CLAUDE:  THE ARTIST AND CULINARY EXPERT
ON GROWING UP WITH FOOD:
"I hesitate to call myself a chef, I am just a cook for the simple reason that I don't have formal training in the culinary arts. Growing up in a large family in Pampanga – I am the 9th of 12 children – we were made to help out in the kitchen especially when there was an unexpected number of guests.  It became part of our training to be self-reliant in the kitchen."
"When I became a professional artist living in Manila, my circle of friends – Nancy Reyes, Abe Cruz and Glenda Barretto – were foodies and we would try out restaurants or do a jamming cooking session in somebody's home.  One time Larry Cruz invited me to cook in his house, someone wrote about it, and finally Larry convinced me to be a guest chef in one of his restaurants."
ON GROWING UP WITH ART:
"Until I was 12 years old, my father invited his friends, who were painters and writers over here in Angeles to paint the countryside. I have a photo of my father and his friends – Manansala, Abe Cruz, Romulo Galicano, Roddy Ragodon, Sofronio Y. Mendoza (SYM) and Andres Cristobal Cruz painting the view of the Zambales Ranges.  And here I was, a 12-year boy in the foreground watching them intently. I think that was the turning point in my life when I realized I wanted to become an artist when I grew up."