HAPPY TO SERVE YOU AT SM
Heartwarming stories from the workplace from members of the organization and immersion/inclusion program participants that tell of growing professionally and personally, the joy of service, and finding a second home at SM.
AUGUSTUS LOCSIN
SENIOR SALES DIRECTOR
SM DEVELOPMENT CORPORATION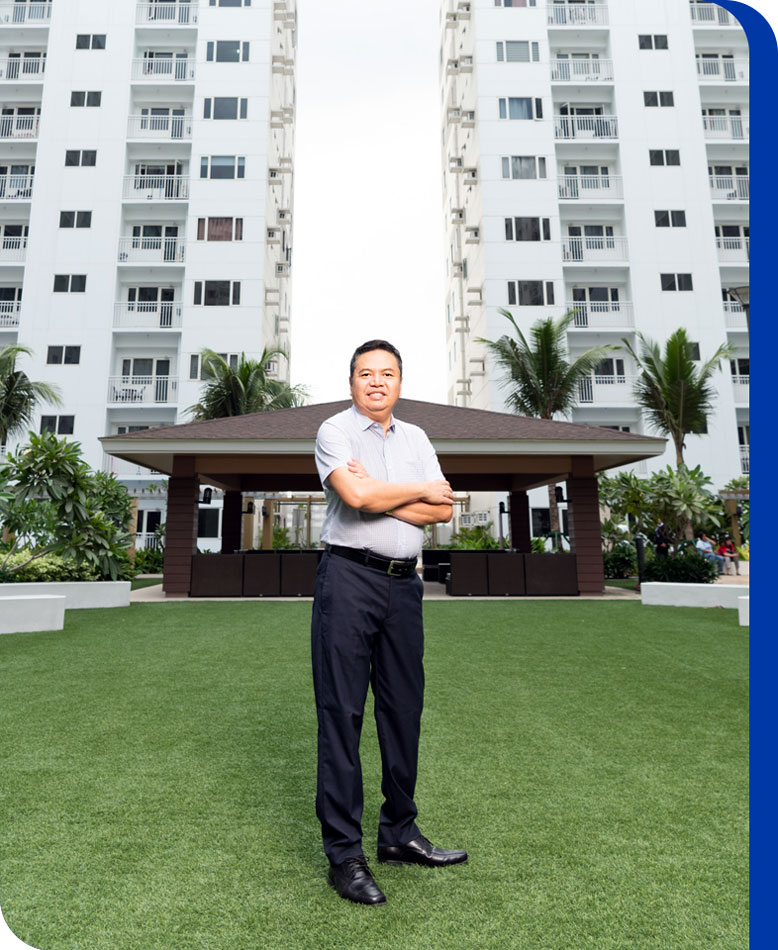 While SM has its roots in retailing, it now serves more Filipinos with SM Development Corporation's vertical villages where they can live in style, comfort, and convenience in their dream home.
Augustus "Gus" Locsin was one of SMDC's pioneer employees, joining the company in 2005 as Sales Manager.  His first project was Chateau Elysee, and he remembers that at that time, "there were about 15 of us in the sales team, including 6 property specialists, 2 managers and their teams, and a manager handling the brokers group. There were also about 15 people in the SMDC backroom, including then President Roger Cabunag."
SMDC launched Mezza 1 in Sta. Mesa during the following year, and being what he calls a novel condo, it hit, "the bull's eye." Mezza 1 had the "novel idea of giving a small space with a reasonable price at that time," he says.  "The market loved the idea, and Gus recalls that his group alone was selling about 100 units a month, and the group total increased from 400 to 500 to 600 million and then 900 million.
Gus, who was previously into the buying and selling of cars, says that there were many challenges during the early years, but he stayed on because he believed in the company and admired the Sy family.
He recalls how privileged he felt when he was introduced by Mr. Henry Sy, Jr. to his parents, Mr. and Mrs. Henry Sy, Sr. during the launch of Sea Residences, SMDC's first project in the MOA complex. "These are the people I look up to," he says.  "And I felt very happy and lucky to have had the chance to meet and work with them."
He also remembers the many learnings he had from Henry Sy, Jr., who especially during the early days would find time to talk to the property specialists.  Since he was happy with their sales, he asked what they would do with their earnings. Someone said he would buy cars, but Mr. Sy said, "Why cars? Why don't you buy properties?" That struck Gus, who followed this advice.
What Gus describes as "good management, the right people at the right time, and right timing" have since propelled the company's growth. And he considers it a great blessing and privilege to see SMDC grow from a small company to become one of the leading and most trusted real estate groups in the Philippines.
"I was part of SMDC when it was just starting," he says, "and I'm very proud of where the company is right now." He adds that because of what he has learned, experience, and being treated as a family, he has also grown with the company financially wise and spiritually wise.

WHAT GUS HAS LEARNED IN SMDC
"I have learned to value integrity and hard work and perseverance.  That's what they have taught me by their example. I have also learned to never settle on your success.  Once you have reached your target, aim for another target, and then grow higher and higher."
"Working at SM has taught me that everybody should work hard, value the hard work, and work for more so you could be able to reach the fullness of life.  SM has never grown tired of reaching new heights, new goals, new possibilities."