On the Road with SM
A glimpse of Rosales through the eyes of a National Artist, multicultural Tarlac through a dedicated public servant, and how dynamic entrepreneurs from Cabanatuan and Naga are transforming their homegrown businesses into national brands.
F. SIONIL JOSÉ
NATIONAL ARTIST FOR LITERATURE
RAMON MAGSAYSAY AWARDEE FOR LITERATURE 1980
PABLO NERUDA CENTENNIAL AWARDEE, CHILE, 2004
ROSALES, PANGASINAN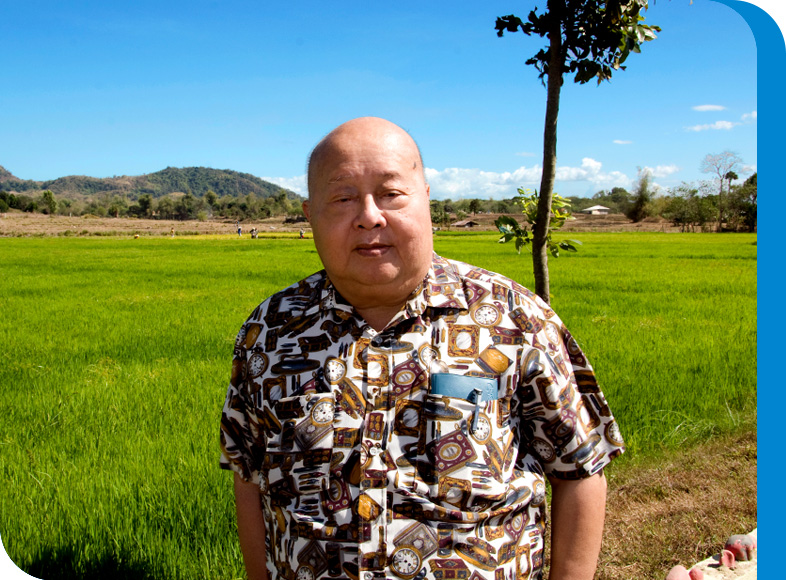 Rosales, Pangasinan is a junction town for travelers to different parts of the province, and to northern Luzon. Although originally an agricultural town, it is now on the crossroads of urbanization. Now the site of an SM mall, its economy is considered one of the best in Pangasinan.
It was in Rosales, Pangasinan that Francisco Sionil José, the most widely read Filipino writer in the English language, was born in 1924. One of José's greatest influences was his industrious mother who went out of her way to get him the books he loved to read. José started writing in grade school, at the time he started reading.
In the fifth grade, one of José's teachers opened the school library to her students, which is how José managed to read the novels of Jose Rizal, which made him cry because of the injustice; Willa Cather's My Ántonia, as well as the works of Faulkner and Steinbeck.
Today, José looms large in the global literary scene. His novels and short stories have been translated into 28 languages, and Time Magazine has called his work as "rivaled only by Jose Rizal."
Considered to be his greatest work is the five-volume Rosales Saga, which is an ode to his hometown. The Rosales Saga – Po-on, The Pretenders, My Brother My Executioner, Mass and Tree – covers one hundred years of Philippine history, from the execution of the three priests – Gomez, Burgos and Zamora in 1872 to the declaration of Martial Law in 1972.
While he has received many awards for his work, including the 1980 Ramon Magsaysay Award for Literature, the 2001 National Artist Award for Literature, and the 2004 Pablo Neruda Centennial Award from Chile, José goes beyond being a master storyteller.
To further promote culture and the arts, he gives pro bono lectures to high schools, has edited various literary and journalistic publications, started a publishing house and a bookshop, and founded the Philippine branch of PEN, an international organization for writers.
Realizing how malls in the Philippines have become modern-day plazas and parks, he has very generously joined SM for its cultural programs. "Just as it has become a center for shopping, I hope SM will become a center for cultural and community events not only in Rosales but also the rest of the Philippines," he says.

NATIONAL ARTIST F. SIONIL JOSÉ AND THE WRITTEN WORD
"Writers are keepers of memory and without that memory there is no nation. You read literature so you will understand people, so you will understand the conditions that moved them, and when you understand all the people, you will understand yourself."

"Literature is history that is lived by. If you want to know the conditions in any particular country at any given period, read the literature of that period. That is why Rizal is relevant today not because of the conditions that he portrays, but because we understand more the conditions of that period he is writing about."

"The mind and imagination have no borders. And it's the mind and imagination that fuels not only art, but almost everything."

"Technology is a tool, and we must learn to be able to use these tools positively, or else be enslaved by them. We must remember that technology is not value loaded."

"Freedom, liberty, democracy are all beautiful abstractions. We have to attach them to individuals to give them value, meaning and truth."

"I like to tell aspiring writers to be honest with themselves, and to work hard and persevere. Always remember that what you write for is not for yourself alone.  It's for the generations that are yet to come."

"All the great works of art, whether buildings or literature, were built with great diligence and artistry. It means that you have to be a craftsman. If you are a writer, you must know your language, you must know your words, syntax, grammar. But beyond all these, you must also have a larger philosophy not only of art but of yourself and of life."