SM'S MINDANAOAN TAPESTRY
SM stories celebrating family, art, and food woven from beautiful multi-cultural Davao, Cagayan de Oro and General Santos
ABDULMARI "TOYM" IMAO, JR.
VISUAL ARTIST
CAGAYAN DE ORO CITY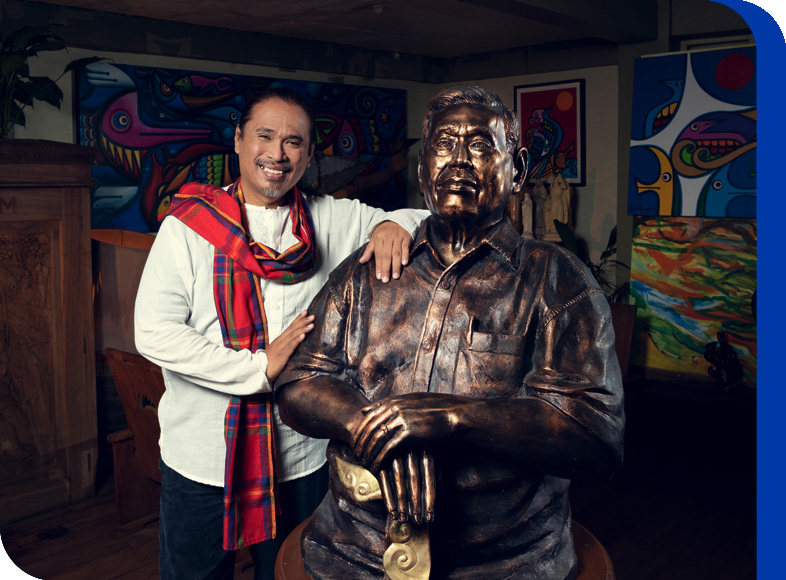 Known as the City of Golden Friendship, Cagayan de Oro, and the rest of Mindanao, offer golden opportunities for the arts to flourish in the region. Its natural attractions and rich heritage that brings together its indigenous communities, Christian settlers and Maranao Muslims lay the ground for an exciting cultural exchange.
The My City, My SM, My Art run at SM City Cagayan de Oro was a golden opportunity for Toym Imao to have a greater appreciation for the region his father National Artist Abdulmari Imao loved. He was likewise touched by stories from artists who had known his father through the workshops he tirelessly conducted in Mindanao.
He also saw himself as part of that exciting cultural exchange. Toym, after all, grew up in a family with a Muslim father from Jolo, Sulu in the South, and a devout Roman Catholic mother from Pampanga in the North. This was, for him, the best of both worlds as both are culturally rich regions with a wealth of amazing diversity.
Toym, whose nickname was inspired by the Ten Outstanding Young Men or TOYM Award his father received, learned art from his father. "My work is definitely influenced by my Dad," he says. "Everything I do is an homage to whatever he shared with us."
As a sculptor and a painter, most of Toym's works are found in public spaces, as he is mostly commissioned to create historical monuments and shrines.  His public artworks are always accomplished with masterful craftsmanship and display historical depth & architectural strength.
He is also one of a handful of Filipino sculptors who are experts in the lost wax method of bronze casting. With his pounded brass technology, he is able to create metal sculptures that are not stiff but full of details and movement.
As a versatile artist, he specializes in large scale murals and letra y figuras. His works can be found in major cities in the Philippines, Vietnam, the US and Europe.
When his father passed away, Toym felt compelled to continue his narratives, not only in his art, but also in his personal advocacy of promoting the region. Both their works have been showcased in special Eid'l Fitr exhibits at the SM malls, as well as part of My City, My SM, My Art in Mindanao.
He says that these exhibits "not only bring awareness about the legacy of my Dad in his art and his life, but also to his very inspiring story about a poor probinsyano who became a National Artist."
Toym adds that "exhibitions in SM malls are a form of outreach, bridging the galleries and the fine arts to people of all walks of life. And who knows, a young kid visiting a mall may get inspired by his art and his story, and pursue his own artistic journey."

TOYM AND HIS FATHER, NATIONAL ARTIST ABDULMARI IMAO
"When I was a kid, my Dad and I would always do projects together – maybe it was a flying rubber powered airplane, maybe a model boat, maybe traps for small animals like birds. He was always tinkering around, and his curiosity was immense."

"My Dad was as playful as I was, as curious as I was. We would go not only to art shows, but almost any kind of exhibition that had science in it."

"What I learned from my father is how to visualize and focus on what you dream for. His story of struggle of being a poor kid from Sulu to becoming a National Artist reminded me to strive harder as I have it easier than him. And he has given us a head start because of his stature in the art world."

"My Dad was never a preacher or a helicopter parent. For him, you should do your thing, share what you are doing. He was chill and cool."

"I remember going to the Artwalk and Art Center in Megamall with my Dad in the 1990s, and there were really good exhibitions. That way, SM bridged art to a larger audience beyond galleries and museums."