Faith, Food, Family and SM
Food and art from the Culinary Capital of the Philippines, heritage cuisine from Bulacan, eco awareness from Olongapo, and how they have found their place in SM
WILFREDO TADEO LAYUG
MASTER SCULPTOR
BETIS, PAMPANGA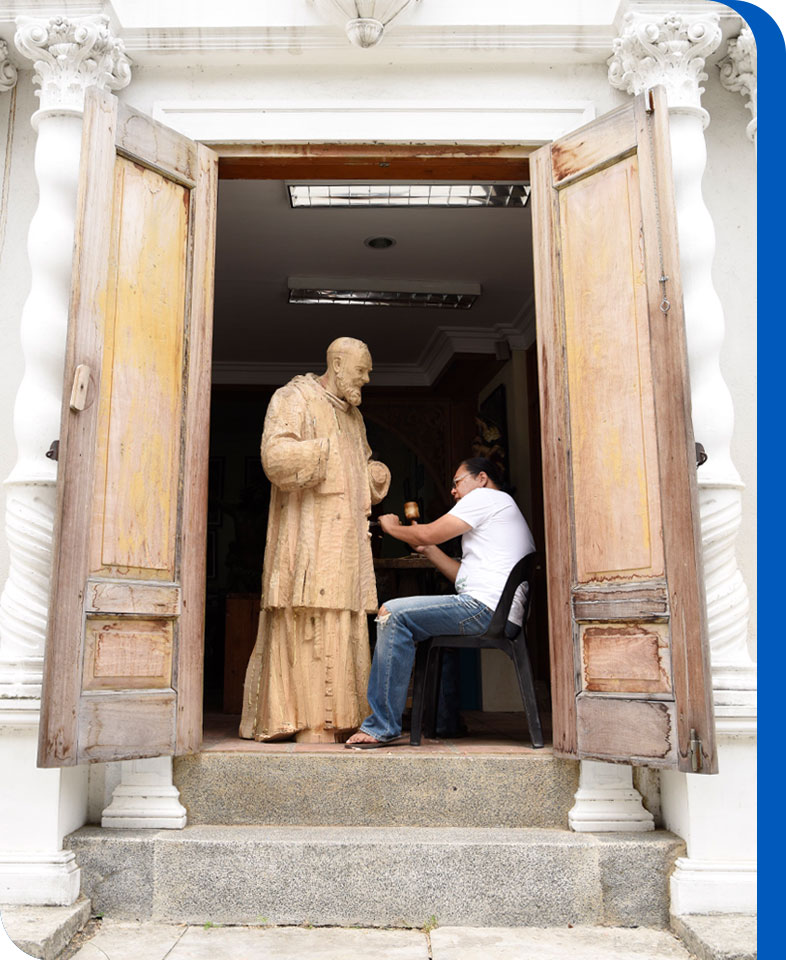 Most Kapampangans are devout Roman Catholics. Every town in the province has at least one church and several small chapels. The province also has some of the most beautiful examples of colonial church architecture in the Philippines especially in Betis, Apalit, Bacolor, and Angeles.
This tradition of ecclesiastical art continues today with master sculptors like Willy Layug, who within his shop, Betis Galleria, has paved the way for new trends and dynamic styles in religious icon-making and retablo making. More than that, he trains a new generation of sculptors, through his guild, Matenakan Artisano Santa Ursula.
Layug is grateful that SM has been very supportive of his work and his advocacy through its cultural programs – exhibits, workshops, and even special screenings of a film about his life.  With that, he is able to let more people know about and appreciate the art of dukit. That is why when it was time for him to launch his book about his art and life, he held it at SM City Pampanga.
Wilfredo Tadeo Layug comes from an artistic family from Betis – all sculptors and wood carvers from Barangay Sta. Ursula, considered as the town's art center.  In this creative milieu, Layug grew up exposed to the art of santeros, painters, and folk artists.
Like many Kapampangans, he comes from a deeply religious family – his mother was a catechist, while his father, also religious, played in a band.
His drawing skill was exceptional, and former Pampanga Governor Estelito Mendoza took notice of him, taking him under his wing as a scholar.  This allowed Layug to finish his BS Architecture and Fine Arts at the University of Santo Tomas.
Layug's first big break came in 1987 when he was commissioned to do lecterns and baldacchino of the church of Santo Domingo in Quezon City.  He pioneered the making of detachable relief icons which he applied to the project.
Like a true academician, Layug improved his craft by reading books, frequenting exhibits, and joining pilgrimages to Europe and other parts of the world.
He traveled to Seville, Spain, where he studied the art of estofado, a finishing technique in which gold leaf is applied over the surface of a Santo, which is then painted with the desired color.  The surface is then delicately scratched or incised with design to reveal the gold underneath.
Layug says that he was also inspired by how people in Seville and Córdoba value art, especially those made by sculptors.
For his work, Layug has received numerous awards, and was bestowed the highest merit of the Catholic Church, the Pro Ecclesia et Pontifice.

THE ART AND FAITH OF WILLY LAYUG
When Pope Francis visited the Philippines in 2015, a 7-foot tall wooden statue of Our Lady of Palo was placed near the altar of the Tacloban Airport for the open air Mass celebrated by the Pope on January 17.
The image was created for this historic event by Presidential Medal of Merit Awardee on Ecclesiastical Art, Willy Layug through the Archbishop of Palo John Du.
In addition to this, another of his works, the Crucified Christ, was the centerpiece of the Papal Mass on the Quirino Grandstand.
Layug says that it is a blessing that through his art, he is able to be part of the new evangelization of the Church.