Faith, Food, Family and SM
Food and art from the Culinary Capital of the Philippines, heritage cuisine from Bulacan, eco awareness from Olongapo, and how they have found their place in SM
BONG ENRIQUEZ AND RHEEZA HERNANDEZ
HERITAGE ADVOCATES
BULAKAN, BULACAN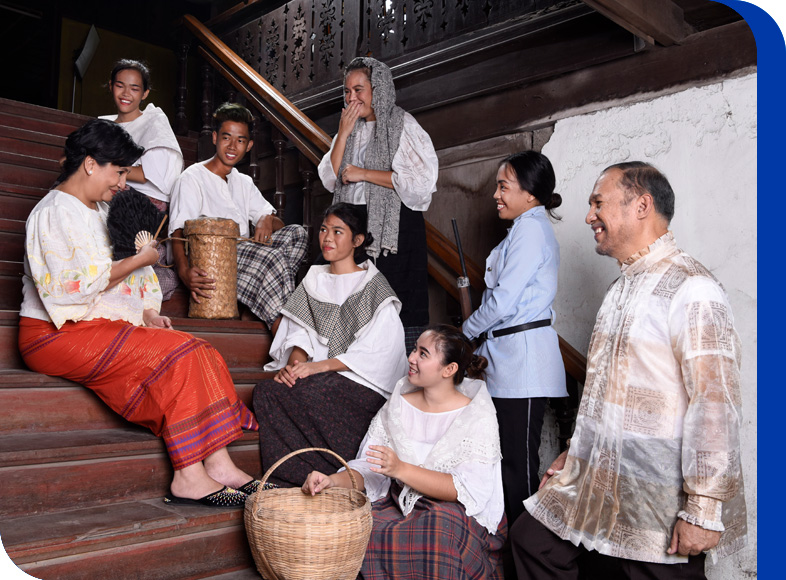 The province of Bulacan takes pride in its rich historical and cultural heritage as the birthplace of the first Constitutional Democracy in Asia, the cradle of noble heroes like Marcelo H. del Pilar and Gregorio del Pilar, and the home to many National Artists like Francisco Baltazar, Nicanor Abelardo and Guillermo Tolentino.
Bulacan's rich culinary tradition stands side by side with its place in history.  And when one talks about Bulacan's cuisine, the acclaimed food historian Mrs. Mila Enriquez comes to mind.  Through her research and writings, Mrs. Enriquez has given us a very interesting glimpse of the food of our heroes during revolutionary times.
She was recognized by the National Historical Institute for her extensive research on Bulakeño cuisine. Her book "Kasaysayan ng Kaluto ng Bayan" is not only a collection of recipes but introductions to every historic era and anecdotes behind selected cuisines.
The Enriquez ancestral home, which was constructed in the 1860s is a silent witness to our history. Some documents of Marcelo H. del Pilar were found in this house, which now houses a museum of rare antiques and historical artifacts.
After she passed away ten years ago, her son Bong and niece Rheeza decided to continue her legacy by giving us in modern times a glimpse of history through their performances and cuisine.
Vicente "Bong" Enriquez, who was named after his grandfather Col. Vicente Enriquez – who was the aide-de-camp of General Gregorio H. del Pilar during Tirad Pass; showcases our rich history through the theater arts.  A former member of the De La Salle Drama Guild, he organized the VSE Productions theatrical group in 1982. Many members of the group, like Bong, are descendants of Katipuneros.
The troupe performs traditional festive presentations like the Obando Fertility Rites, and enacts excerpts of important events in the country's history – the Liberation of Bulacan, the Letters of Jose Rizal to the Women of Malolos, the Battles of Gregorio del Pilar, in song and drama. Through these performances, Bong also revived customs of days past like the harana or serenade, the putungan or the local custom of crowning a guest, as well as the Balagtasan.
Rheeza, on the other hand, shares her aunt's research about the food of the heroes, as well as her heirloom recipes like Hamon Bulakenya and Gurgurya through seminars, workshops and demonstrations.  Her drive for cultural preservation has also prompted her to re-popularize the vanishing folk art of puni.
SM was the first to approach them to give mallgoers a glimpse of Bulacan's rich culinary and cultural tradition.  Through this, they were not only able to showcase the best of Bulakeño cuisine, but also vignettes of our culture and crafts, which in turn were picked up by numerous television networks.
They say that SM plays an important role in bridging our rich history and culture with the next generation.

MILA ENRIQUEZ AND KASAYSAYAN NG KALUTO NG BAYAN
In her book, Mrs. Enriquez highlighted what is known as the food of the heroes. These include pochero ni Plaridel (Marcelo H. del Pilar), tinolang manok ni Rizal, nilagang manok na puti na may asparagus ni Aguinaldo, Arroz ala Cubana ni Hen. Gregorio; nilitsong manok sa saha ni Bonifacio; and tempura ni Mariano Ponce.
She also shared that Dr. Jose Rizal cooked Gisadong Munggo for his visitors while he was incarcerated in Dapitan. She even listed the foods that were available to most Filipinos during the Japanese occupation.