Sharing, Sustainability, and SM
How SM and its partners are working with new and green technologies, bringing back the spark for seniors, making malling fun for the disabled, and rebuilding lives in villages for typhoon Yolanda victims.
EFREN MANANGAN WITH ERLINDA BALCOBA AND MAGDALENA GUILLERMO
OFFICE FOR SENIOR CITIZENS AFFAIRS (OSCA) MANILA
SM CARES COMMUNITY SERVICE PROGRAM FOR SENIORS PARTICIPANTS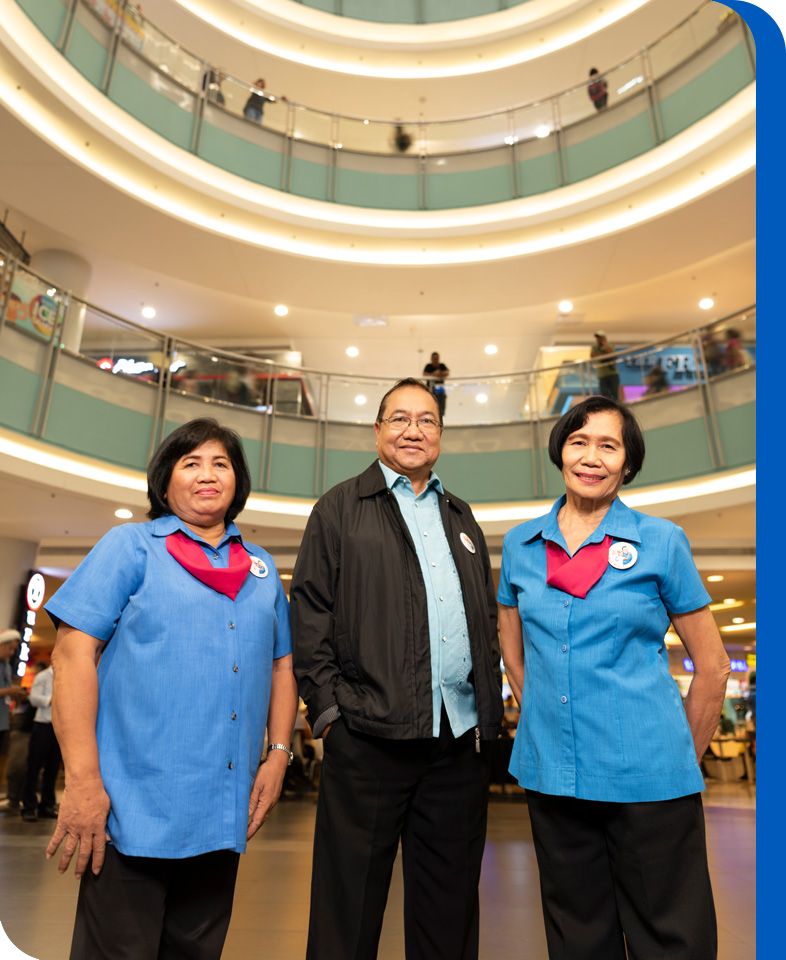 With the world so focused on youth, there is sometimes less appreciation for the contribution that elderly people have had for their community and family. However, with the growing ranks of the elderly, and with people living longer, there is luckily a growing number of organizations actively working to advocate for seniors.
SM – through SM Cares – started working closely with the Office for Senior Citizens Affairs (OSCA) in Manila beginning in 2007. The SM malls became the venue for OSCA's senior citizen activities, including the sale of livelihood products like beadworks, pillow cases, throw pillows and clothes.
When it launched its Senior Citizens Program to make participants realize that they can still be active and productive members of society, SM requested OSCA to endorse senior citizens from 60 to 69 years old to participate as mall greeters and food court attendants.
In Manila, a total of 86 senior citizens have become part of the program since it was launched in October 2013 – 27 in SM City Manila, 33 in SM City San Lazaro, and 26 in SM City Sta. Mesa.
Erlinda "Baby" Balcoba and Magdalena "Magda" Guillermo are part of the SM Cares Senior Citizens Program as food court attendants.
Baby, a former Junior Supervisor in a semi-conductor company, learned about the program in 2016 through OSCA Manila, as she is an active member of a Senior Citizens organization in Manila's 5th District. She was a mall entrance greeter in SM City Manila, and now a food court attendant.
Magda, a rehire from Batch 5 of SM's Senior Citizen Program, participated first as a mall entrance greeter in SM City San Lazaro last 2014. Currently, she is also a food court attendant. She learned about the program from her co-Senior Citizens at their Barangay Community in Balut, Tondo, Manila.
The program has not only assisted Baby and Magda financially, but has made them active, productive and involved citizens of our society.

OSCA AND SENIORS SPEAK ABOUT SM'S COMMUNITY SERVICE PROGRAM
EFREN MANANGAN (OSCA)
"People must be aware of the initiatives SM is taking to promote the independence, dignity, and health of older adults. In time, we hope there will be more participants in similar community program for seniors.
BABY
"Being part of the program has not only helped me financially but given me the opportunity to meet people from all walks for life. This has made me more active in senior citizen activities."
MAGDA
"I have gained a lot of confidence in dealing with different types of people in the food court, and this has made me strive harder in life. This has made me feel younger and become a happier person."