Creative Home-Works at SM
Celebrating gracious living with home stores and an heirloom coffee brand at SM
JIE PAMBID
DESIGN AND STYLE CONSULTANT, OUR HOME
VICE PRESIDENT FOR ACADEMIC AFFAIRS, PSID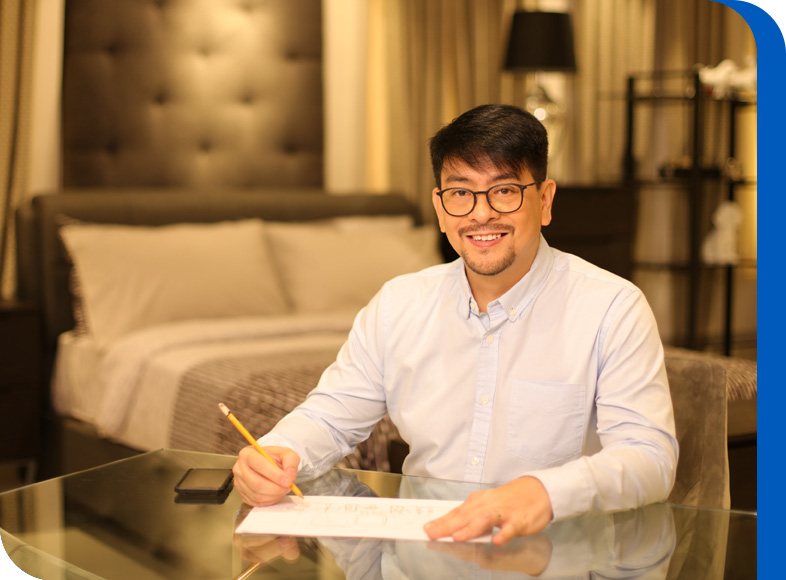 Every month Jie Pambid and the Our Home team change the style of the showroom and the store, creating vignettes for modern interiors.  These give design ideas to customers who are either furnishing new homes, renovating or redesigning spaces, or simply looking for something new to make their interiors more exciting.
"The challenge is to always come up with something different, new, and exciting every month," says Jie, who is Our Home's Design and Style Consultant. "Interior design is very dynamic and very personal and we at Our Home would always want to cater to different design personalities."
"We want to be able to satisfy the traditionalist and avant-garde, the modern and the trendy, as well as the classic and contemporary," he adds. "And the most challenging part is to be current and relevant not only to designers, but to homemakers as well."
Jie particularly loves working on the Christmas settings, planning of which he says begin as early as March to July.  He considers putting up the holiday concepts as "a real production and team effort. We are like a family that decided to decorate the house for Christmas, and everyone's present to help out.  And the results are spectacular."
"I've always loved beautiful houses," says Jie, "and am delighted that my work in Our Home allows me to help customers create spaces they cannot wait to get home to."
As a person blessed with many talents, Jie is a foodie, a comic geek, and holds a master's degree in Cultural Heritage Studies from the University of Santo Tomas. More than that, he graduated on top of his class from the Philippine School of Interior Design in 1993 and topped the PRC Board Examination for Interior Designers the following year.  He took further studies at Staffordshire University's National Design Academy in the UK, where he holds BA Honor in Interior Design and MA in Interior Design degrees.
Today, he has an interior design firm which allows him to create designs and installations, and is Vice President for Academic Affairs at PSID.  "I've always said that interior design is my profession and teaching is my vocation," he laughs. Jie is also the Editor-in-Chief of Modern Living Home Magazine and segment host of Modern Living TV.
He came to join Our Home, which is part of the SM Retail Group, through a friend who asked him to style a vignette for the store's SM Megamall branch in 2012.  He obliged, created a living-dining-bedroom setting in stark black, white, and grey, which the big bosses loved. And the rest, as they would say, is design history.
"As a designer, I love the variety of merchandise the brand carries," he says.  "Our Home is my first choice or go-to-store for furniture, furnishings, and accessories.  Service is superb, plus there's always value for money, and the clients feel they are getting their money's worth."

JIE'S TIPS ON HOME ACCESSORIZING
      Do not leave walls bare. Always have one outstanding wall arrangement as a focal point. Whether it be a painting, or a wall hanging, or a tapestry, these will automatically create an interesting visual experience and will give the space character.

     Hang most accessories at eye level (5'6") or below. If in a seated position, hang them at seated eye-level (3'6").

     Do not go overboard. Restraint and simplicity are better than clutter. Create a lived-in look without making the room overcrowded and confusing.

     Exercise judgement in spacing accessories, not crowded together that nothing stands out.  When using small objects, either on a wall or table, arrange in groups or clusters and not in a row. Keep texture, color, shape, balance, scale, and proportion in mind.

     Use three-dimensional objects for variety and depth. Clocks, mirrors, plants, plaques, and shelves give needed height and length to a room.  Mirrors give the illusion of space and if placed behind a lighting fixture, doubles the amount of light in a room.