SM Stories from the South
How art, music, food, family, and SM touch lives in Laguna, Batangas, and Quezon in Southern Luzon
THE PHILIPPINE HIGH SCHOOL FOR THE ARTS
MR. VIM NADERA, DIRECTOR
GINO MISA, MUSIC PROFESSOR
TEENA MENDOZA, THEATRE ARTS PROFESSOR
MARC COSICO, VISUAL ARTS PROFESSOR
ROBERT MEDINA, BALLET PROFESSOR
LOS BAÑOS, LAGUNA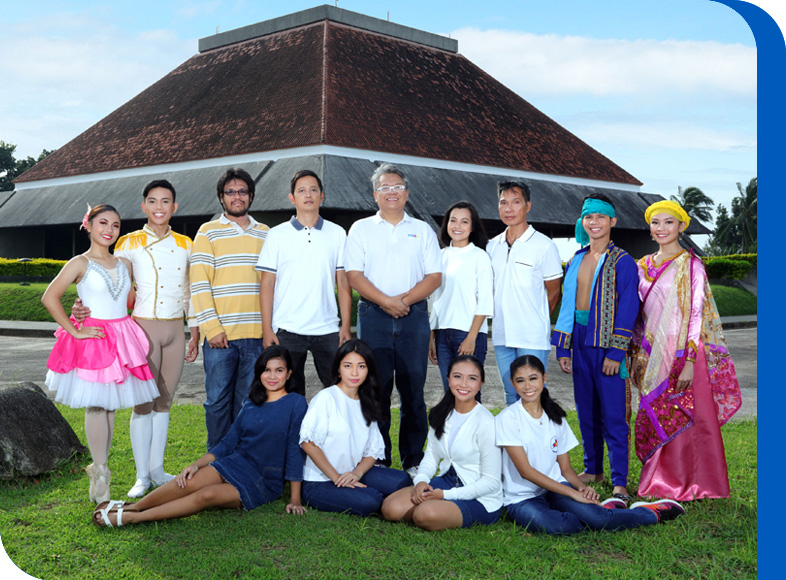 With mythical Mount Makiling, scenic Laguna de Bay, lush trees and gardens, and hot spring resorts providing the best backdrop, Calamba as well as the rest of the province of Laguna have been a source of inspiration for many artists.
Amidst the legendary beauty of Mount Makiling nestles the National Arts Center, a sanctuary for young and aspiring Filipino artists. Established in 1976, the NAC plays a pivotal role in the cultural uplifting of the nation through the development of young talents.
Scattered over the NAC complex are various facilities, one of which is the Philippine High School for the Arts. A government-run secondary education institution for artistically gifted young Filipino artists, it is committed to the conservation and promotion of the Filipino artistic and cultural traditions.
Since it opened in 1977, PHSA has strived to develop the expertise and potentials of its artist-scholars, faculty and staff with opportunities for cultural appreciation that will contribute to their development as artists for others.
As head of a school that is always in search of talented and gifted Filipino youth, Philippine High School for the Arts Director Vim Nadera says that "the My City, My SM series opened a lot of doors for our students."
When the school's Visual Arts majors put up their exhibit at SM City Calamba, "it was good exposure for them. To be viewed or reviewed by captive mallgoers is an artistic exchange per se. "
"I guess it worked both ways," he says. "It benefitted us in terms of taking our activities outside the National Arts Center.  At the same time, it gave your shoppers a glimpse of what PHSA life is all about."
Since that time, SM and the PHSA have collaborated in many cultural events, and Mr. Navera looks forward to more opportunities to broaden each other's horizon.
The creative work of these young artists, after all, is a celebration of the past and present view of their generation, adding not only value to our lives, but helping us appreciate the future.