Voices from the Visayas and SM
How creative talents from Cebu, Iloilo, and Bacolod have broken barriers in design and music, initiated culinary exchange and transformed an ancestral home into a world-class destination.
KENNETH COBONPUE
INTERNATIONALLY ACCLAIMED, MULTI-AWARDED FURNITURE DESIGNER AND MANUFACTURER
CEBU CITY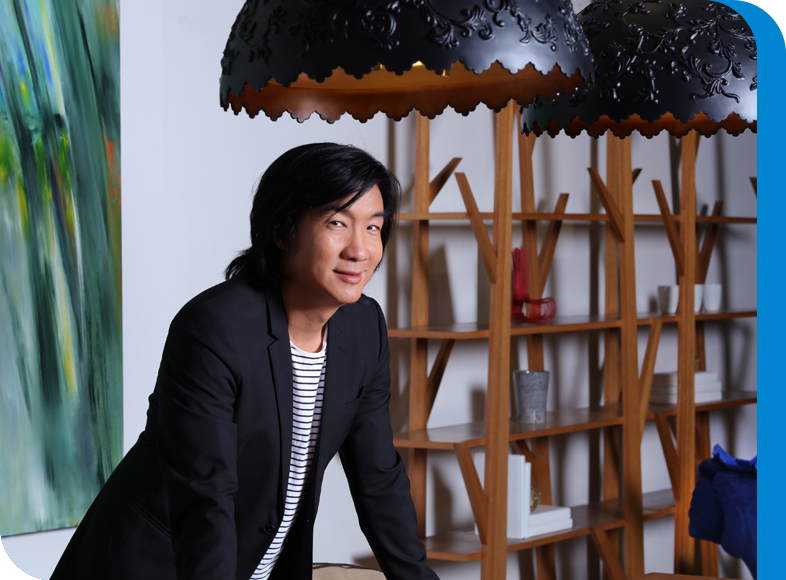 Cebu City is known as the Milan of Asia as it has become a design destination.  Cebuano designers are recognized for their skill and artistry as shown in the globally competitive products that have awed the world.
Cebu has a history of its people's ingenuity in making do with whatever they have.  They are used to making things work with whatever is on hand for them to work with. And because they are surrounded by beautiful, natural scenery, they can't help but turn out things of beauty.
With that, it is not surprising that Cebuano products today are a fusion of eastern craftsmanship, natural materials, age-old traditions, clever designs and modern technology.
Whether it is in weaving, furniture making, guitar making, jewelry, or home accessories, Cebuanos come up with the most innovative and exciting designs, and yet retain the beauty of form and function.
And when we speak of world-class Cebuano designers, Kenneth Cobonpue is top of mind. Born in Cebu to a designer mother already renowned for creating new techniques with rattan, Kenneth allowed his curiosity to sweep him away to New York, studying Industrial Design at Pratt Institute in 1987; he then worked in a leather and wood workshop in Italy, and finally went to Germany, where he completed his studies.
After coming back home in 1996, he was willing to invent "an alternative to the Western definition of modern design" using natural fibers.  And so, he started giving shape to his ideas, pairing locally sourced organic materials with innovative hand-made production techniques.
Never drawing lines "he follows nature's contours," achieving fame thanks to his masterful way of mixing nature, traditional crafts and innovative technologies.
Kenneth today embodies the excellence of Southeast Asian design and creativity and has received many prestigious awards for his work. These include five Japan Good Design Awards, the grand prize at the Singapore International Design Competition, the Design for Asia Award of Hong Kong, the American Society of Interior Design Top Pick selection, and the French Coup de Coeur Award.
Several of his designs were selected for several editions of the International Design Yearbook published in London and New York. In 2007, TIME Magazine called him "rattan's first virtuoso." Kenneth was named Designer of the Year in the first edition of Maison et objet held in March 2014 in Singapore.
Although the Cobonpue brand has become known internationally, and his clients include Hollywood celebrities and even royal families abroad, his roots remain close to home and was part of the team that designed the new Mactan-Cebu International Airport Terminal 2.
He has also participated in several of SM Cebu's projects including the annual Gear and Glam show featuring his classic cars in SM City Cebu and SM Seaside City Cebu.
He designed SM City Cebu's digital directory, called Community, a public art piece that shows harmony of form and function. Located at the mall's Northwing, it is a sculptural installation that functions as an interactive digital directory.
More recently, he designed Sky Play, a playground at SM Seaside City Cebu.  With its dinosaur-shaped shed, flying saucer-like and UFO-inspired slides, Kenneth says that he integrated art forms found in nature with the idea of creativity and dreams during childhood.
Altogether, the design brought to life the colorful world of children's imaginations – from dinosaurs to outer space – nurturing a child's creativity through the simple joys of outdoor play.

KENNETH COBONPUE ON DESIGNING AND GIVING BACK
"Be passionate about what you do and make it better while remaining true to yourself. Always strive to create unique and original designs that are not only appreciated by designers, but also real people who experience it."
Cobonpue and his company have incorporated his craft with corporate social responsibility by designing special products that give back to the community.
– For Habitat for Humanity, he designed a limited-edition tea light holder called First Light that resembled a house to benefit underprivileged communities devastated by typhoon Yolanda.
– For MovEd, he designed a special line of serving plates and bowls to help provide education for kids in unserved communities. His wall art piece "Dreaming in Earl Grey" was also auctioned off for their benefit during an event spearheaded by Philippine Tatler.
– He also participated in the Rotary Club of Makati West's annual charity sale, Alay Sining for the benefit of children with congenital heart ailments.