Up North with SM
Inspiring SM stories from beautiful Baguio and the Cordilleras, the fertile farmlands of Isabela, and captivating Cagayan.
JORDAN MANG-OSAN, ART LOZANO AND ALFRED DATO
TAM-AWAN VILLAGE ARTISTS
BAGUIO CITY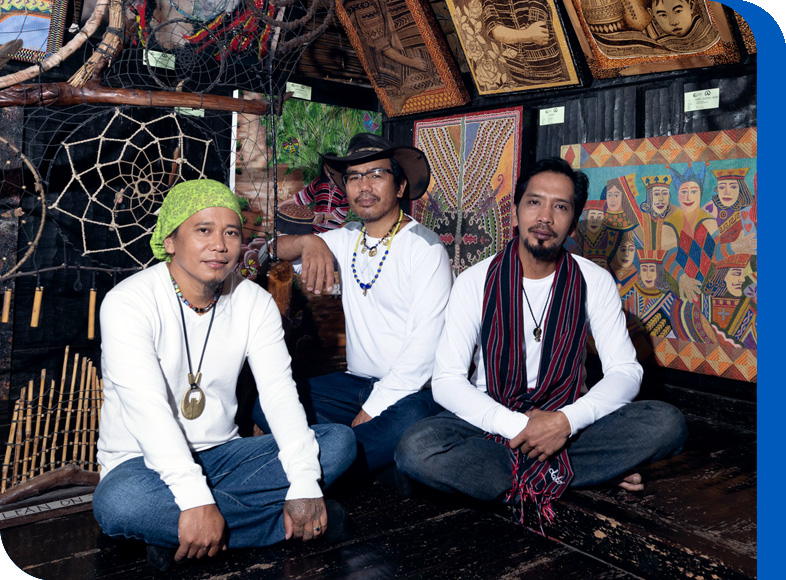 Baguio is a natural haven for artists, combining the rich ethnic culture of the Cordilleras with Baguio's breathtakingly beautiful scenery and cosmopolitan landscape.
Art spaces like the Tam-awan Village have also contributed to Baguio's vibrant arts scene.  Part museum of indigenous culture, part artist collective, the Tam-awan Village was established by the Chanum Foundation and National Artist BenCab in 1998.
Since that time, it has become a venue for exhibits and workshops for artists like Jordan Mang-osan, Art Lozano, and Alfred Dato.
Jordan Mang-osan who is currently the president of Chanum Foundation and head of the Tam-awan Village Artists calls his works solar drawings.  Solar art utilizes sunlight, replacing paints and brushes with a simple magnifying glass to paint an image into a canvas.
Mang-osan's works highlight the culture, tradition, and landscapes of the Cordilleras – as well as motifs and symbols.  He has done numerous solo exhibitions in the Philippines and abroad, and has garnered several awards and recognitions.
Art Lozano's work reflects his eclectic style using a variety of mediums available, playing on current events as well as insightful reflections on the plight of his countrymen.
Lozano hopes to become a reflection of realities close to him, both of the highland community where he has grown, as well as the areas he has immersed in.
Alfred Dato joined the Tam-awan Village artist circle in 2005 and is grateful for the encouragement of his other colleagues, which allowed him to explore his artistry and develop his own style.
Ethnic and upland idols from the Cordilleras are among Dato's favorite themes in his pointillism style.
Mang-osan, Lozano, and Dato are grateful for SM's cultural events, which help create greater awareness and appreciation for the arts.  They particularly remember My City, My SM, My Art, which was the first time Baguio artists were all gathered together as a group. The presence of National Artist BenCab made the event even more memorable.
They hope that with more collaborations with SM, many more, especially the youth, will appreciate the rich Cordillera culture, and will be able to embrace art as a way of life.

TAM-AWAN ARTISTS AND THEIR ADVOCACIES
JORDAN MANG-OSAN
"Through artworks, art festivals, and collaborations with SM, we hope to inspire young people to be mindful of what is happening around them, and to embrace art as a way of life."
ART LOZANO
"In my spare time, I teach children all over the country the art and economic benefits of the mono print design. We also hope that through this craft, the next generation will be inspired to venture in the arts with a means to sustain their passion."
ALFRED DATO
"SM has opened opportunities for more people to know more about artworks from the Cordilleras, and we hope and look forward to working with them for more cultural collaborations."