SM'S MINDANAOAN TAPESTRY
SM stories celebrating family, art, and food woven from beautiful multi-cultural Davao, Cagayan de Oro and General Santos
THE PUENTESPINA FAMILY
ANGEL, MANAGING DIRECTOR, PUENTESPINA ORCHIDS & TROPICAL PLANTS, MALAGOS CACAO DEVELOPMENT CENTERS
ARLENE, MANAGER, PUENTESPINA ORCHIDS & TROPICAL PLANTS
OLIVE, FOUNDER AND CHEESEMAKER, MALAGOS FARMHOUSE
REX VICTOR, CHOCOLATE MAKER, MALAGOS AGRI-VENTURES INC.
DAVAO CITY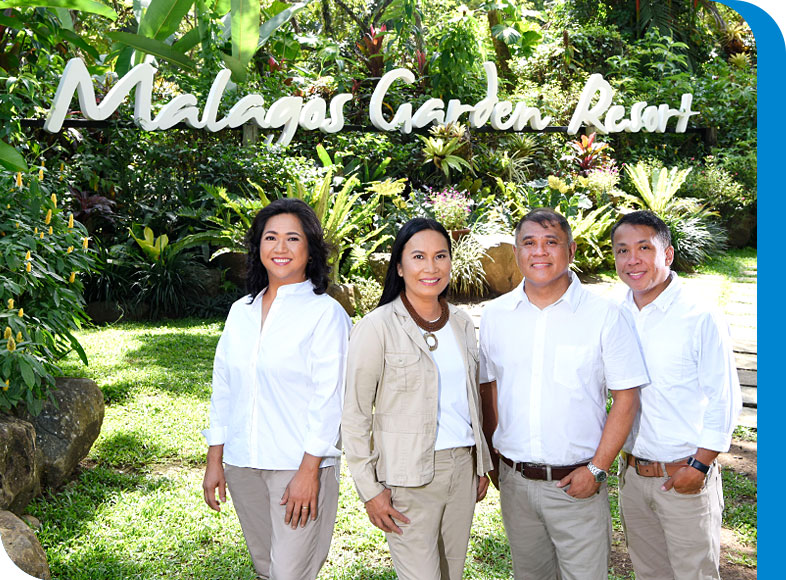 When Roberto and Charita Puentespina migrated from Iloilo to Davao with their growing family, the first company they established was a water well-drilling company, Hydrock Wells in 1964.  Hardworking and enterprising, the couple's business grew, and soon it was Charita's love for plants that allowed her to go into a new business that became the foundation of the family enterprise.
The family has been in agriculture for over five decades now in businesses that have always worked with nature. They construct wells, raise goats to make artisanal cheeses, produce and sell cut flowers and foliage, grow potted plants, run a nature themed resort, and are behind the award-winning Malagos chocolates, including the first chocolate museum in the country.
As a family with varied interests, each family member became interested in and managed its own business unit, yet collectively shared the same values and beliefs which their parents imparted – belief in God, hard work, honesty and the value of relationships.
Angel is the Managing Director of Puentespina Orchids and Tropical Plants which has become among the biggest producers of cut flowers in the country today. Their business blooms with cut flower production, cut foliage production, orchids & pot plant production, and ornamental & landscape plants production.  Today, they are moving to become a larger nursery operator producing not merely ornamental, but additional lines of horticultural crops as well as agronomic crops.
His wife Arlene is a floral stylist, and her art pieces have made events in SM's Davao malls memorable, including the opening of SM Lanang Premier. Her club, Ikebana International Davao Chapter also holds its annual exhibit in Davao.
Olive, is the Founder and Cheesemaker of Malagos Farmhouse. She became part of this very dynamic family when she married Roberto, Jr. in 1991. The couple always had animals in their backyard as he was a veterinarian.  And when she noticed the growing number of goats, she decided to go into cheese making.
Today, Malagos Farmhouse is known for its artisanal cheeses like the Blue Goat Cheese, and Feta, which is used by Philippine Airlines for its international and regional business class flights. They also process fresh goat cheese, chèvre, goat milk mozzarella, whole milk ricotta, pecorino, and The Blush, a semi-soft aged cheese made from cow's milk. Although hand-made cheeses are their specialty, the Malagos Farmhouse also has processed products like Feta in Olive Oil, Feta Stuffed Peppers, Pesto and Bottled Mushrooms.
Olive, who became a fulltime cheesemaker in 2005, says that participating in SM's weekend sales helped her touch base with the actual market, and being part of My City, My SM was a "nice platform to be noticed in the wide market SM holds."
Rex, who calls himself a proud farmer and chocolate maker, says that the family's venture into cacao growing started in 2003 when they leased a farm with existing cacao trees in Malagos, Baguio District, in Davao City. A farmer at heart, Mama Charita rehabilitated the trees and soon after harvested the cacao pods. From the harvest, she could make tablea (callets) the traditional way by open roasting the beans in firewood, then grinding and molding them.
Today, they operate a 60-hectare cacao farm and through Malagos Agri-Ventures Inc. and collaborate with farmers, whom they train with good cacao growing practices. In 2012, Rex put more value into what they did and started making chocolates, making Malagos one of the only 100 "tree to bar" chocolate producers in the world.
"SM—through Kultura—was the first one to put us in the shelves," he says. "We're happy about that because Kultura is a pasalubong store very well visited by tourists and returning residents." More than that, single origin Malagos chocolates from Davao have already earned 19 prestigious international and 2 local awards.

THE PUENTESPINAS AND THEIR SM STORIES
ANGEL AND ARLENE
"We have many fond memories spending time with family at SM – sometimes shopping, watching movies and watching activities of our children like the ballet participation of our daughter and the taekwondo competition of our son Paolo."
OLIVE
"We love the fact that your malls are pet friendly.  Also, being a premier mall, you have the brands we love right here, and there's such a wide array of food and the basic things we need. We were there for what you had to offer over the past ten years."
REX
"We have been dealing with SM through Kultura for the past four years now, and they are the number one retailer of Malagos chocolates. It's exciting that they push us to come up with new products and packaging."