Up North with SM
Inspiring SM stories from beautiful Baguio and the Cordilleras, the fertile farmlands of Isabela, and captivating Cagayan.
TARNY, TESS, JESSE, AND CHRISTIAN PERKINS
JENNYLUCK REMOLACIO
SM BUSINESS PARTNERS
TUGUEGARAO, CAGAYAN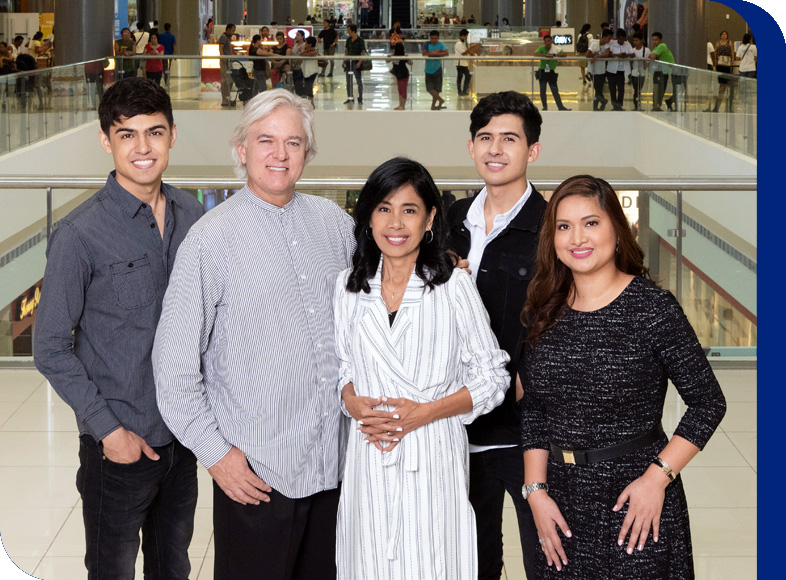 The province of Cagayan stands out as a tourist destination with its picturesque mountains, bird sanctuaries, limestone caves, fluvial attractions, museums, landmarks, and centuries-old churches.
Tuguegarao City, the capital of the province of Cagayan and the regional center of the Cagayan Valley, is a major urban center in Northern Luzon and a Primary Growth center.  The city's strategic location is perfect for business ventures and opportunities, and is transforming standards in infrastructure to become the gateway to Ilocandia and the Cordilleras.
With that, it is not surprising that Cagayanos who have spent many years away like -Jennyluck Remolacio and the Perkins family – have come back to their roots to serve customers at SM Center Tuguegarao Downtown.
"I have chosen to put up my skin-related business, Skinceuticals, in Tuguegarao because I was born here and grew up here," says Jennyluck.  "I just left after college so it's nice to be back home and give back to our community."
Jennyluck, who attended trainings and advanced classes in the US says that the idea of making one feel good and look good inspired her to put up Skinceuticals.  "I love the positive energy it generates," she enthuses, "especially when I see someone happy and relaxed after every treatment."
More than that, she has an advocacy to teach people to become self-sufficient and to promote beauty and wellness inside and out.  She says that working with SM has helped her become more efficient and effective in her beauty business. It has also made her realize how SM has become a catalyst for bringing employment to Tuguegaraoenos, and how the mall has brought families together in one place to spend more time with each other.
Tarny Perkins has his roots in California, where he has been running internet companies in the Silicon Valley, and where he entered the coffee business long before it became a revolution.  Married to Tess Pazziuagan, who worked for 10 years in Cathay Pacific, as a stewardess, they are parents to twin sons Jesse and Christian, who are making waves in the local entertainment scene.
The Perkins family loves the Philippines and has a special affection for Tuguegarao because it is where Tess was born.  In fact, her ancestral home is right across the street from SM Center Tuguegarao Downtown. When they were living in California, their first stop when visiting the Philippines during summers was Tuguegarao to say hello to relatives.
Today, the family owns and manages The Cup of Faith, which Tarny describes as a Christian coffee shop at SM Center Tuguegarao Downtown. Tarny's fascination with coffee goes back to the time a college friend of his opened his several Ooh La La coffee shops in San Francisco, and when they were moving back to the Philippines, opened his first coffee shop at SM Megamall in 1993.
That was before the coffee revolution, and Tarny says, he is pretty sure "we were the first coffee bar in the Philippines." They returned to a mature coffee market, and through faith and miracles, they opened The Cup of Faith at CCF Center, and later in Cebu and now, SM Center Tuguegarao Downtown.
Jesse and Christian, the Perkins Twins, have also had a longstanding and wonderful relationship with SM. Tarny recalls that when they first arrived in the Philippines from California with a brand new CD of Tagalog songs, they received no air time or network support. But SM supported the twins by allowing them to perform in one mall after another, opening doors to what is now a thriving career in their unique brand of entertainment.
The twins are also SM Youth music ambassadors, and for the past two years they have performed through the Department of Education at over 500 schools and 50 malls across the nation. They have also made a movie about high school life, Kaibigan starring Stephen Baldwin, which will be released in November 2018.
When they are in Tuguegarao, the twins mingle with fans in The Cup of Faith and are always ready to oblige for a picture.  "We continue to bring new products to The Cup of Faith," says Tarny. "The reception to our concept by the public has been fantastic.  SM provides a safe place to visit, socialize with friends, and family. The Cup of Faith is a microcosm of that – we provide the coffee and the faith."

WHY THEY LOVE WORKING WITH SM
JENNYLUCK
"My time here at SM taught me to put a smile on everybody's face because we are serving different individuals every day. Through Skinceuticals, I really hope to inspire more people and help others realize their dreams."
THE PERKINS FAMILY
"SM is always helpful, creative, and patient, and with the quality team members that SM hires, you know you are dealing with the best and brightest. We have also seen how SM not only follows trends, but starts new ones – which is unique for a company as large as it is."