SM Stories from the South
How art, music, food, family, and SM touch lives in Laguna, Batangas, and Quezon in Southern Luzon
THE SAN PABLO WEEKEND WATERCOLOR GROUP
DON ADO ESCUDERO, PRESIDENT AND GENERAL MANAGER, VILLA ESCUDERO PLANTATION RESORT
PATIS TESORO, DESIGNER, ARTIST, LIFESTYLE ICON
LITO BALLARAN, VISUAL ARTIST
CHEFS DAY AND GEL SALONGA, RESTAURATEURS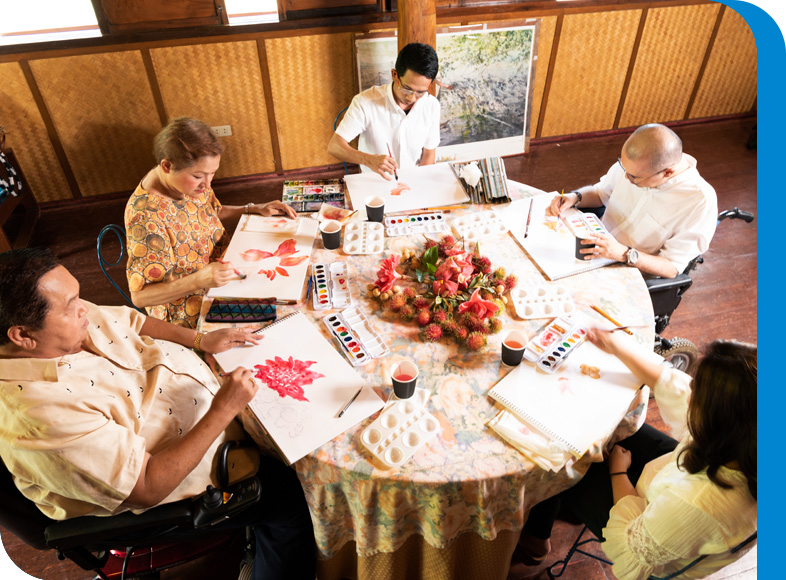 San Pablo in Laguna, the City of Seven Lakes, is known for its scenic beauty and timeless history.  Nesting at the foothills of Mount Cristobal and Mount Banahaw, it is an urban agricultural community rich in coconut plantations and aqua culture. Fast becoming a hub for government and private enterprises, including an SM mall, it is emerging as a premier tourist destination.
With its breathtaking beauty and rich culture, San Pablo has been a source of inspiration of many artists.
It was during My City, My SM, My Art, which celebrated San Pablo and Laguna's vibrant art scene that Patis Tesoro met Lito Ballaran, and was impressed with his work.
Patis, of course, is an artist and fashion designer, social activist and heritage conservationist, entrepreneur and lifestyle icon who has made San Pablo her home for the past few years.  Bursting with creative energy, she is an advocate of bringing out the best in Filipino artistry – from her embroidery, fiber, woodworks, sketches and drawings – showcasing the artistic Filipino heritage that the rest of the world came to admire.
Lito, on the other hand, was born in beautiful San Pablo and seems to have been born to paint watercolors. His watercolor paintings are full of emotions and reveal a very sensitive nature. With his impressive body of work, Lito has been appointed official co-representative by the International Watercolor Society for their Philippine branch.
They got together for lunch during Don Ado's advanced birthday celebration, and the group were all amazed by Lito's style. Patis came up with the idea to have a weekly painting session.
Since all are passionate about food and art, they all agreed and volunteered to host and prepare food for the art session.
Since that time, the group meets and paints every Sunday, usually doing still life, landscapes and indoor sceneries while sharing an afternoon of laughter, stories and good food.
The group is composed of prominent personalities in San Pablo City and Laguna Province.
Don Ado Escudero comes from a prominent family from San Pablo. He is the President and General Manager of Villa Escudero Plantation Resort, which today has a worldwide reputation as a showcase of the rich cultural heritage of the Philippines, offering a beguiling glimpse of its history, cuisine, dress, customs, and natural beauty.
Chef Day Salonga and his sister Gel come from Santa Cruz, Laguna, which is considered the melting pot of Quezon and Laguna. It is here that they set up the ancestral house turned restaurant called Aurora Filipino Cuisine along with business partner, Mon Urbano.
Apart from art and food, the group enjoys shopping at SM, the place that had a big role in bringing them together.

THE SAN PABLO WEEKEND WATERCOLOR GROUP ON ART AND SM
DON ADO
"I have always been supportive of SM's cultural programs because I want San Pablenos to be open to the finer things in life, to know how rich San Pablo is with arts and culture."
"What do I like best about SM? The fact that it is a one-stop shop. I like the Wine Section of SM Supermarket, and ACE Hardware."
PATIS
"I like to paint still life, mostly fruits, flowers, vegetables, harvest. That's why we end up enjoying the food prepared by the host."
"Everything is in SM and shopping there is convenient."
LITO
"When we see each other every week, we do still life, landscape and indoor sceneries. More than that, friendships are built."
"As an artist, the best about SM is that they support local artists through exhibitions, workshops and cultural events. They truly reach out and touch the heart of the artist."
CHEF DAY SALONGA
"Art is an expression and experiencing it with people with the same passion brings inner joy. Passion brought our group together, and it's a blast every time we have a session."
"SM is accessible. You can find SM in almost all the provinces in the country, and having an SM mall nearby gives people more choices."
GEL SALONGA
"Local fruits and flowers are our usual subjects. Our surroundings encourage us to see the beauty in everyday things."
"SM malls give us the convenience of not having to travel far to shop. These also serve as a place to relax and unwind with family and friends."