Creative Home-Works at SM
Celebrating gracious living with home stores and an heirloom coffee brand at SM
THE MERCADO FAMILY
CAFÉ DE LIPA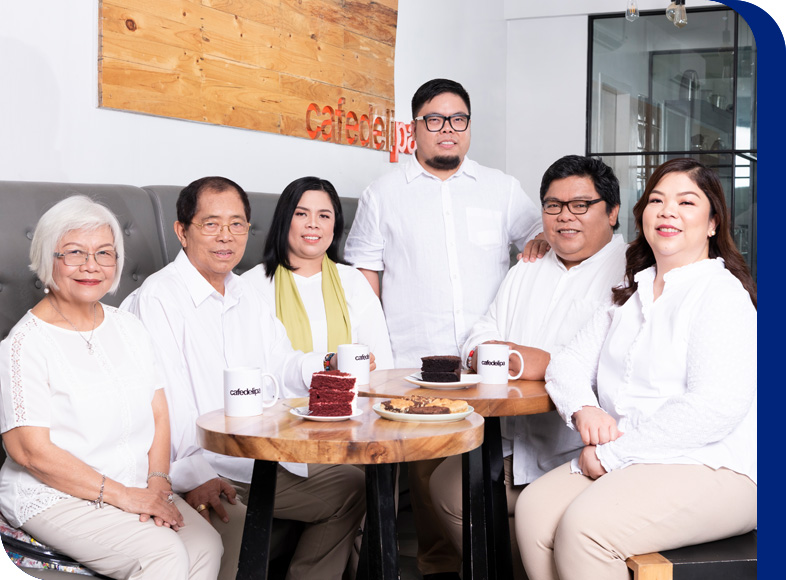 In the Philippines, coffee has a history rich as its flavor.  The first coffee tree was brought to Lipa, Batangas in 1740 by a Spanish Franciscan monk.  From there, coffee spread to other parts of Batangas, and Lipa eventuality became the coffee capital of the Philippines.
Lipa rose to world fame from 1886 to 1889 when it became the major supplier of coffee, which became scarce when a dreadful airborne fungal virus destroyed coffee plantations in Africa, Java and Brazil.
While these glory days are long gone, there are those like the Mercado family who believe in upholding Lipa's coffee heritage. And they are doing so through Café de Lipa.
"More than just being a business, Café de Lipa is a passion for us, an heirloom," says Omar Mercado, who is in charge of its overall operations. "We are constantly innovating and looking for ways to make a perfect cup of coffee, and at the same time are advocating ways by which others can appreciate its taste and preparation."
He adds that their move to SM City Lipa has made possible more awareness of their brand, as well as their advocacy. "Many people get to visit SM each day," he says, "and being there lets them know more about us."
The Mercados come from generations of Lipeño coffee farmers and traders.  Omar's grandfather Macario was a tenant farmer, who lost three fingers when he accidentally detonated a World War II bomb. He stopped farming, went into coffee trading which proved to be profitable and allowed him to buy land every time he earned a profit.
In 1967, Macario and his wife Angge were able to buy a parcel of land in the poblacion area of Lipa. It was also about this time when he bought his first coffee roaster and grinder.  This rocketed their earnings as they started to serve their "galapong" or ground coffee beans. Macario's son Joe eventually took over the business. That is why Café de Lipa's brewed coffee is called Barako Joe.
Today, Joe's children are all active in the business.  Omar, as mentioned, manages the overall operations, while Mayen takes care of coffee trading and procurement. Yasmine is in charge of pastries, while Bryan handles Café de Lipa's marketing.  They all work together, with partners like SM, to become catalysts for greater appreciation of their coffee heritage.

BUILDING A BETTER COFFEE COMMUNITY WITH CAFÉ DE LIPA
• "Café de Lipa helps local Filipino farmers by making coffee a social mobility factor. We are teaching farmers good agricultural practices on how to produce the best coffee beans and eventually buy those beans at a fair market price."
• "We are constantly looking for new ways and technologies to make coffee farming more efficient and share it with the farmers."
• "When students visit our café to learn more about coffee making, we share it with them for free."
• "We don't see other existing shops as competitors, but rather as allies in creating more coffee drinkers."
• "We have pledged to give coffee seedlings to all Lipeño households hoping that one day Lipa will be the city with the greatest number of households with a coffee tree."