SM'S MINDANAOAN TAPESTRY
SM stories celebrating family, art, and food woven from beautiful multi-cultural Davao, Cagayan de Oro and General Santos
HIJOS DE DAVAO
JACKIE G. DIZON, IMMEDIATE PAST PRESIDENT
VINCENT J. GARCIA, PRESIDENT
DAVAO CITY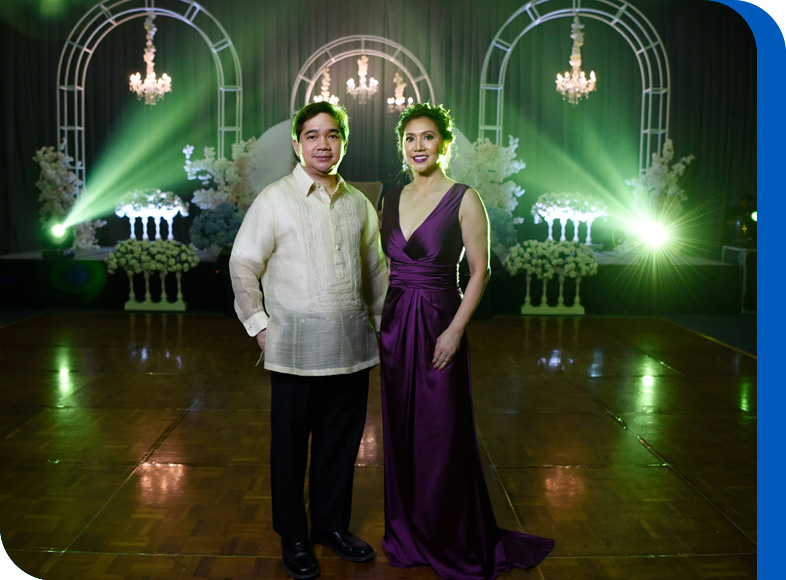 Davao's beauty and bounty have brought together a diversity of cultures – the indigenous people, the Muslims, as well as Christian settlers – that live harmoniously.
As part of beautiful Mindanao, Davao attracted many Christian migrants from the Visayas and Luzon who were drawn to its impressive tropical rainforests, fertile valleys and great biodiversity.
While there were Christian settlers as early as 1848, it was during the American rule in the late 19thcentury that more settlers came to Davao.
Many were lured by the prosperity offered by Davao's beauty and fertile lands, especially its abaca and coconut plantations. Today, Davao and the rest of Mindanao are home to some of the world's largest pineapple, banana and pomelo plantations.
As officers of Hijos de Davao, Jackie Dizon and Vincent Garcia, take the lead in preserving culture and traditions, nurturing relationships, and making a difference in the community. The group has philanthropic endeavors like fundraisers that focus on education and development.
Many Hijos are members of pioneering families from the Visayas and Luzon who have migrated to Davao for a better life. And generations of Hijos gather yearly every 29th of June to celebrate the feast of Saint Peter.  
"Being part of Hijos is a family tradition," says Jackie, who is the group's Immediate Past President. "I have been part of the group since I was three years old, and our kids are also members now."
For the past five years, SM has been part of Hijos' celebrations through its balls at SMX, and through its coffee table book which was part of the group's 50th Anniversary. "Our events in SM have been successful because of the support that we receive," says Jackie.
Hijos de Davao is all about bringing friendship among families, just as SM brings families and friends together through its malls.