Beyond Business at SM
The movers behind some of the country's best loved brands, their Entrepreneurship 101 stories, and growing their business with SM
THE MOMENT GROUP
ELIZA ANTONIO, FOUNDING AND MANAGING PARTNER
ABBA NAPA, FOUNDING PARTNER FOR CREATIVE DEVELOPMENT
JON SYJUCO, FOUNDING PARTNER FOR BUSINESS DEVELOPMENT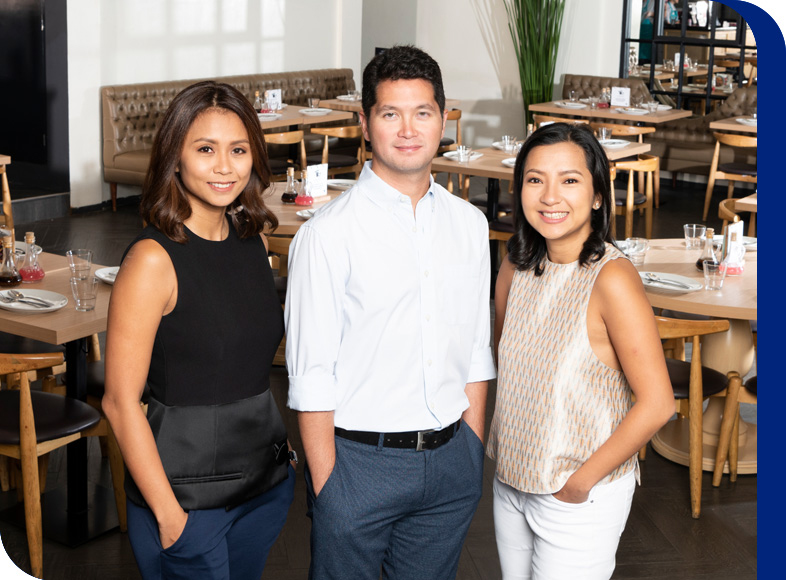 The Moment Group started out in 2012 as a passion project of restaurateurs Abba Napa, Eliza Antonino and Jon Syjuco to revolutionize the local dining scene and add impactful value. Having grown up around good food and restaurants their whole lives, they have developed a keen understanding of the constantly evolving Philippine market.
"We wanted to create exciting dining experiences for as many Filipinos as possible," says Abba, "We believe that when you put the consumer at the heart of the creation process, you usually end up creating something that is both exciting and relevant." As co-founder of the retail company that brought the global brand Havaianas to the Philippines, Abba works at building successful homegrown concepts and directing internationally-acclaimed franchises for The Moment Group.
They recall that when they were applying for their first SM store, 8 Cuts Burger Blends, "we went in hard hats, and we were pitching hard because the space was reserved for big brands and we were a small homegrown brand."
"We were no one in the industry, newly entered, and are so appreciative that SM took their chances on us," says Jon. "SM has been instrumental in giving us the first right location." As the group's Founding Partner for Business Development, Jon directs new business for the company, seeking out the best in real estate, partnerships, and new growth opportunities for all its business units.
Since that time, the group has grown to successfully own and operate a collective of some of Manila's leading homegrown restaurant concepts – 8 Cuts Burger Blends, Manam Comfort Filipino, Ooma, Mecha Uma, Bank Bar, The Mess Hall, and TMG Test Kitchen. The group has also partnered with formidable names in the dining scene: rising star Bruce Ricketts for the chef's table Mecha Uma; esteemed Cebu Chef-Restaurateur Jason Hyatt for Phat Pho Manila; and the American-Italian Linguini Fini.
It was however, "Din Tai Fung that was instrumental in making our company known," says Eliza, "and there was nowhere else we wanted to be but Mega Fashion Hall. I remember the day Din Tai Fung's owner Mr. Warren Yang came, and Mr. Hans Sy and Mr. Steven Tan of SM made it a point to have burgers and beer with us." As the group's Founding and Managing Partner, Eliza leads the company's operations, builds and refines the service culture at its restaurants, and plays the pivotal role in ensuring the group's culture, structure and profitability.
As business partners, "we've grown together. We appreciate how they keep offering opportunities for restaurateurs like ourselves. Their new developments remain relevant and competitive in the market."

THE MOMENT GROUP'S SM MOMENTS
Abba: "I think SM is astute and they take pains to understand business dynamics and various industries. They're forward-thinking. Our experience is that they really work with you. We feel it's always a collaboration – they're out to see their tenants grow, because then they grow as well."
Eliza: "SM is very supportive and easy to deal with. Their aggressiveness is infectious. It helps you get a better perspective – it gives a more hopeful view of the industry, knowing that SM is always still growing, and growing, and growing."
Jon: "Everybody should realize that in dealing with SM, it's truly a partnership. We really work together to ensure that the relationship is truly mutually beneficial. They go above and beyond when it comes to tenant relations, and make sure we know when an opportunity exists."