Beyond Business at SM
The movers behind some of the country's best loved brands, their Entrepreneurship 101 stories, and growing their business with SM
SHARON FUENTEBELLA
CHAIRPERSON, MAX'S GROUP, INC.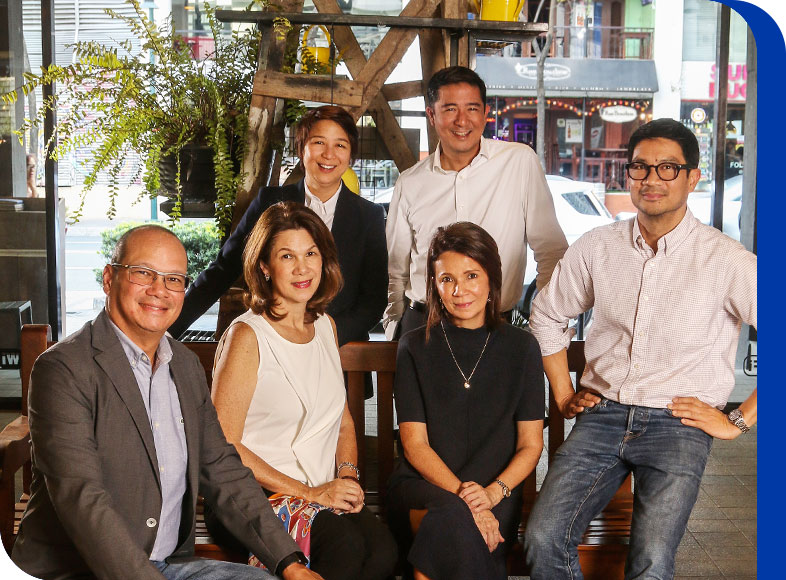 The Max's Group has a portfolio of loved and cherished brands that have delighted Filipinos since 1945. It began just after World War II in Quezon City when American soldiers would visit the home of Maximo Gimenez, whom they called Max. He had a niece, Ruby Trota, who created a special recipe for fried chicken, which was an instant hit among their guests. The GIs eventually insisted on paying for the food and drinks because they came so often, and this prompted Max to formally open a café.
That was when Max's restaurant and its Sarap-to-The-Bones Fried Chicken was born. 73 years later, Max's Restaurant has 188 branches in the Philippines, and 26 stores located across the United States, Canada, United Arab Emirates, Qatar and Kuwait.
Sharon Fuentebella, the great grandniece of Max and the granddaughter of Ruby Trota, recalls that it was in the 1980s when her father was invited by Henry Sy, Sr. to visit the space being offered at the first SM mall in North EDSA.
"We were hesitant at first because all our stores that time were free-standing because they required a certain size as we offer functions and events," she says. "The concept of a mall then was quite foreign to Filipinos."
But the Max's Restaurant branch in SM North EDSA surprised them. "It was like having Chicken All-You-Can every day because of the volume of people that kept coming to our store," Sharon looks back. "We even had to put extra tables and chairs outside the restaurant. I'm glad we decided to take the space all those years ago because 30 years later, it has led to a beautiful partnership with SM and the Sy family."
Today, with the next generation of both companies working together, Sharon says that she has "always respected the SM group for how they've grown the company. They are always professional and have a strong sense of accountability in their leadership. I appreciate how they make us part of the planning process when they have new developments, and they always ensure we grow our business alongside theirs." In a sense, both groups have grown together.
In 1993, Sharon together with her brothers and cousins started to play a more strategic role in managing the business and shaping the company's future. Referring to themselves as the Cousins Consortium, they began by opening the brand for franchising and expanding through mall-based and provincial locations.
"We wanted to grow the company further and saw that one way to do it was to bring to the country a global brand close to the Filipinos' hearts," Sharon says. The brand was Krispy Kreme, which they brought to the Philippines in 2006. This was followed by Jamba Juice, a California brand known for its premium and healthy smoothies, in 2011.
The acquisition of the Pancake House Group in 2014 proved to be a game-changer for the Max's Group. With this move, they were able to establish the company as the largest casual dining restaurant group in the Philippines. Their portfolio expanded to 14 brands – Max's Restaurant, Max's Corner Bakery, Pancake House, Yellow Cab Pizza Co., Krispy Kreme, Jamba Juice, Teriyaki Boy, Dencio's, Kabisera, Sizzlin' Steak, Singkit, Le Coeur de France, Maple, and Meranti, the group's initial venture in the hospitality industry.
They currently have 622 stores in the Philippines and 57 in various locations overseas across the brands, many located in the SM malls.
As the Max's Group moves closer to its goal of reaching 1,000 stores by 2020, 200 of which are located overseas, "we hope to create more stories of value, relevance and delight." And with SM as one of its "esteemed partners" – she is "excited for more collaboration opportunities with them."

SHARON FUENTEBELLA ON GREAT BRANDS AND GREAT PARTNERSHIPS
On Building Brands
"Falling in love with a brand is one thing; staying in love is another. We might have a portfolio of loved brands, but to keep them in love with us, we need to constantly reinvent ourselves and strive to always be creative. It's a balancing act though, because it always needs to be a respectful celebration of our brands' histories."
On Building Partnerships
"I've always respected the SM Group for how they've grown their company. The respect grew even more when we started working together. It is a partnership where one listens to the other, and both perspectives are heard and valued. I appreciate how they make us part of the planning process when they have new developments, and they ensure that we grow our business alongside theirs. SM is truly one of our most esteemed partners and I'm excited for more collaboration opportunities with them."