Heroes, Heritage, History and SM
Inspiring stories of how past and modern day heroes from Cavite, as well as amazing artists and public servants from Rizal work to make this world a better place
THE CAVITE HISTORICAL SOCIETY
HON. CESAR E.A. VIRATA, CHAIRMAN OF THE BOARD OF TRUSTEES
DR. EMMANUEL CALAIRO, PRESIDENT
ATTY. PAULO CAMPOS JR., CORPORATE SECRETARY
DR. ARLENE ABELLA, VICE PRESIDENT
KAWIT, CAVITE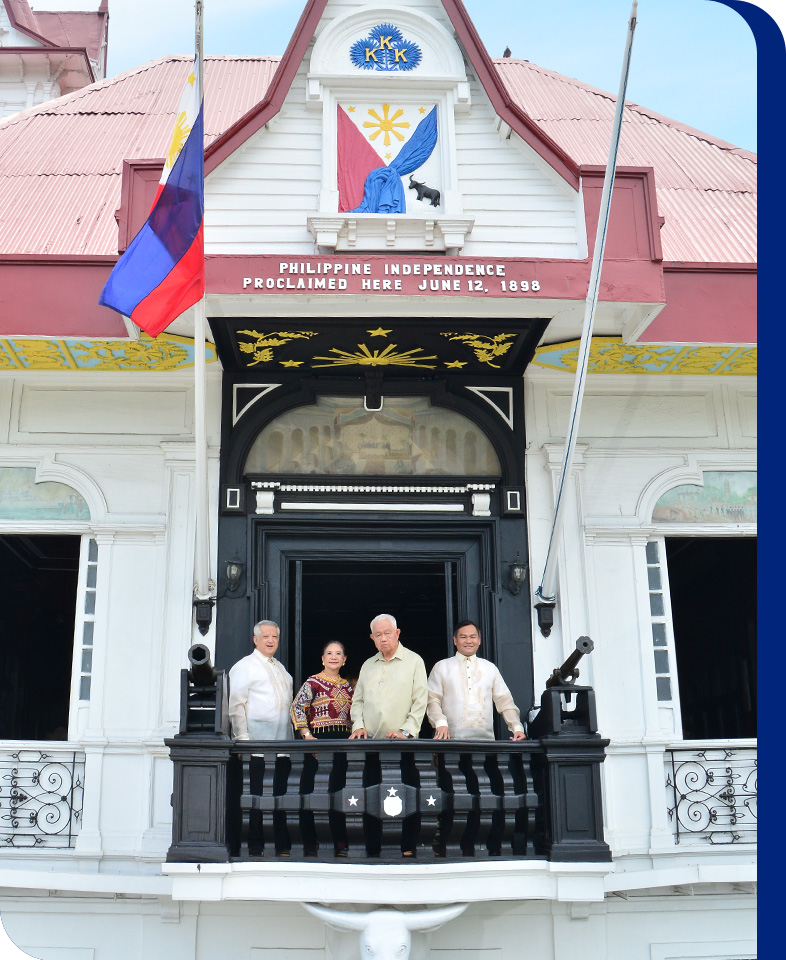 Cavite is a province known for its history, heroes and heritage.  It is the Cradle of the Philippine Revolution, and the Birthplace of Philippine Independence.  With its close proximity to Metro Manila and its Second Revolution towards industrialization, Cavite is today one of fastest growing provinces in the country.
The Cavite Historical Society was founded by Dr. Paulo Campos together with Alfredo Saulo, Justice Justo Torres, among others in 1977 for the preservation of the history and culture of Cavite.  
It is its mission to research and study town histories and their leaders especially those who led in the 1896 Revolution against Spain and the declaration of Philippine Independence.  
With this, important publications by local historians, like the History of Cavite by Alfredo Saulo and Esteban de Ocampo (published by the Provincial Government of Cavite in 1985), and Emilio Aguinaldo: Generalissimo and President of the First Philippine Republic — First Republic in Asia by Alfredo Saulo, helped create increased awareness. Various seminars and academic projects also helped the group in their endeavors.
SM, who has provided venues for the group's events, also brought our history and culture to an even wider audience through its many malls in the province. As one of the fastest growing provinces in the country, Cavite's demographics are quickly changing, and 70% of its residents are no longer born in here.
"There is a need for them to learn the history of the people of Cavite, their role in the victorious Revolution leading to the Declaration of Independence, and the adoption of national symbols, the Flag and the Anthem," says Cavite Historical Society Chairman Hon. Cesar Virata. "We emphasize the role of the youth in nation building, the need for unity of purpose and action to achieve national development."
"SM's presence in Cavite makes it easier for us to reach out to the many people who visit its malls," says Cavite Historical Society President Emmanuel F. Calairo.
Today, the CHS is working closely with the Cavite Studies Center of the DSLU-Dasmariñas and the Cavite State University on historical and developmental studies to develop teaching materials for teachers and students so they can appreciate how Cavite developed and became heavily populated.
Next year, 2019, is the 150th Birth Anniversary of General Emilio Aguinaldo, and the Cavite Historical Society is looking forward to working with SM to celebrate this historic event.

LIVING HISTORY WITH CESAR VIRATA
"Baldomero Aguinaldo, my grandfather is a first cousin of Emilio Aguinaldo. I was introduced by my Lola to President at age 6 and he was 67 years old. I found him a mild man, very soft spoken, caring and wondered how they were able to achieve their victory at a young age against the Spanish forces so we could become an independent country. We have great appreciation for their sacrifices, courage and unity of purpose in attaining the objective of gaining freedom, justice and independence from a colonial power."
"It was my Lola Petrona, the widow of my Lolo Baldomero, who would tell me stories about life during the revolution and how my Lolo Emilio had a great part leading it. Lolo Baldomero was the Secretary of Finance during the Revolutionary Government. And by chance, I also became Secretary of Finance in the 1970s and 1980s."
"Mr. Henry Sy and I joined the Manila JC's in 1958. Mr. Sy had his Shoe Mart store in Carriedo Street, and told us he had traveled abroad to look for new shoe trends and styles in Italy and other parts of Europe and also in the USA. Based on his choice of styles he would go to Marikina to have them made. He succeeded with this model, gaining market share against the established shoe manufacturing companies and from imported ones."