Creative Home-Works at SM
Celebrating gracious living with home stores and an heirloom coffee brand at SM
PHILIPPINE CRAFT INNOVATORS
EDITH BERNARDO, PRESIDENT AND GENERAL MANAGER OF MARIETTA'S EMBROIDERIES, INC.
CONSUELO HERNANDEZ, CO-FOUNDER OF CRH NEEDLE CRAFT, INC.
MARGARITA PALAFOX AND BELINDA REYES, FOUNDERS OF BEYOND BORDERS, INC.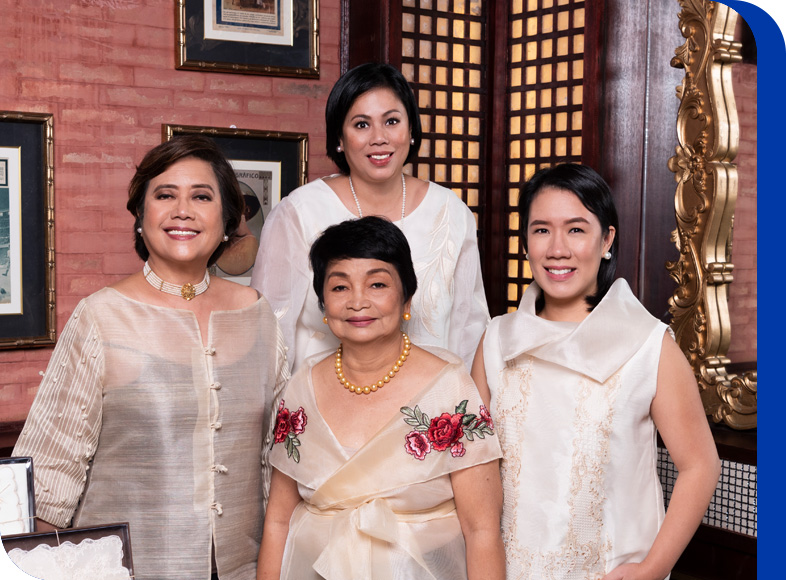 While globalization has influenced contemporary tastes, there has also been a growing interest in products that highlight our rich cultural heritage.  These include woven wonders from cultural communities, intricate embroidery, as well as natural fibers from our fields and forests, which local artisans transform into the most beautiful fashion and home products.
By showcasing uniquely Filipino finds, Kultura has helped create awareness and appreciation for our heritage crafts from brands like Marietta's Embroideries, CRH Needle Craft, and Beyond Borders. These are brands that have given a newness to traditional products, making these more relevant and appealing to a modern urban market.  More than that, they help preserve these crafts, and provide livelihood to local communities.
In the early 1970s, Mrs. Marietta Allanigue, then a public-school teacher, gathered the townsfolk from Parañaque to make exquisitely embroidered Barong Tagalogs and table linen.  Through her eldest daughter Edith, they were able to become an SM supplier in 1975, and after a few years highlighted their Burda embroidered linen at the SM Department Store's Philippine Crafts Department.
The Allanigues started exporting embroidered linen in the 1980s, added export-quality handicrafts to their line at SM in the 1990s, and became a major supplier when SM opened Kultura Filipino in 2004.
Edith, who is now the President and General Manager of Marietta's Embroideries, Inc., works closely with her brother Jun and sister Cynthia in the growing family business. She says that it is exciting being in Kultura because it has "made it easier for customers to shop for locally-made products for the home. By being in one area, our products blend with other items that shoppers can incorporate with the theme they want for their living and dining rooms."
Connie and Pepito Hernandez started their embroidery business, now CRH Needle Craft, Inc., in 1986, exporting embroidered table linens with textile as base material to European countries like Germany, the UK and Norway.  With the changes brought about by cheaper sources in the global market, they decided to shift to natural fibers like sinamay, tinalak, banig, and raffia, which were transformed into one-of-a-kind home and dining linens like placemats, table runners, doilies, and coasters.
The Hernandezes joined Kultura in 2007 when one of the store's merchandisers took notice of their products displayed in an artisanal shopping village, and invited them to be one of the consignors. Today, their products can be found in 10 Kultura branches nationwide.
"We are very grateful for Kultura for providing us an avenue to showcase our craftsmanship, and promote local products" says Connie. "It has also allowed us to help other people as part of our social responsibility."
Marga Palafox and Billie Reyes say that an appreciation for the inabel craft inspired them to start Beyond Borders. Handed down from generation to generation, the art of inabel weaving is a golden thread entwined in Ilocano culture.  It is said that in the past, abel products were exported to foreign lands, and Spanish galleons sailed the seas with pieces of inabel sailcloth.
Manually-woven through a wooden loom, an abel fabric highlights pure creativity, imagination, positivity, respect, discipline, and keenness. Yet at the same time, Marga and Billie have wanted inabel items to go beyond the borders of being viewed as traditional and pasalubong items.
"We wanted the market to realize and appreciate the product as part of their everyday lives," they say. With that, they work with weavers to "update" and "innovate" traditional designs, giving a newness to this heirloom product to make it more relevant and appealing to an urban market.
They were invited to join Kultura in 2017, and "couldn't be happier being part of a team that shares the same vision as we do in elevating our products and making these more accessible to Filipinos both here and abroad."

TALKING CRAFTS AND COMMUNITIES
EDITH:
"Working with Kultura has inspired us to create modern Filipiniana designs for our embroidered products so these will suit the taste of the young generation and also match the other home decors of our customers."
CONNIE:
"Being a Kultura supplier has given us the opportunity for inclusive growth.  As we grow, the weavers from local communities and small town cooperatives supplying our raw materials grow as well.  In addition, we have a small group of women from our own hometown in Bulacan who does crochet work for most of our products. Through Kultura, we have been enabled to provide an alternative livelihood for these communities.
MARGA AND BILLIE
"At Beyond Borders, part of our advocacy is raising awareness of the beauty of the inabel craft.  It was very apparent from the start that Kultura aligned with us on this advocacy. We have witnessed how Kultura helps push forward our causes by marketing support of our brand and through selling events that give us the opportunity to showcase our products."