HAPPY TO SERVE YOU AT SM
Heartwarming stories from the workplace from members of the organization and immersion/inclusion program participants that tell of growing professionally and personally, the joy of service, and finding a second home at SM.
ELLYSON BALA
SM FOUNDATION SCHOLAR
SAVP FOR INFORMATION TECHNOLOGY SOFTWARE DEVELOPMENT
SM PRIME HOLDINGS, INC.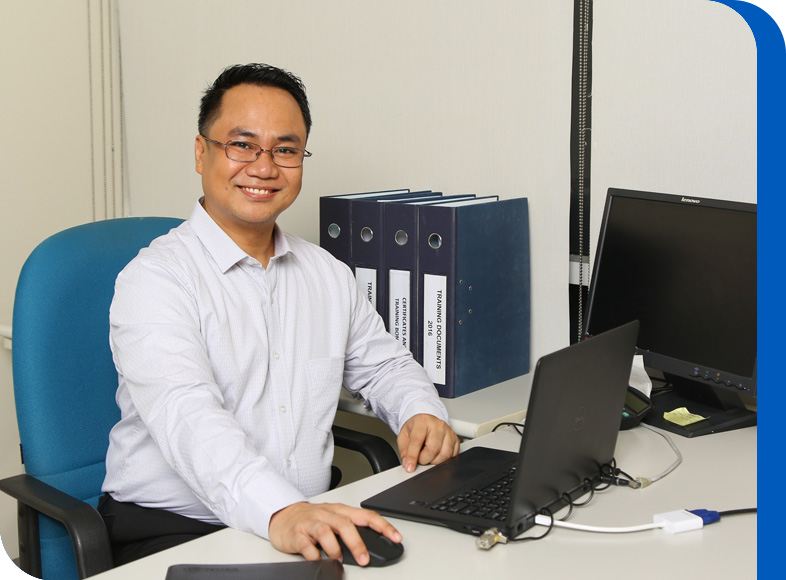 Ellyson Bala was a fourth-year student at the Carlos Albert High School on Araneta Avenue when a scholar from SM Foundation went to their school to promote its College Scholarship program. This seemed to be the answer to his prayers as his family had very limited means since his OFW father returned home from Saudi due to the economic crisis.
With that, he got an application form from SM Sta. Mesa, completed his requirements with help from his parents, and became an SM Scholar in 1995.  He was enrolled at the FEU Tech (formerly East Asia Institute of Computer Technology).
Ellyson says that being an SM Foundation Scholar was like being part of a one big family as SM "did not only take care of our financial needs, but also helped us develop our personality. We had retreats to take care of our spiritual side, and had jobs at SM during summer and Christmas breaks."
It was while working at the SM Department Store during these breaks that Ellyson "realized the value of hard-earned money. That made me appreciate my parents more.  I also have high respect for the salesladies, salesmen, stockmen, and department managers I worked with."
When he graduated from his Bachelor of Science in Computer and Information Science (Major in System and Software Engineering) in 1999, he joined Shopping Center Management Corporation, an SM subsidiary as Operations Planning and Control Analyst.
It was there, at the height of the Y2K frenzy that Ellyson met his wife Gina who was also working with SCMC. Like Ellyson, Gina, who later joined Taal Vista Hotel, says that joining the SM Group "enhanced my capabilities and made me realize the importance of friendship and family.  I was always looking forward to going to the office every day." Gina is now a full-time homemaker, and takes care of their 3 children.
In 2001, Ellyson was transferred to the SM Prime Holdings IT Department as IT Supervisor.  He has grown with the company and is now Senior Assistant Vice President handling the Information Technology Software Development Team.
In a field that is constantly changing, Ellyson says IT grew a lot in SM. "We all know that technology is fast evolving and we are being challenged every day to learn new things to make our job easier."
One of these challenges was the implementation of the groundbreaking SAP system, which they were tasked to do in 6 months.  "This experience taught me a lot of things – dedication, time management, coordination, and a lot more," he says.
As he continues to grow with the company, Ellyson says he will never grow tired of saying "Thank You!" to Mr. Henry Sy, Sr. and his family for making his dream become a reality through the SM Foundation College Scholarship Program.
And knowing first-hand the value of a good education for a better future, he and his wife are sponsoring their own scholars "one at a time." The first graduated last year, and the second one started this year.
"We are here right now because of God's grace and SM's kindness," he says. "That is our own little way of giving back."

ELLYSON'S LESSONS LEARNED FROM SM
"The most significant lesson I learned both as an SM Foundation Scholar and an SM Prime employee is to deal with life's challenges every single day.
Every day is different, every day is a new beginning, and an opportunity. You may be down today, but at the end of the day, you need to regroup yourself and find solutions on how to deal with it the next day.
With the help of everyone around you, there will be no problem that can't be solved."