Heroes, Heritage, History and SM
Inspiring stories of how past and modern day heroes from Cavite, as well as amazing artists and public servants from Rizal work to make this world a better place
THE BLANCO FAMILY OF ARTISTS
MICHAEL, JOY, GAY, AND PETER PAUL
ANGONO, RIZAL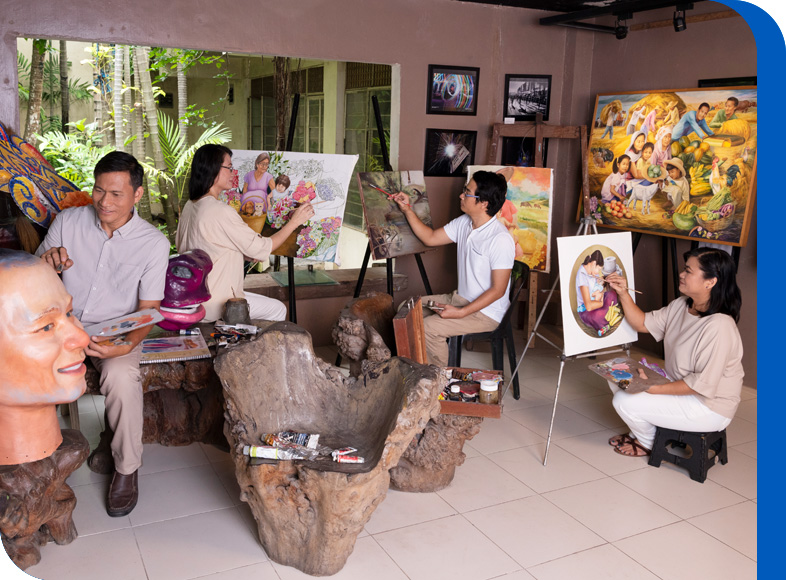 As the Cradle of Philippine Art, the province of Rizal's cultural heritage goes back to pre-historic times, as evidenced by the rock engravings in the Petroglyphs in Binangonan.  Dating back to 3000 BC, this is said to be the most ancient Filipino work of art.
Angono in Rizal, the Art Capital of the Philippines, is like one big gallery itself with its numerous artworks. It is also said to have more artists per square meter than any other place in the world.
It was here that Jose "Pitok" Blanco, who is known for his mural size paintings depicting the joyous celebrations in his hometown, worked and raised his family.
Art, of course, was central to the Blanco family, but one other thing they also liked doing together was shopping at SM for art supplies, shoes, and clothes in what was then SM Makati and Cubao.  
While it is said that Blanco never forced his seven children – Glenn, Noel, Michael, Joy, Jan, Gay, and Peter Paul – to be involved in the arts, they are now all practicing visual artists whose canvasses represent Filipino culture and tradition in their realistic style.  And they collaborate with SM's cultural programs through exhibits and workshops in the SM malls.
Michael, the third child, discovered his creative inclinations at the age of ten. He has since immersed himself in portrait, genre and landscape painting, through which he precisely captures rural folks and their daily lives.
Joy, Blanco's fourth child and eldest daughter, is known for her very photographic and realistic paintings, similar to her father's style.  Her works celebrate culture, reflecting the festive spirit Filipinos are known for.
Gay, Blanco's youngest daughter, started drawing before she even learned to write. Her artworks tackle family life, usually featuring motherly love and caring among siblings.
Peter Paul, the youngest of the Blanco family, is the family's favorite subject and can be seen in most of their artworks.  He developed his craft at an early age, and was only two when he painted his Christmas Tree work. Since that time, he has explored different subjects including animals and scenes from the community he grew up in.
The family had their first painting exhibition in 1978 at the National Museum, and were invited to exhibit their works in Xiamen, China.  Known as the Blanco Family of Artists, their most notable collective work is the Risen Christ, a rich Eastern mural that hangs in the Holy Cross Parish in Valenzuela.
With their incredible creativity, the Blancos have held several family exhibits around the country, and were likewise invited to mount family exhibits in China, the United States, and in Europe.
The family's goal is to record the Filipino's way of life, our culture and traditions, and flora and fauna, and have traveled extensively in the Philippines for this.  The Blancos paint and record our country in its light and freshness, and move actively to showcase art in the community.

THE BLANCOS ON GROWING UP WITH ART . . . AND SM
MICHAEL
"Usually our father, Jose Blanco would ask our opinions on composition, and ideas on how we can make the painting more interesting.  Once we started the painting, he assigned us in areas where we can handle the subject better."
"I remember going to SM beside the Rizal Theater in Makati as a child.  The very first painting set that my mother bought for me – which I used until I grew up to be a visual artist also came from SM. Today, I am happy to be part of SM's cultural programs and hope SM continues to promote our arts, culture, and tradition."
JOY
"I can still remember painting in our family studio when we were young.  Our father was our teacher and my mother encouraged us by providing our art supplies. Doing a group project is fun and amazing because each of us have our own styles and each contributed perfectly and beautifully to the painting."
"I like shopping at SM – buying art materials, visiting bookstores, the pet shop, food court, and watching movies.  I remember when we would go to SM Cubao during my younger years, and am, and today, would like to thank SM for its cultural projects that have helped so much in creating awareness of art in Rizal."
GAY
"Art is in our blood. Our great grandfather was a painter and sculptor, and my father was not only a great artist but a great teacher. I started to paint at 3, and had my first art exhibit at 4 with the family in the National Museum. At 4, my brother Jan and I won in the International Children's Art Exhibit in celebration of UNESCO's International Year of the Child."
"I can say that SM is my second home. I grew up shopping with my Mom in SM Makati and SM Cubao.  We were also part of the first crowd shopping at SM Megamall when it opened. SM Megamall is really memorable for me as it was there where my husband and I first met.  Whenever we are in Mega, we always point to our kids the place where we first agreed to meet."
PETER PAUL
"It was a great honor growing up in beautiful Angono in a family immersed in art. I started to paint at the age of 11 months, and the subject matter and style develops through the years.  From the eye of a child to the eye of a father of one."
"As an artist, I can say that each SM mall has its own character, and each experience is unique.  SM also brings families closer together. My own family likes going to bookstores, areas that will interest my 2 1/2 year- old daughter, watching movies, and enjoying dinner in its many restaurants."