Going Home to SM
All about finding a dream home – and a dream job – with SMDC.
REENA MARIE NOVALES
SALES DIRECTOR FOR CORPORATE ACCOUNTS GROUP
SMDC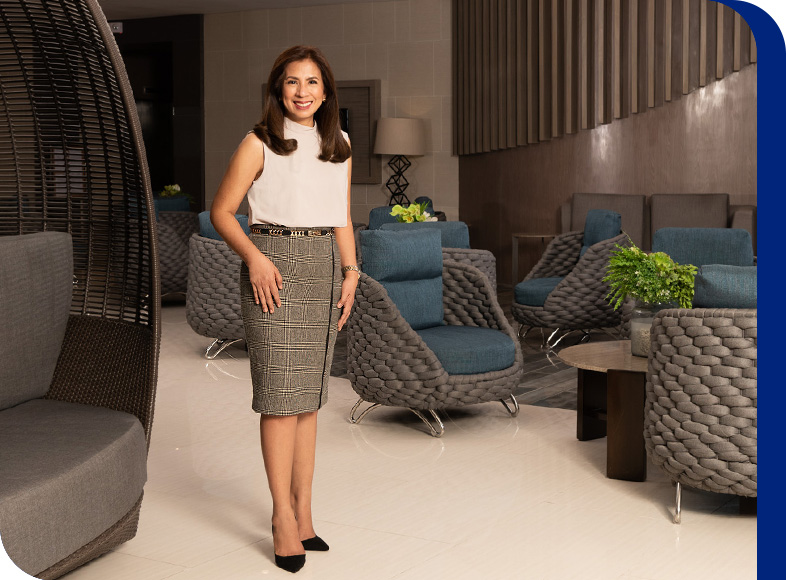 In any organization, the sales department plays a pivotal role in the success of the business by bridging the gap between the potential customer's needs and the products/services that the organization offers.
Sales plays a key role in the building of loyalty and trust between customers and business.  Trust and loyalty are the main reasons why a customer would choose to recommend a company to a friend or family member, or write a great review online. And this can have an effect on a brand's reputation.
Reena Novales first joined SM Development Corporation as Sales Manager in 2011.  By that time, she had extensive experience in sales in different industries – pharma, interior service/office furniture, financial insurance, and real estate.
She was also at a career crossroad at that time, deciding whether she should shift from real estate to another industry.  Widowed at a young age, she wanted to have a job that would provide for her children, and at the same time, be near their home and school.
"It was after attending a retreat that I got a call from SMDC," she says.  "That is why I consider working with SM an answered prayer."
Reena has since grown with the company – and was appointed Associate Director for Special Accounts in 2015, and Sales Director for Corporate Accounts Group in 2017.
Although she has had extensive experience in real estate, Reena says that what makes working with SMDC different is SM's corporate values – "hard work, service to customers, and a culture of team work and supporting each other. They are really the good guys."
It likewise gives her great joy to see how happy and thankful her clients are when their units are turned over to them. "Owning a condo is everyone's dream," she says.  "I am glad to be an instrument to help them achieve their dream."
All in all, "working in SMDC has helped me financially, raise my 2 kids, and send them to exclusive schools. SMDC is also part of my healing journey with the passing of my husband, it's part of discovering gratitude with grief."
And Reena is grateful that she has found a second home in SMDC, where she is "at home with the good guys."

TALKING SALES WITH REENA
"In sales you have to be true and honest.  Integrity is very important. You have to make them feel that this is not just business, but it is a relationship."

"Working in SMDC has taught me to be flexible and adjust to things. I used to be super organized, rather OC, but you eat rejection every day in a sales job and there are plans or transactions that will not push through. I do not feel bad about it anymore, as I know God has a plan for me."

"Embrace team selling. When you are new in sales, you want to make a name for yourself, and think the fastest way to do so is by blowing away the competition by using unfair tactics.  To make your group grow, it is best to work as a team and support each other."

"Develop leaders in your team to make it grow. That can also be very fulfilling."