SM Stories from the South
How art, music, food, family, and SM touch lives in Laguna, Batangas, and Quezon in Southern Luzon
ATTY. ANTONIO PASTOR AND NEPHEW RAYMUND
LAWYER, BUSINESSMAN AND CULTURAL ADVOCATE
VP AREA HEAD, BDO BATANGAS AREA
BATANGAS CITY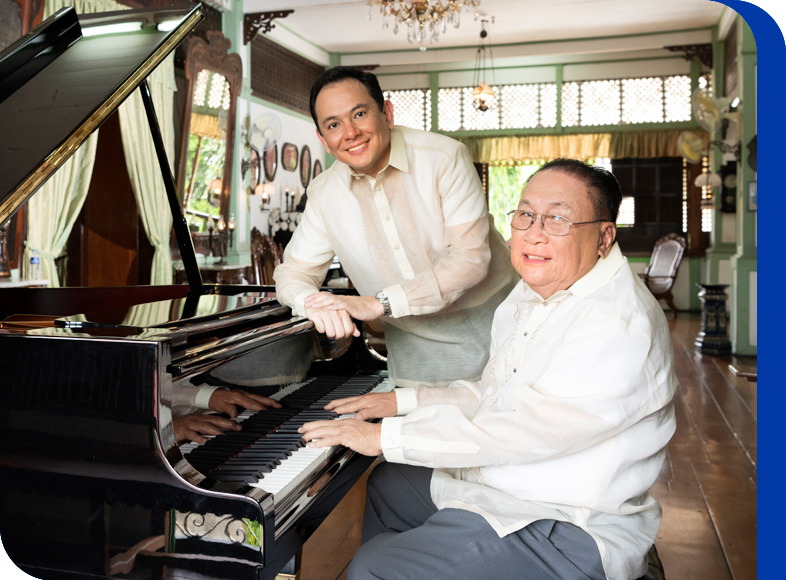 The province of Batangas is one of the most popular tourist destinations in the Philippines. Beautiful beaches and excellent diving spots attract nature lovers; while the town of Taal, one of the two most culturally preserved sites in the Philippines, draws history lovers of all ages.
Traditionally known for its delicate hand embroidery, the balisong, and barako coffee, Batangas has become progressive with two of its cities – Batangas and Lipa emerging as among the fastest urbanizing cities in the Philippines.
It was in Batangas City that Atty. Antonio Pastor was born to Dr. Juan Arceo-Pastor and Concha Quinio-Acosta, along with his eight brothers and one sister who all grew up to be professionals in their own fields.
A man with many gifts and interests, Atty. Pastor is a lawyer and realtor by profession, and is an accomplished classical pianist and singer. He is also an active voice in Heritage Conservation Organizations, primarily in the preservation of ancestral houses in Batangas City and neighboring towns.
In 2000, Atty. Pastor was introduced to Mr. Henry Sy, Jr. by then Asia Pacific College President Dr. Paulino Tan through his niece Tata Pastor Medado. "I asked Mr. Sy if SM would be interested in putting up a mall in our land just across the river in Batangas," he recalls.  "He asked me for plans, and that is where it all started."
Since the time SM City Batangas opened in 2004, Atty. Pastor has observed that "it has changed lifestyles in the city for the better without really obliterating its old charm. SM principally gave economic progress, but this goes hand in hand with the cultural and spiritual needs of the place."
"SM is like manna from heaven for Batangas City" he says. "It has provided so many jobs, and been a catalyst for progress. Through SM, our family was also able, together with the community, to help build a big church for the spiritual needs of the people of 100 barangays comprising the SM area."
He adds that he feels privileged to be part of the SM family, and "humbled by being acquainted with the wonderful Sy family."
Two Pastor family members, in fact, work in the SM group. Teresita or Tata, who was mentioned earlier is now President of Asia Pacific College, while his nephew Raymund, who started as a Manager of BDO Batangas is now VP Area Head of BDO SM City Batangas.
Raymund says he is privileged to be part of SM. "One thing I like about the SM Group is their culture," he says. "They treat us as a family, they acknowledge and appreciate each employee's contribution and, in the process, make them feel valued."
Atty. Pastor and Raymund also enjoy visiting the mall. "I do everything at SM," says Atty. Pastor. "I shop and most of the time just hang around at the coffee shop with friends and talk about anything under the sun."
Raymund, on the other hand, likes to "bring my kid to play at SM, watch movies and dine at restaurants almost every weekend."

ATTY. ANTONIO PASTOR ON HIS HERITAGE HOME AND HIS MUSIC:
"Our maternal great grandfather Don Alejo Acosta, the Gobernadorcillo at that time, built our family's ancestral home in 1883. The grand staircase is a unique attraction that made a well-known local historian remark, 'This staircase must have witnessed thousands and thousands of warm welcomes . . . and lingering goodbyes.'"

"I was born and grew up in Batangas City with a small town Catholic upbringing – serving Mass, singing in the church choir with my brothers, with my father as our conductor. I was taught by the Good Shepherd nuns to play the piano, which I enjoy doing up to now."

"While I am known as a lawyer and a businessman, I am a musician at heart. I graduated from the University of the Philippines Conservatory of Music. When I was in New York, I took special piano lessons from Professor Ida Elkan.

"As a student. I was performing in concerts at the International Center for Students in New York.  I was also a member of the New York Philharmonic Choral Group under conductor Leonard Bernstein in the 60s."

"Today, I like to play the piano and sing in church and for friends.  I also sponsor concerts of well-known national and international artists in our family's ancestral home.