Going Home to SM
All about finding a dream home – and a dream job – with SMDC.
RETIRED POLICE CHIEF SUPERINTENDENT FRANCIS AND MRS. DOLLY TORRE-LLAMAS
LIGHT RESIDENCES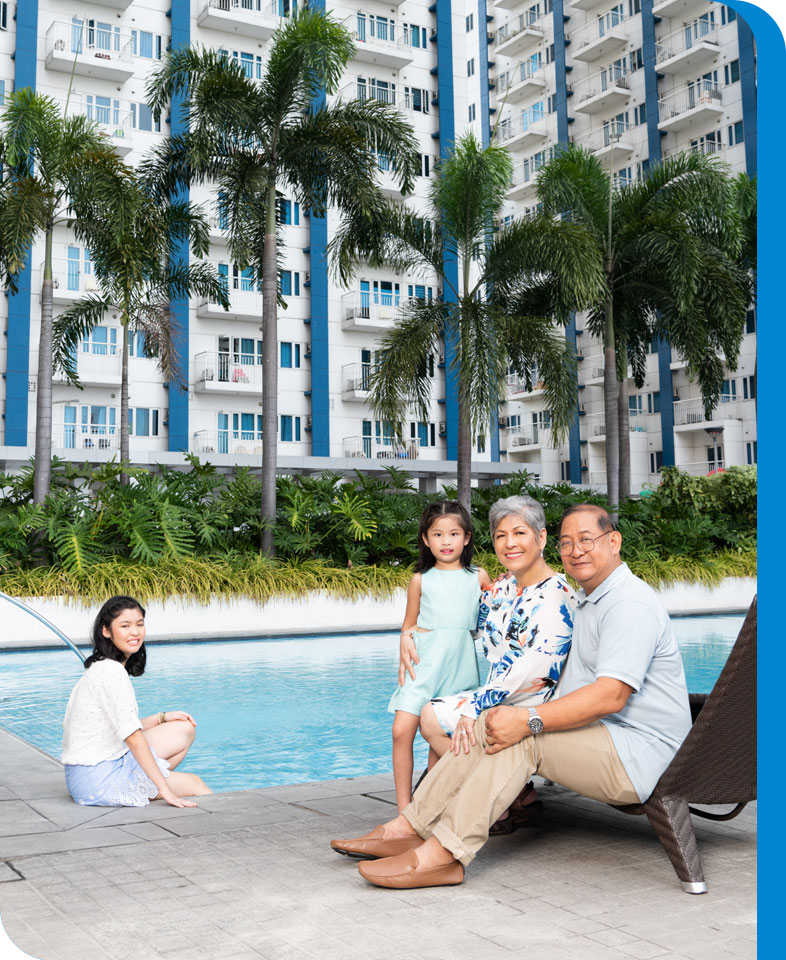 Francis and Dolly Llamas first learned about the Light Residences development through a former high school classmate based in Kansas City, who emailed them to check on this property.  They were happy and impressed with what they saw, and fell in love with the place.
"We were the ones who ended up buying a unit there instead," they say looking back, "and since that time, it has become the perfect home for us."
Francis, who is a retired Police Chief Superintendent, and Dolly have been married for 40 years, and have lived in their house in Bicutan since 1983. With their three kids grown up and married, they are also empty nesters, so the move came at a time when they were planning to downsize.
What attracted them to live the Light life was its location. "It's in the middle of everything," says Francis. "It's along EDSA, and our ancestral home is just a stone's throw away. We have many friends here."
The move to Light also made it easier for them to travel to Congress, where although they are retired, they were assigned some work.  Besides, "we are also serving in the Church nearby as part of a choir. We sing there in every 9:45 am Mass."
For Dolly, who used to cater, "food is always a center in our family" and she is delighted that in Light, she has quick access to the supermarket to occasionally cook family favorites like her crispy chicken adobo flakes.  Francis and Dolly also like to try out the different restaurants in the Light Mall.
When they have guests, "the lobbies here have a hotel lobby feel – spacious, comfortable, and elegant." Staying at Light is always delightful when their granddaughters visit and they spend fun times together swimming in the pool, watching movies, and eating out.
When they first moved in Light in 2015, Francis and Dolly "felt like newlyweds – just the two of us furnishing a new home."
After three years of owning a unit at Light Residences, Francis and Dolly feel that "it is a wise and practical investment as it has covered everything we need: comfort, convenience, accessibility, and security – things that truly matter especially for retirees like us."

WHY FRANCIS AND DOLLY LOVE THE LIGHT LIFE
"Location.  It's near everywhere – EDSA, our ancestral home, and the church where we serve. It also makes going to Congress, where we have a job, easier."
"The lobbies here have a hotel-like feel – spacious, comfortable, and elegant. "
"The pool and the gym. We don't have to go out of the way to go to the gym or have a swim.  Our granddaughters love the pool. Everything we need to have a relaxing life is here."
"The comforts of the mall.  We love it that there are so many eateries in Light Mall, as food has always been a center of our family.  As senior citizens, we get dining discounts."
"Movies.  We can just go down and watch movies in Light Mall's three digital cinemas.  As senior citizens, we have a privilege for free movies.
"The Medical Clinic. We feel secure because we can just go down to the medical clinic in Light when we feel we have any health problems."