HAPPY TO SERVE YOU AT SM
Heartwarming stories from the workplace from members of the organization and immersion/inclusion program participants that tell of growing professionally and personally, the joy of service, and finding a second home at SM.
LUISA T. SUNIGA AND CARINA H. NUDO
VICE PRESIDENT FOR OPERATIONS, THE SM STORE
CHECKING SUPERVISOR, THE SM STORE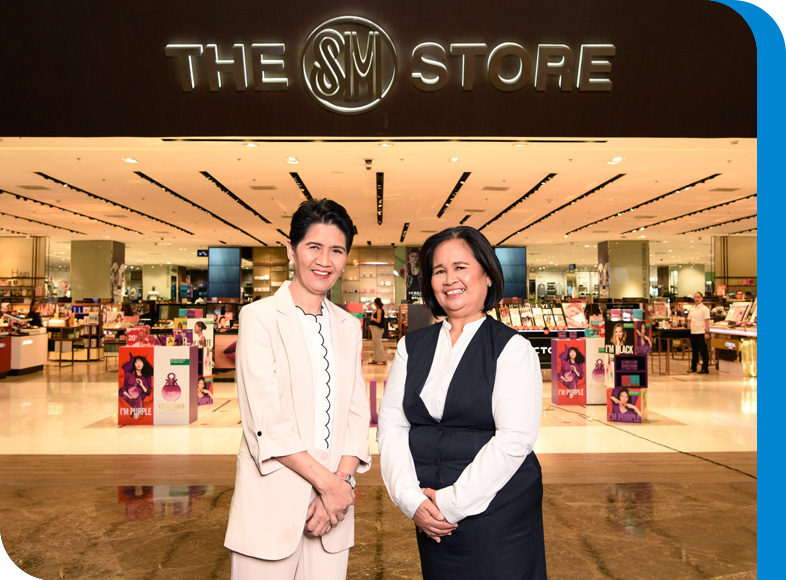 When we think of how SM has grown over the years, the people behind it also come to mind. The long-term success of a company is usually directly tied-in to the talents, motivation, and accomplishments of its people.  People make and sell products, work with customers, and collaborate on decisions. They certainly add value to a company.
Luisa T. Suniga and Carina H. Nudo both joined SM in 1972 when it had just grown from a shoe store to a department store.  There were only three branches then – Makati, Cubao and Quiapo, and the SM we know today was just a dream.
Luisa remembers so well the time she first joined SM. She had just finished college, and an SM supplier who was a kumpadre of her father introduced her to SM.  Her first interview was with Ms. Tessie Sy-Coson, and the second with the SM Founder himself, Henry Sy, Sr.
Her first assignment was as an office clerk to Mrs. Felicidad Sy in SM Makati. Since that time, she has grown with the company rising to Treasury Manager to Senior Manager for Store Operations, and now Vice President for Operations in North Luzon 3.  "As the company grows, we grow with the company," she says. "No one is left behind."
Carina, on the other hand, says that looking back at how she started at SM brings joy to her heart.  Just out of high school, she was selling fruits and vegetables in the Old Farmer's market when her suki Mrs. Josefina Mendiola, who then was SM Cubao's Branch Manager, asked her to apply in the store.
She started as a sales clerk in SM Cubao, which was still in its old location along Aurora Boulevard. From there, she has risen from the ranks as Section Head to Selling Supervisor, and is now a Checking Supervisor in her home branch, which has since moved to Araneta Center. She is also an active member of the People's Committee, which is the management's arm when it comes to orderliness and branch cleanliness.
Luisa and Carina have both grown with SM, and say that working with the company has made them not only better in their work, but in their personal lives as well.  More than that, having joined the company early on has given them a front seat to its growth and to the kindness of Mr. Sy and his family. These are priceless moments that they cherish and look back with fondness.
Luisa recalls that when Mr. Sy learned that she was promoted to Branch Manager, Mr. Sy told her that he would teach her what to look out for in the store.  "He told me that upon entering the store, I should first look at the counters and make sure that the cashiers are complete," she says. "Tatang also gave me tips on how to hire applicants.  He was very hands-on".
Carina, on the other hand, says that she will always remember Mr. Sy telling her that "if we put our hearts into what we are doing, we will never have to work a day in our life because it won't feel like a job. Our work becomes just something we are happy doing."
This is something they have both taken to heart because after 46 years, Carina says that "my passion for my work is still consistent," and Luisa says "there is something new to be learned every day."

LESSONS LUISA AND CARINA HAVE LEARNED FROM MR. HENRY SY, SR
.
Love for Customers. "Mr. Sy's main concern in the store is the satisfaction and happiness of our customers.  A happy customer becomes a loyal customer or

suki

– which means continued business for SM."

Work Discipline.

"this, which Mr. Henry Sy, Sr. embodies, differentiates SM employees from all other employees."

A Passion for Details. "Retail is Detail, and all those in the industry should embrace it."
Hard Work. "Mr. Sy has always said that retail is hard work.  But it is also exciting and rewarding."
Always Look Good. "At SM, it's always important for us to be

maganda palagi

.  It is our obligation to our customers to look pleasant and presentable at any given time."