Voices from the Visayas and SM
How creative talents from Cebu, Iloilo, and Bacolod have broken barriers in design and music, initiated culinary exchange and transformed an ancestral home into a world-class destination.
JULITA P. URBINA AND FAMILY
FOUNDER AND CEO, CAFÉ LAGUNA
CEBU CITY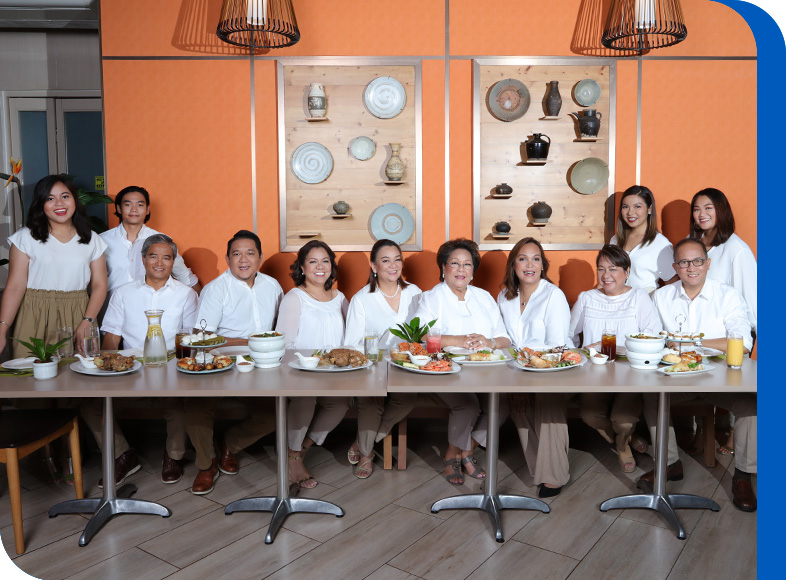 Cebu, known as the Queen City of the South and the Seat of Christianity in the Philippines, is the country's oldest city. While much of its historical past remains in attractions like the Magellan Cross, the Santo Niño Shrine, and the Sinulog Festival, it is now a highly urbanized metropolis with its own international airport and three SM malls.
Cebu also has a vibrant spirit of entrepreneurship as seen in the story of Café Laguna, which began when Dr. Ricardo Urbina moved his family to Cebu due to a military assignment. His wife Julita was determined to contribute to their growing family and started a small eatery which served the Tagalog food she grew up with.
Since Tagalog dishes were hard to come by in Cebu in the 1970s, Julita's offerings became a hit and soon attracted the likes of executives from big companies like San Miguel, paving the way to operate their Cebu plant's canteen.  In 1991, Julita opened the first Café Laguna right where the family's first apartment once stood.
While Café Laguna started with Tagalog dishes, it has since evolved to include regional cuisines such as Negrense, Bicolano, and of course, Cebuano. While it has grown, it continues to pay special attention to the dishes it serves, including its best sellers like Fresh Lumpia, Puto Bumbong, Kare-Kare with Bagoong and Crispy Pata.
Ricardo and Julita's children have also joined the business: Gilda is the Managing Director and Franchise Director; Greta is the Company Physician and CSR Director; Grace is Managing Director and in charge of Treasury and Finance; Raki is the Corporate Chef and Managing Director; and John Paul is the Managing Director in charge of Store Operations.
Café Laguna opened in SM City Cebu eleven years ago, and more recently at SM Seaside City Cebu. The Urbinas say that the professional approach by SM's management has always made them feel valued. They add that SM's cordial open communication has helped them stay optimistic about achieving their vision to become the Curators of the Filipino Legacy and the Blending of Cooking Cultures.
More than that, the Urbinas say that SM has paved the way for Café Laguna to grow on a regional and national level. The group has not only expanded to major cities in the VisMin region but has also opened new restaurant concepts like Lemon Grass (Thai and Vietnamese cuisine) which will open at SM Seaside City Cebu in October; Parilya (lechon, seafood, and grill), and Ulli's Street of Asia (Asian street food).

URBINA FAMILY VALUES
"We strive to uphold and follow Café Laguna's vision to be the Curators of the Filipino Legacy and the Blending of Cooking Cultures. We put good focus on food quality, sustained standards and innovation.
"We have always been guided by our Patriarch's living philosophy of Profit with Honor. His values – Discipline, Hard Work and Passion for Quality, and Excellence – have become our corporate values, which we hope to pass on to the third generation."