HAPPY TO SERVE YOU AT SM
Heartwarming stories from the workplace from members of the organization and immersion/inclusion program participants that tell of growing professionally and personally, the joy of service, and finding a second home at SM.
AutiSM AT WORK PARTICIPANTS
DAN BRAINARD J. TABIJE, SM SAVEMORE LIGHT RESIDENCES
DARWIN JED B. DIZON, SM HYPERMARKET MOLINO
VICTOR MICHAEL R. RAMOS, SM SUPERMARKET STA. ROSA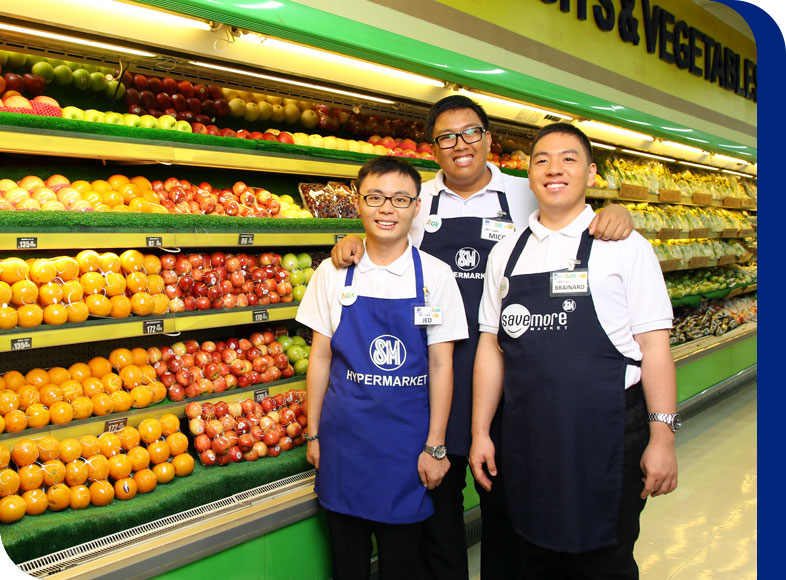 Every day, Brainard Tabije, Jed Dizon, and Mico Ramos put on a smile and their aprons and get ready to experience another day of serving customers at SM Markets.
They are part of AutiSM at Work, an immersion/inclusion program spearheaded by SM Markets and the Autism Society of the Philippines.  The program, which is inspired by best practices in community-based rehabilitation, provides persons with autism or PWAs the opportunity to prove that young adults on the spectrum are productive contributors at the work place.
Participants in the program (3 PWAs for every store) are assigned various tasks in the supermarket selling area, such as returning stray items, organizing carts and baskets, and assisting customers. Simultaneously, there is an in-store advocacy campaign to help educate customers on how to deal respectfully with their workers with autism.
AutiSM at Work piloted at Savemore Market Light Residences in 2016, and was eventually implemented at SM Supermarket Aura and Savemore Market Mezza. Now the group expands AutiSM at Work to thirteen more stores including provincial branches like Cebu, Iloilo, and Davao.
To date, SM Markets has accommodated 69 exceptional individuals like Brainard, Jed, and Mico under the program.
Brainard learned about the program through his IILC School, which is an ASP partner.  Most of the time, he can be found returning items to shelves and arranging displays. Sometimes he lends a hand in bagging groceries or welcoming customers with baskets and carts.
Though he is quite busy with things to do, he always finds time to share a good laugh with the friends he made at Savemore Market Light Residences.  In his leisure time, he is often found playing sports with friends. He also likes watching the news and binging on movies when he is alone. What he really loves is to cook and bake and hopes to own his own bake shop someday.
Jed learned about the program through an advertisement in social media and applied through the Autism Society of the Philippines. Describing himself as a friendly person, he likes greeting customers as they enter the store, as well as returning items on the shelves, placing price tags on the shelves, and bagging groceries.
When not assisting customers or bagging groceries at SM Hypermarket Molino, Jed, a natural computer whiz, plays with graphics and videos.  In fact, he has taken an animation technology course and has attended various seminars on IT.
Mico joined the AutiSM at Work program through ASP's Laguna Chapter, and his mother, who is a trustee of the organization.  He thought at first that this would be a summer job, but he enjoyed it so much he stayed on.
As someone who is very active, Mico enjoys bagging groceries, refilling stocks, and forwarding the goods to the chiller. He used to work in an office set up, but his interest and personality match more of the immersion program than office work.
Brainard, Jed, and Mico have found a place in SM Markets where they not only learn, train, and be productive, but gain friends, confidence, and acceptance as well.

ON THE AutiSM AT WORK PARTNERSHIP
"As longtime advocates of persons with disabilities, we are happy to support this project and designed it to be as inclusive as possible.  Furthermore, management has approved the extension and expansion of the project. We have more than doubled the number of participating stores to accommodate more AutiSM at Work participants."
JOJO TAGBO
President, Savemore Market
"The program does not only help persons with autism find productive work; but it has helped SM Markets employees become better professionals.  Because of the sheer scale of the program, the training and operations staff of SM Markets all over the country are learning first-hand how to manage this under-tapped group; and developing policies and practices to support them that are best in class."
MONA MAGNO-VELUZ
National President, Autism Society of the Philippines