Up North with SM
Inspiring SM stories from beautiful Baguio and the Cordilleras, the fertile farmlands of Isabela, and captivating Cagayan.
KAREN NAVARRETE-ANTON
BUSINESSWOMAN AND DANCE ENTHUSIAST
BAGUIO CITY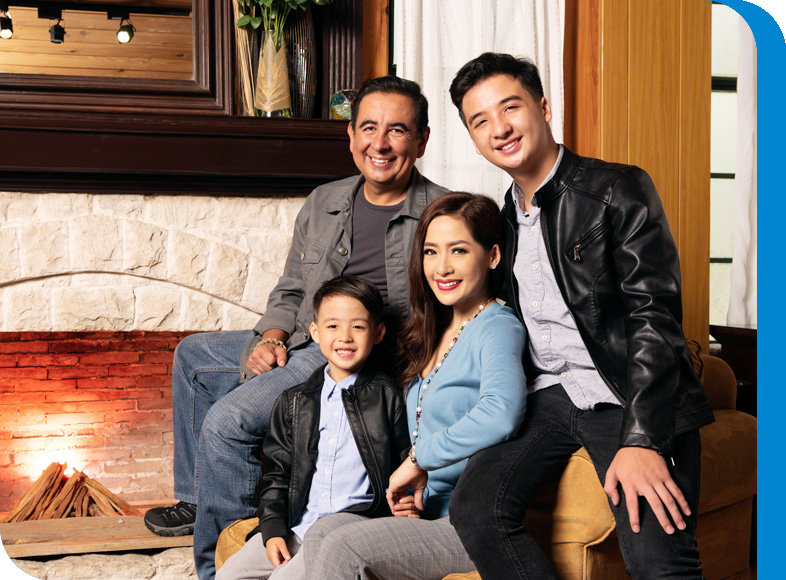 Located some 1,500 meters above sea level, Baguio is known as the Summer Capital of the Philippines. Nestled within the Cordillera range, its picture pretty scenery, cool mountain air, pine trees, ethnic heritage, vibrant arts scene, and dazzling festivals like the Panagbenga make it a city like no other. Baguio's breathtaking beauty has attracted many, including the Reynoso-Anton family who has chosen to make it their home since the 1970s.
The Reynoso-Anton family has long been known for its culinary expertise, and beginning with matriarch Mrs. Africa Valdes-Reynoso, has been business partners with SM since 1975.  As third generation foodies, Carlos Anton and wife Karen share their love for good food through their Primero's Sizzling Steaks and Kenji Japanese outlets at the SM Food Court.
"My husband taught me the ins and outs of the restaurant business until I had my own as well," says Karen, who has lived in Baguio most of her life.  "Having an outlet at SM, on the other hand, brought me closer to the community. It's where I meet my customers and make new friends."
Karen is also a dance enthusiast, and is the founder and directress of her own dance school, the Aloha Philippines Dance Academy, which has performed in SM City Baguio since it opened in 2003. Another group she organized, Baguio Metamorphosis represented Baguio in several prestigious competitions like Pilipinas Got Talent season 1 where their unique concept, and unmatched synchronized and energetic dance fusion act landed them in second place.
She has also represented the city in the DanceSport Council of the Philippines National competitions; and her students, the Aloha Girls were included in ABS-CBN's Dance Kids. "I am a very proud Baguio girl," says Karen, "and it has always been my goal to   showcase the beauty of our beloved city through our local talents. I also believe in molding the youth's character, discipline, and values by developing her God-given talents."
Karen is not only a dance champion, but also an international race car champion like her husband Carlos.  She, in fact, made history when she won the overall championship trophy in the Marlboro Red Racing Competition, held in the Ferrari race track in Italy.
While Karen's many achievements have given her many awards, she is proudest of her title as "Mom" to two talented boys – Alonzo,6, and Inigo, 13, a consistent gold medalist at the Baguio Achiever's Academy and, the youngest professional car racing national champion.
"I am a mother first to my children," she says.  "I love to cook for my family and make sure that both my sons are well-nurtured and cared for.  Together with my husband, I guide and inspire them to always strive for excellence but at the same time instill with them the values of humility and contentment."
As someone who "grew up with SM", Karen considers it "our heart of the city." That's because "that's where I work, I shop, I work out, where I perform, where I bring my kids.  It's just like everything I do in my daily life is in SM."

WHY KAREN LOVES SM
As a Businesswoman:
"SM has given local businessmen the chance to promote their products and delicacies by providing them with affordable and strategic locations that will ensure that they get the opportunity to be patronized by clients who get to know and love their offerings."
"Having an outlet in SM has brought me closer to the community. It's where I meet my customers and make new friends."
As a Dance Enthusiast:
"We are grateful to SM for allowing us to have our shows in the mall at least four times a year.  It has been a strategic venue for our live performances, and the increased appreciation for the performing arts in Baguio has inspired our group to embrace new innovations and techniques that will delight our audiences even more."