SM Stories from the South
How art, music, food, family, and SM touch lives in Laguna, Batangas, and Quezon in Southern Luzon
THE CALIXTO ZABALLERO FAMILY
BOY ZABALLERO, MANAGER OF THE FAMILY'S AGRICULTURAL HOLDINGS
DAN ZABALLERO, CITY COUNCILOR, LUCENA CITY
BUBOT ZABALLERO, INDUSTRIAL ENGINEER
ERIC ZABALLERO, PROFESSIONAL MUSICIAN
JOJO ZABALLERO, MERCHANT MARINE
BABY ORBETA-RODRIGUEZ, OFFICER, REGISTER OF DEEDS
MALU ZABALLERO-AMBAL, BRANCH OFFICER, METROBANK LUCENA
LUCENA CITY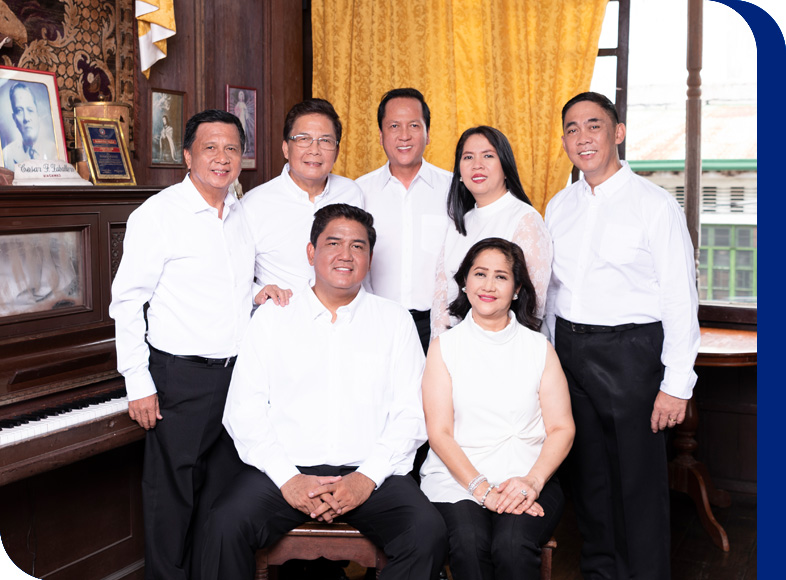 Lucena City in Quezon is one of the country's busiest fishing and domestic passenger seaports; a gateway to the Southern Tagalog and Bicol regions, as well as to nearby island provinces like Marinduque and Palawan.
Once called Buenavista by the Spaniards because of its awe-inspiring scenic beauty, it retains much of its countryside charm despite growing urbanization.
It was in Lucena that Calixto Zaballero built a house for his family in the 1920s; an opulent mansion made of wood that was sometimes called Malacañang by some friends of the family.
The ancestral home became the center of Calixto's family gatherings, especially during the Holy Week and Christmas seasons.
Calixto, who is the son of Jorge Zaballero, a Capitan Municipal of Lucena in 1896 and a recognized revolutionary leader, imparted the importance of family through his words and example. These values have been handed down, received and understood by his children and grandchildren, and the closeness of family members will affirm this.
In 2016, one of the family members, Ms. Malou Zaballero-Ambal wanted to put up a restaurant and talked to the elders of the family if she could rent the first floor of the ancestral house for this.
The family agreed to grant her the use of the house, but instead of renting it, she would just take care of the maintenance or upkeep of the house. The restaurant has been doing well since then, and often provides the food for the family gatherings.
The Zaballeros and SM share this strong sense of family. Just as love of family was the center of Calixto's stately mansion, SM cares for its customers like its own family by providing a place where ties and bonds are strengthened.

THE ZABALLERO FAMILY AND THEIR SM
"The opening of SM City Lucena had a great impact on the city. It has provided not only direct, but indirect employment such as transportation operators/drivers who bring customers to and from SM, as well as small food stalls outside the store premises."

"The mall in Lucena provides a venue for families to shop, eat and have fun together. Now, Lucena residents don't have to go to Manila to shop with their families."

"If we were to list the areas in SM most visited by the family, this would be the supermarket, department store, restaurants and movie houses."