Beyond Business at SM
The movers behind some of the country's best loved brands, their Entrepreneurship 101 stories, and growing their business with SM
RIKKI DEE
CHIEF EXECUTIVE OFFICER,
FOODEE GLOBAL CONCEPTS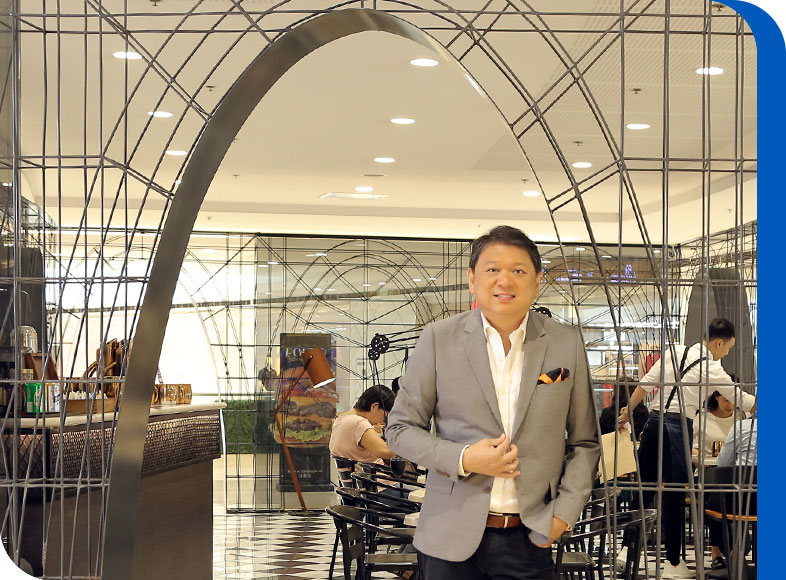 In the late 1980s, Rikki Dee and his wife Beng started a small restaurant along Pasay Road.  Rikki comes from a family of entrepreneurs and practically grew up in his parents' lumberyard as their family was into the construction business – saw milling, lumber, and hardware retail.
Although the family was business-minded, food was the center of the rather large Dee family, and it was not surprising that Rikki – the fifth of seven siblings – would develop a passion for it.
One of his customers in the restaurant would usually turn out at its doorstep just a few minutes before closing and order a certain soup which he really loved.  That gentleman was Henry Sy, Sr. who encouraged the young couple to open at the Food Court in SM City North EDSA.
The Dees had a simple dream when they opened their first Chin's Express outlet at the SM North EDSA Food Court:  to offer delicious food options in the nation's malls. It was not long before Chin's Express, and other outlets Handaan and Inihaw Express became a mainstay in the food courts of major malls.
After 30 years, FooDee Global Concepts is one of the leading multi-faceted food operations in the Philippines with a careful selection of restaurant concepts.  At the core of each concept is the capacity to stand the test of time and the ever-changing Filipino palate.
"Our mission is to be into multiple concepts," says Rikki, "each concept with a specialty."  These concepts are inspired "by our trips abroad. These are mostly our favorite restaurants."
Today, the FooDee group has over a hundred restaurants in SM, including Michelin-rated restaurants like Tim Ho Wan, Hawker Chan, Tusta, and FOO'D by Davide Oldani, and Kam's Roast, which have earned their stars in Hong Kong, Singapore, Japan, and Milan.
Homegrown concepts like Mesa and Sunnies Café continue to set the bar high; while finds like Llaollao and spin-offs like Pound and Hook provide exciting dining experiences.
"SM and the Sy family have been a very important component in our business," says Rikki.  "That's where we started, and make it a point that all our new concepts will start in an SM mall."
"SM is volume. SM is opportunity," he adds. "They are so hands-on in management and know what a retailer is. We are so happy to have been an SM partner for over 30 years."

A FOODEE TOUR OF SM MEGAMALL
Rikki Dee has said that SM is volume, SM is opportunity. Happy to have been part of SM for the past 30 years, he takes us on a culinary tour of FooDee outlets at SM Megamall, and describes each of these.
Tim Ho Wan – The most affordable Michelin-star restaurant in the world
Pound – Awesome burgers
Kam's Roast – A Michelin-star roasting place
Sunnies Café – From brunch to lunch, coffee to cocktails
Mesa – Classic familiar flavors with a new taste
Llaollao – The number one natural frozen yoghurt from Europe