Style, Success, and SM
Four amazing women share their inspiring stories, and why great partnerships will never go out of style.
LULU TAN-GAN
FASHION DESIGNER, TAN GAN DE MANILLE;
PROGRAM CONSULTANT & CHAIRPERSON,
DE LA SALLE-COLLEGE OF SAINT BENILDE FASHION DESIGN & MERCHANDISING PROGRAM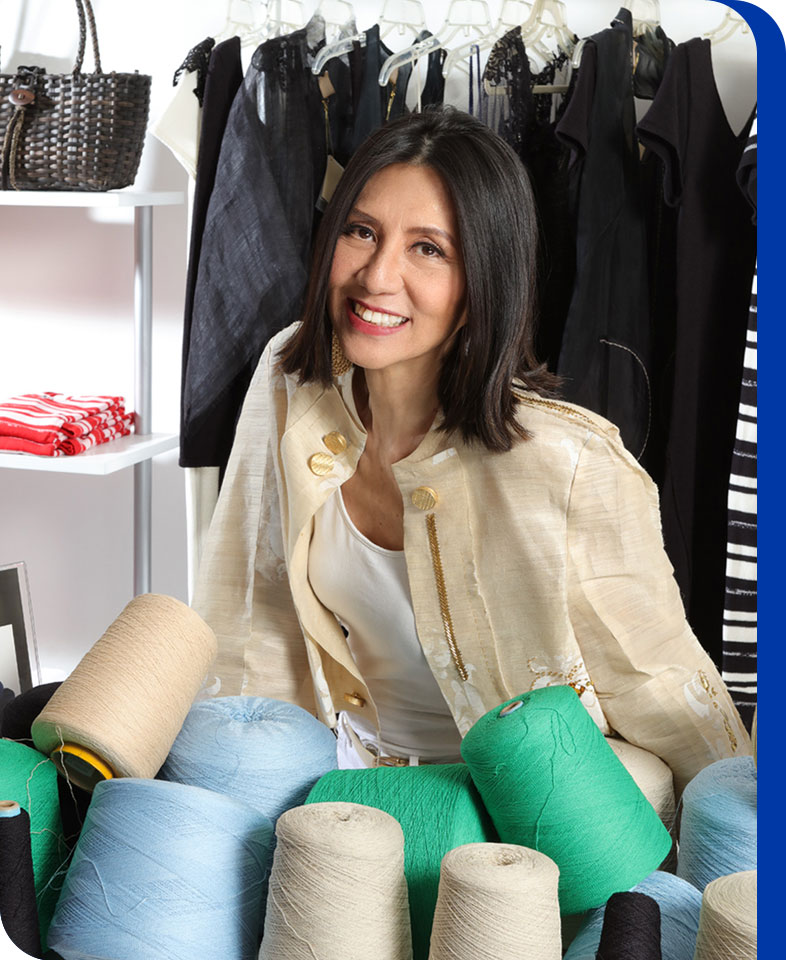 Known as the country's Queen of Knits, Lulu Tan-Gan began her fashion career at SM, where she worked in shoe product development.  "My first year at SM Echague was really memorable," she recalls. "We would end up buying until 12 midnight with Tessie. At that time, Mr. Henry Sy, Sr. had the final say on which merchandise to buy."
It was an exciting time as SM was becoming a fashion store, and was setting the local fashion trend season after season.  "Ms. Tessie Sy would provide the concept and direction," she adds wistfully, "We the creatives, including Cesar Gaupo, JM Goulbourn, Bubum Melgar, Joey Muli, Caloy Badidoy, worked with store buyers to come up with the season's collection.  The visual merchandising stylist Bong Gacho would create fantastic window displays."
In the creative room, "we were always laughing. One needs a sense of humor – there was teasing and critiquing each other.  You sort of learn to build your confidence with people much more talented than you are." Little did the young, hardworking, & talented team realize that lighthearted as they were, they along with SM management, would play a key role in the country's ready to wear industry.
Lulu's love for crafts, texture, and color led her to become a knitwear designer. She thought she would "want to create my own material through weaving, knitting, crocheting, instead of buying a fabric that everyone else is using."  In 1985, she established Tan Gan Manille, and opened her first outlet at the SM Boutique Square in Makati.
Long before globalization, she was one of the designers to break into the international market, something she says "happened spontaneously" when Mina Gabor spearheaded CITEM selling missions and fashion trade shows in Europe and the US in 1983.  "I just accepted opportunities without thinking twice," she laughs.
Twelve years ago, Lulu, who enjoys discovering new ways and techniques with knits, experimented with the "beautiful ethereal" piña to create awareness with the younger market that is not familiar with the fabric.  As a Filipino designer, "it is our role to influence. And this way, we can make a statement that Filipino materials can be fashionable. It is my way of giving back."
Lulu joined the Fashion Design and Merchandising Program of the School of Design & Arts of De La Salle-College of Saint Benilde in 2013. "In Benilde, together with our program leaders and faculty, we aspire to be relevant to the market, connect students to the industry and the real world," she says." Through understanding our industry gaps, we hope to lead our students to make a difference in our industry."
As Program Consultant and Chairman, Lulu has again found herself working with SM to inspire a new generation of fashion designers and merchandisers through exhibits and fashion shows in its malls.
Looking back, Lulu says that "SM's best asset is recognizing and connecting with the market. Intelligently acknowledging their leader's vision, they easily pulled together an admirable team, both within the family members and the organization.  They are God-fearing, quick learners, have foresight, discipline, perseverance, and competitiveness all put together to sustain them for the next generations."

TALKING FASHION WITH LULU TAN-GAN
On Starting Out with SM
"I joined SM during a very exciting time when it was becoming a fashion store. First assigned to shoe product development, I then became part of a creative team led by Tessie Sy-Coson, who would work on the local fashion trend season after season."
On becoming a knitwear designer
"My love for crafts, color and texture led me to work on knits.  I wanted to create my own material through weaving, knitting & crocheting, instead of buying a fabric that everyone else is using."
On incorporating piña with her knits
"About twelve years ago, I experimented with beautiful, ethereal piña to create the awareness with the younger market that is not familiar with the fabric. As a Filipino designer, it is our role to influence. And this way, we can make a statement that Filipino materials can be fashionable."
On fashion education through Benilde
"In Benilde, together with our program leaders and faculty, we aspire to be relevant to the market, and connect students to the industry & the real world. Through Benilde's partnership with SM, we work together to showcase the future of fashion in a series of exhibits and shows."