Growing Up with SM
Talented, young achievers talk about their hopes and dreams, and fulfilling them with SM.
NEIL FELIPP AND NERE KU
FASHION DESIGNERS
LOOK OF STYLE AWARDS – ACCESSORY CATEGORY WINNERS 2013 AND 2014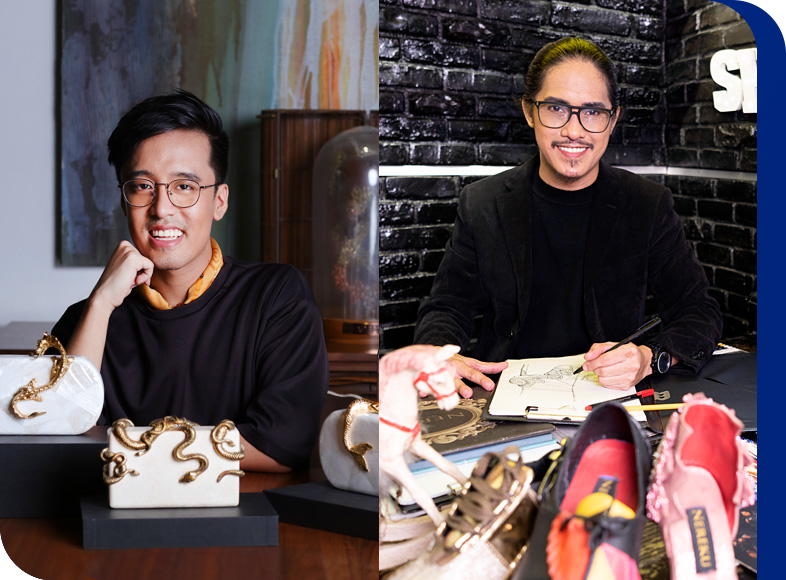 Nere Ku has designed shoes for Mariah Carey and Beyoncé, celebrities Sarah Geronimo and Vice Ganda, and has collaborated with Michael Cinco, Furne One, Francis Libiran, and Albert Andrada in their collections.  
Neil Felipp, who is Creative Director of Neil Felipp, Creative Nebula, Inc., showcases his accessories each year in design shows in Cebu, Manila, New York and Paris.  He has even been mentioned in the "Rich People Problems" book by the bestselling author Kevin Kwan.
Neil and Nere have certainly gone a long way since the time they won the prestigious Look of Style Awards in 2013 and 2014, respectively.  Organized by Inquirer Lifestyle, LOOK Magazine, and the British Council, the Look of Style Awards is a competition for young and upcoming Filipino designers that serves as a platform for them to showcase their designs by being mentored by seasoned designers.  Winners were sent to London for an all-expense paid trip with a scholarship in prestigious schools to further hone their talent.
While working on this collection, Neil, recalls being able to "share insights with the country's experts in fashion accessories as well as meet a British accessory designer, Una Burke who shared with me on how to be a global brand." His scholarship at Sheffield Hallam University in the Metalsmith Capital of the UK helped him understand "their techniques in jewelry which I have applied to my own production today. Another significant lesson I learned from the university was understanding that my conceptualization should have a consideration of the global market's evolving demands to ensure that my brand stays relevant."
Nere's stint at the London College of Contemporary Arts, on the other hand, made him realize that "in the fashion industry, every day is a competition.  You need to work hard to achieve your dreams."
Through SM's collaboration with Inquirer Lifestyle, Neil and Nere received prizes from SM Accessories and were able to showcase their works in an exhibit and fashion show at SM Aura Premier.  This, says Nere, "helped in establishing my name as a Filipino shoe designer and introduced me to a wider market."
For Neil, showcasing his work in the mall "has inspired others to believe in the craftsmanship and creativity in our country, and helped more Filipinos be aware of my brand."
Another thing Neil and Nere share, apart from winning the LOSA award, are cherished memories growing up with SM. Neil, who is from Cebu and was mentored by award-winning international furniture designer Kenneth Cobonpue, recalls that when his father brought him to SM's toys department, "I fell in love with all the toys. It was in SM where they had a good selection of GUNDAM toys.  As a means of rewarding me for a good deed, or an accomplishment, my Dad would let me choose a GUNDAM toy which I would look forward to assemble once we arrived home."
Nere, on the other hand, grew up in Baguio and during the time that there was no SM yet in Baguio, he always looked forward to summer vacation wherein his Dad "would bring us to go shopping in SM Megamall if our grades were high. I was always excited every summer break because I would be able to go to Megamall and that was heaven for me."
As SM celebrates its 60th Anniversary, Neil and Nere both thank SM for being a part of their happy childhood memories, their success as designers, and for giving them wonderful stories to tell.


NEIL AND NERE'S WINNING LOOK OF STYLE PIECES
NEIL FELIPP, 2013
THE THEME: Pinoy Goes Global
THE WINNING PIECES: Three minaudières that combined cast and gold-plated brass animal figures with materials sourced from Cebu such as Mactan stone, wood veneer, and black acrylic.
The Simian Series

, a wooden minaudière with three tiny monkeys in molded metal, as well as a cuff and necklace made of these tiny metal monkeys.

Medusa and Midas

, inspired by the unlikely love story between the mythological snake woman Medusa and King Midas, who turns everything into gold.

Suzy Wong

, a minaudière with a brass dragon clasp, which was auctioned off to benefit the victims of typhoon Yolanda
NERE KU, 2014
THE THEME: Maria Clara
THE WINNING PIECES: Transformable Abaniko(fan) and Payneta(comb) shoes have detachable components that cover the leg area that can be joined together and transformed into a bag and Maria Clara jacket. These women's platform sandals-cum-gladiator boots were made of leather, woven banig, beaded appliqués, hardware, and metal spangles.