Creative Home-Works at SM
Celebrating gracious living with home stores and an heirloom coffee brand at SM
RORIE CARLOS-MANZANO WITH DAUGHTER MAXINNE
FORMER MAGAZINE EDITOR/FULL-TIME MOM AND HOMEMAKER
UP COLLEGE OF LAW STUDENT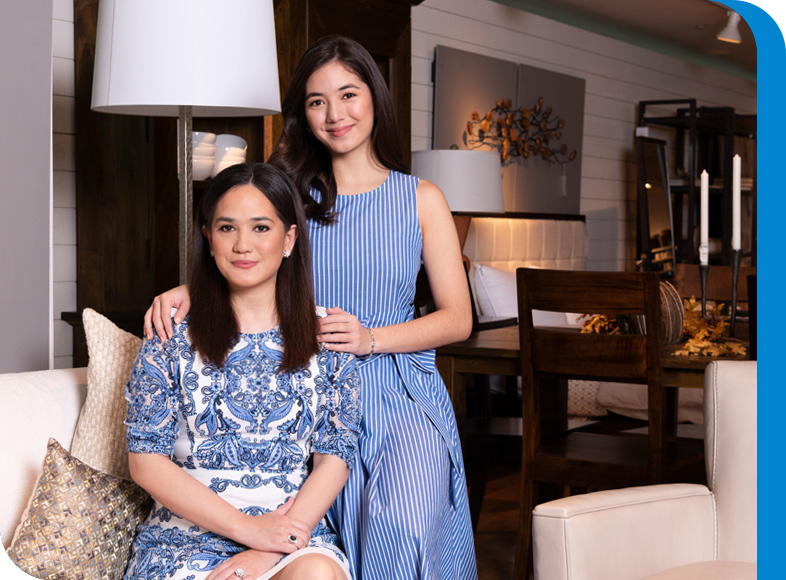 Having worked for the local franchise of global fashion and lifestyle magazines like Marie Claire, Martha Stewart, Town & Country, and Hola, Rorie Carlos-Manzano has learned to be more experimental and discerning when it comes to the way she dresses, decorates, and entertains at home.
She also feels very fortunate to have been exposed to different exciting designers and brands who have influenced her personal style. These include Wynn Wynn Ong, "whose one-of-a-kind creations – from jewelry to furniture, homeware to clothing are also beautiful and special they're like works of art."
Rorie also loves the way international designers Kelly Wearstler, Eddie Ross, Miles Redd, and India Mahdavi mix classic styles with modern sensibilities and their use of colors, patterns, and texture.
Now that she's a full-time Mom and homemaker, Rorie is happy she can indulge in home decorating and entertaining. Her dream house? "Vintage finds with a few modern pieces thrown in, Oriental touches paired with French-inspired furniture," she says wistfully. "I love collecting things that have history and character. I would like lots of plants and natural light."
As a long-time SM shopper, Rorie says that SM has been a huge part of her life "ever since I was a kid. From buying basics at the SM Department Store, learning how to ice skate, and eating at Almon Marina, El Pollo Loco, and Sbarro."  That is why its home stores like Crate & Barrel come to mind when she is shopping for her home.
"I love Crate & Barrel," she enthuses, "they have everything for your home.  I usually go to the tabletop and bar section. They have all these gorgeous yet functional items for entertaining. "
"I always tell my friends to head for the drinkware, table linens, and serveware," she adds, "especially when they have new prints and designs out.  Plus, the staff is so helpful, knowledgeable and friendly!"
In fact, Rorie and daughter Maxinne, who is now a freshman in the UP College of Law, recently visited the store, each creating beautiful tablescapes, and revealing their individual elegant and eclectic tastes for entertaining at home.
"My family goes to SM at least once a week," says Rorie.  "It truly has everything under one roof. The newest restaurants, fashion and beauty brands galore, local delicacies, and school supplies.  I love that you can do your errands there and not having to zip around the metro."

RORIE'S GRACE NOTES FOR ENTERTAINING AT HOME
Plan Ahead.

 Aside from the date and the guest list, I like to decide on the theme, color scheme, and menu weeks in advance.

Preparation is key

to ensure that the get-together will be a memorable and stress-free one.  Iron linens ahead and prepare some of the food that you can do in advance so you have less to do on the day itself.

For the table setting, don't be afraid to experiment and mix together different patterns and textures

. Even adding unique or whimsical tabletop décor adds drama and layers to the overall look.

A day before the lunch or dinner

, I set up the table and buffet spread with the linens, cutlery, platters that I intend to use so that on the day itself, I'm not scrambling for what's lacking or needs editing.

Check on the guest bathroom

. Make sure it's well-stocked with the essentials so guests to need to ask for them during the party.

Fresh flowers are always a nice touch

.  No need to go overboard and buy a ton of expensive flowers.  One central arrangement or several smaller ones can already make an impact.  I prefer to stick to one kind of flower and keep it monochromatic. It's easier and quicker to put together yet it's visually appealing.

Don't forget music and candles.

 Scents and songs help set the mood and create a relaxing ambience.

I prefer more casual get-togethers

.  It's more fun to set up easy, DIY areas such as party platters of appetizers and a drink station so guests can mingle and help themselves.

Label your dishes or print out a simple menu so you don't have to keep explaining what you're serving.